Zinkia Appoints Evolution Management Group as U.S. Licensing Agent for Pocoyo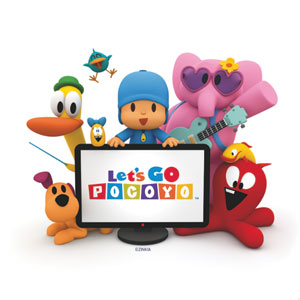 Zinkia Entertainment named Evolution Management Group, Inc., (EMG) as its U.S. licensing agent for the multimedia property Pocoyo. EMG specializes in global brand and IP development, and will work to secure new merchandising, licensing, and promotional opportunities for Pocoyo. Travis J. Rutherford, CEO and co-founder of EMG, will develop new strategic licensing partnerships and spearhead the retail development for Pocoyo consumer products, while Adam Unger, the firm's president and co-founder, will oversee product development and promotional opportunities for the brand.
Ubisoft Announces Deal With Nickelodeon for Raving Rabbids TV Series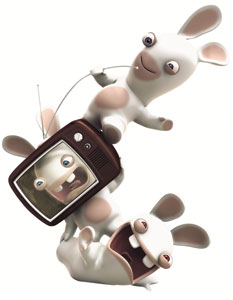 Ubisoft announced a licensing agreement with Nickelodeon to bring a new television series based on Ubisoft's Rabbids brand to audiences around the world. As part of the deal, Nickelodeon secured global broadcast rights (excluding France) for 78 seven-minute CG episodes to be produced by Ubisoft, which Nickelodeon will package and air as 26 half-hour episodes across its channels worldwide (excluding France) beginning in 2013.
Created by Ubisoft's French studios in 2006, the Rabbids video games and viral videos have attracted more than 41 million fans on YouTube. Ubisoft Motion Pictures will work with Ubisoft's French studios to bring the humor and wackiness of the games and videos to the television series.
Kidz Bop Partners With Ad Council to Show Support for Let's Move! Campaign
In a nationwide effort to combat childhood obesity and to support First Lady Michelle Obama's Let's Move! initiative, Kidz Bop joined forces with the Ad Council to help launch The Greatest Action Movie Ever (G.A.M.E) campaign. Created by McCann New York, the campaign includes new public service advertisements (PSAs) and online initiatives that promote physical activity and healthy eating among kids ages 6–12. Kids can audition for a role in G.A.M.E, an original short movie premiering in spring 2012, by uploading a video to KidzBop.com between now and November 30. Kids will vote on the audition videos, and the winners will receive prizes that promote healthy habits, such as Wii game consoles, bikes, and athletic equipment. A panel of judges will select the best videos, and the kids in those videos will have a starring role in the G.A.M.E. movie. KidzBop.com will also host special digital PSAs starring the Kidz Bop Kids to encourage kids to get moving and make healthier food choices.
Activision and Toys "R" Us Launch Global Marketing Initiative for Skylanders Spyro's Adventure
Activision Publishing, Inc., announced a global marketing partnership with Toys "R" Us to launch the new video game Skylanders Spyro's Adventure, which debuts at North American retail on October 16. The marketing plan includes a national co-op advertising campaign, exclusive toy/adventure pack releases, first-to-play opportunities, and interactive game displays at more than 1,200 Toys "R" Us stores around the world.
Activision and Toys "R" Us unveiled the game on October 8 with full game demos and interactive game kiosks in more than 1,200 retail locations across the globe. Following the game's U.S. launch on October 16, players can purchase Toys "R" Us exclusives, such as three Skylanders Legendary characters, which feature accompanying in-game skins and power-ups. The retailer will also be the only place to purchase the Skylanders Spyro's Adventure Darklight Crypt Adventure Pack in its first 30 days on the market, from October 16 through November 15.
Skylanders Spyro's Adventure allows kids to bring a vast collection of physical toys to life in the game. Place one of more than 30 different characters onto the Portal of Power—yours or a friend's—and the characters show up within the game world, all customizations and powers intact. The game is rated E10+ by the ESRB.
Canadian Specialty Retailers to Celebrate Neighborhood Toy Store Day; ASTRA Announces 2012 Show Dates
The American Specialty Toy Retailing Association (ASTRA) announced that Neighbourhood Toy Stores of Canada (NETS) will participate in Neighborhood Toy Store Day on November 12. Modeled after ASTRA's successful launch in 2010, NETS has created a special logo and consumer outreach campaign using traditional and social media to reach parents with the specialty toy message.
ASTRA also announced that the theme of its 2012 Marketplace & Academy is "Get More From Your Store: Build Your Business at ASTRA's Marketplace & Academy." The event will take place in Baltimore, Md., from June 10–13, 2012.
Jack Spade Unveils Coca-Cola Collection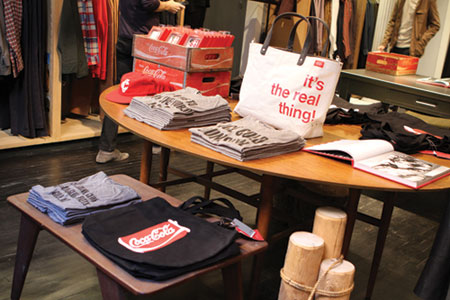 Jack Spade, the men's brand known for its American styling of apparel, bags, and small goods, teamed with Coca-Cola to celebrate the soda brand's 125th birthday. Jack Spade released a limited-edition collection of T-shirts, totes, baseball caps, posters, and iPhone covers. The new collection takes its design cues from memorable Coca-Cola campaign slogans, such as "It's the Real Thing" and "I'd Like to Buy the World a Coke." It is available in all Jack Spade stores, at www.jackspade.com, and in select specialty stores.
Richmond Management Group Partners With Wendy Bellissimo
Richmond Management Group, Inc., (RMG) signed children's apparel and family interior designer Wendy Bellissimo to its client list. RMG will represent Wendy Bellissimo Media in the re-launch of a number of brands under the Wendy Bellissimo trademark, including the Wendy Bellissimo Baby and Kids brand, along with new lifestyle brands that will bring high-quality, American/European style into the child apparel and lifestyle industries. RMG will soon announce its first licensing partners for infant and children's bedding, apparel, and accessories. These new licensees will develop lines to launch in fall 2012. RMG will bring the Wendy Bellissimo product into a multitude of categories and retail outlets, and has further plans to expand the brand beyond baby and kids. Bellissimo will continue to develop her product lines in tandem with the signed licensees and maintain her hands-on approach with each line.