Techno Source to Develop Electronic Handheld Tetris Games
Techno Source and The Tetris Company, LLC, the exclusive licensor of the Tetris brand, announced a licensing agreement that expands Techno Source's exclusive rights to include handheld electronic games in addition to Tetris tabletop games (both electronic and non-electronic). Techno Source's handheld electronic games, based on the iconic Tetris video game, will be introduced at retail beginning in 2012.
Wonder Forge Launches App-Enabled Preschool Game
Wonder Forge announced that it will launch a new Dr. Seuss-themed app-enabled board game next fall, bridging the gap between traditional gameplay and mobile gameplay for preschoolers. The new Dr. Seuss app-powered game debuted today at the Fall Toy Preview in Dallas. The company's first offering will include three Dr. Seuss games in one, combining the physicality that preschoolers love with an app-enabled component available through the iPad, iPhone, Android, and other mobile devices. The game will feature favorite Dr. Seuss characters, in celebration of Seuss's 75th anniversary.
Imperial Toy and Kidz Bop to Launch Pop Star Toy Line
Imperial Toy signed a licensing agreement with Kidz Bop to develop, market, and manufacture a line of Pop Star roleplay toys in the U.S. based on the Kidz Bop brand. The introductory product offering is expected to include a range of Pop Star roleplay items including musical instruments, fashion accessories, and more, with on-trend styles and color pallets and technological features. Imperial expects to launch the Kidz Bop line to coincide with the release of Kidz Bop 22 next summer. 
To celebrate the licensing agreement, Imperial and Kidz Bop will host a special performance by the Kidz Bop Kids tonight at the Dallas Fall Toy Preview Opening Night Party in support of the Toy Industry Foundation. Kidz Bop recently concluded a nationwide search to cast the five performers as the new Kidz Bop Kids.
New Discovery Kids Toys

Big Tent Entertainment inked a licensing agreement with Citiwell International, Inc., a manufacturer of high-quality educational and science adventure products, for the Discovery Kids property. Citiwell has created a collection of Discovery Kids-branded science adventure products, including telescopes, spotting scopes, microscopes, binoculars, weather stations, metal detectors, amplified listeners, a planetarium projector, and toy night-vision goggles. Product will be at retailers throughout the U.S. and Canada beginning next year.
In addition to the new Citiwell products, NKOK also has a new line of Discovery Kids toys, which includes a Trace-n-Draw Projector, a Sewing Machine, and a Space Ship Laser Tag, which will be available at retail this year. A battery-operated Splatter Painter and a Magic Wand will be available in 2012.
Rapunzel Welcomed As 10th Disney Princess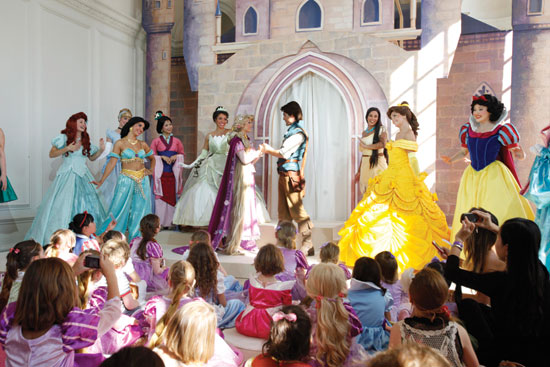 Yesterday Disney officially welcomed Rapunzel as the 10th Disney Princess character at a celebration in front of a global audience at Kensington Palace in London. Ariel, Aurora, Belle, Cinderella, Jasmine, Mulan, Pocahontas, Snow White, and Tiana welcomed Rapunzel into the Disney Princess royal court, and Fairy God Mother and Flynn Rider crowned Rapunzel. British teenager and rising star Shannon Saunders sang the Disney Princess' new signature theme "The Glow."
More than 10,000 Disney fans watched the procession through Kensington Gardens and lined the parade route to welcome Rapunzel and the other Disney Princess characters in their horse-drawn carriages. Disney chose Kensington Palace as the location for the ceremony because it has been the home of many real life princesses over the centuries.
To kick off the celebration, Rapunzel arrived in London a week early to do some sightseeing and visited a famous London landmark every day. Fans can view Rapunzel's royal journey picture gallery at www.Facebook.com/DisneyLiving and see the newest Disney Princess visiting Salt Tower at the Tower of London, Covent Garden, Trafalgar Square, Tower Bridge at Thames River, and Big Ben.