Walmart Releases Black Friday Hours and Deals
Walmart released its Black Friday hours, corresponding shopping events, and circular to shoppers on Facebook and Walmart.com.
• Walmart will open for the first time at 10 p.m. on Thanksgiving Day (November 24) focusing on toys, home, and apparel.
• Midnight on Black Friday (November 25)—The focus will be on electronics.
• Starting at 8 a.m. on Black Friday and continuing through the weekend, Walmart will offer all sorts of deals to target every member of the family.
If shoppers want to get an even earlier start there will be deals all Thanksgiving Day on Walmart.com. Further savings are expected to include "Fast, Faster, Fastest" shipping options. Examples of the online savings include:
• 46-inch HDTVs for under $400
• Electric Ride-Ons for children, priced under $40
• Choice of four select Blu-ray discs for $20
The 10 p.m. Thanksgiving Day specials are expected to include:
• Xbox360 4GB with Kinect Console—$199.96 plus a $50 Walmart gift card
• Select DVDs—starting at $1.96
• 6V or 12V Ride-ons (e.g., Jeep Wrangler, X Games ATV, or Barbie Jeep)—$99 each
• Barbie, Disney Princess, or Bratz-branded fashion dolls—$5 each
• 8 foot inflatable Santa or snowman—$20
• Kids character sleepwear sets—$4.47
Walmart says it is also helping shoppers plan their in-store shopping strategy by making available store-specific maps on Facebook. To access the map, shoppers can find their favorite store by clicking on the "My Local Walmart" application on Walmart's Facebook page.
Sears/Kmart Announces Black Friday Hours and Promotions
Sears stores nationwide will open at 4 a.m. on Black Friday and remain open until 9 p.m. to kick off the holiday season. This Black Friday, Sears will have more than 900 doorbuster deals on top brands such as Craftsman, Kenmore, Nordic Track, Samsung, and fashion brands exclusive to Sears such as The Kardashian Kollection, Land's End, Bongo, UK Style by French Connection, and Everlast.
Sears also announced that it has created a new pick up service, where a customer can select items online, place them on layaway, and then pick them up at any local Sears store.
Sears stores will not be open on Thanksgiving Day. However, in keeping with Kmart's 20-year tradition, it will open from 6 a.m. to 9 p.m. in most markets on Thanksgiving Day. On Black Friday, Kmart stores nationwide will open at 5 a.m. and close at 11 p.m.
Kmart, which has been promoting its layaway plan for some time, is now making the online layaway process even easier. Kmart.com recently introduced a new option called Shop Here, Pick Up There. Items can be selected online, placed on layaway, and picked up at any local Kmart store.
Power Rangers Samurai Heads to India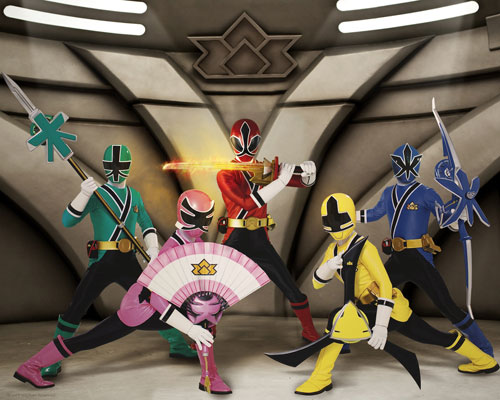 Saban has named Dream Theatre Private Limited as the exclusive licensing agent in India for Power Rangers Samurai. Additionally, MarVista Entertainment, the exclusive international television distributor for Power Rangers, has licensed the broadcast rights for India to Nickelodeon India.
Dream Theatre joins an existing global roster of Power Rangers Samurai agents who represent more than 100 licensees worldwide. Dream Theatre will launch products across apparel, stationery, bags and luggage, and back-to-school. The products will be available in leading chain stores and kids and toy stores across India.
MarVista Entertainment, the exclusive international television distributor for the brand, has licensed the broadcast rights for all 700 episodes of Power Rangers, which included classic Power Rangers episodes and Power Rangers Samurai—to Nickelodeon in India. The channel is available in more than 34.2 million households in the country and is a 24-hour pay channel in Hindi, with the option of English, Tamil, and Telugu audio feed on DTH.
Arthur Christmas Product Line in TRU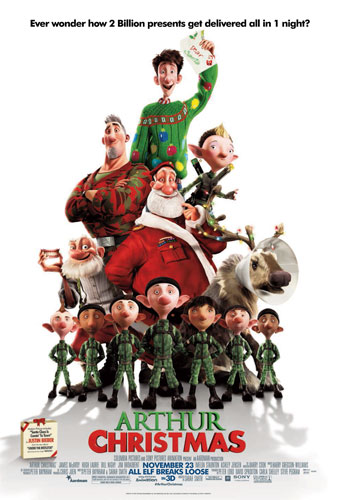 Sony Pictures Consumer Products and Toys "R" Us (TRU) have partnered for an exclusive retail launch of products in support of the movie Arthur Christmas. Feature shops launched in TRU stores yesterday. In conjunction with this partnership, the Sony Pictures publicity team created "The 12 Days of Arthur Christmas," which has radio stations across the country giving away Schwinn and Mongoose bikes. Additional licensees for the movie include The Bridge Direct for figurines, plush, and reindeer slippers. Santa's Best for an array of Christmas ornaments and stockings. Cardinal Industries has created memory games and puzzles. Sterling Publishing created storybooks, novelizations, sticker books, and e-books that will be sold at TRU as well as at other retailers around the globe. Gift-wrap licensee is American Greetings Corporation. Other products that can be found globally include an Arthur Christmas mobile game from Spin Up Games and a "Making of" pictorial book by Newmarket Press. The film releases on November 23 in North America.