Time to Play's Videos Bring Toy Fair to You
TimetoPlayMag.com (that's us!) brings Toy Fair to you. Watch videos of the latest and greatest products that were on display this week in New York City for Toy Fair.
Mattel, Jakks, Hasbro, Techno Source, Zing, MGA Entertainment, Manhattan Toy, Thames & Kosmos, Uncle Milton, Alex, Jazwares, and Melissa & Doug are just a few of those featured. Watch the videos here.
In addition, Jim Silver talks with NASCAR great Jeff Gordon from Spin Master's booth. Gordon reveals his childhood favorites, what his kids play with now, and his top picks in Spin Master's new NASCAR line. Watch the video here.
Former Disney Exec Mooney Joins Outfit 7
Outfit7, Inc., a subsidiary of Out Fit 7 Ltd., the global mobile entertainment company behind the Talking Friends apps, just announced that former Chairman of Disney Consumer Products, Andy Mooney has joined the group as an advisor. Mooney will help grow the Talking Friends franchise and further establish Outfit7 as pioneers in new entertainment development.
Prior to joining Disney, Mooney spent 20 years at Nike, Inc., most recently as the CMO.
Less than two years after launching the first Talking Friends app, Outfit7's Talking Friends characters have been downloaded more than 300 million times and have reached more than 90 million monthly active users worldwide. The company says it averages 25 million downloads per month, with more than 500,000 videos being uploaded to YouTube, Facebook, and sent by email and MMS.
MGA, TRU Launch Dolls to Support Kids Battling Cancer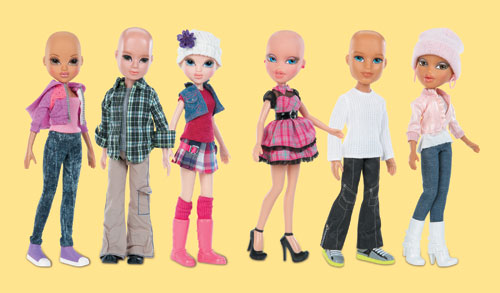 MGA Entertainment announced during Toy Fair that it is launching new hairless versions of its doll brands, Bratz and Moxie Girlz to help support kids who are battling cancer. Under the banner True Hope, MGA will release three Bratz dolls (Cloe, Yasmin, and Cameron) and three Moxie Girlz dolls (Avery, Sophina, and Jaxson) without hair. The dolls feature a new head sculpt with toned down eyebrows, eyelashes, and less makeup on the girls. Each doll comes with a stylish hat.
Available at Toys "R" Us beginning in June, MGA will donate $1 for every True Hope doll, sold to distributors, to City of Hope for cancer research.
The announcement comes on the heels of the social media movement that calls for toymakers to create hairless dolls to emotionally comfort young girls and boys who suffer from hair loss due to cancer treatments.
"The Bratz and Moxie Girlz True Hope dolls are designed to support and comfort young girls and boys who so bravely endure cancer treatments," said Isaac Larian, CEO of MGA Entertainment, in a statement.
MGA has tapped City of Hope as the recipient of monies that will be generated from sales to retailers of these dolls. Located in Duarte, Calif., City of Hope is a leading research, treatment, and education center for cancer, diabetes, and other life-threatening diseases. Designated as a comprehensive cancer center and a founding member of the National Comprehensive Cancer Network, City of Hope's research and treatment protocols advance care throughout the nation.
New York City's J&R Opens J&R Jr.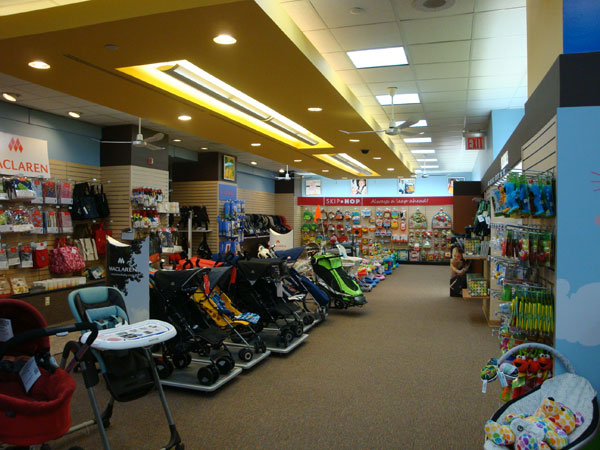 J&R has been a fixture in lower Manhattan since 1971. What started as a simple record store has now expanded to include electronics, household goods, musical instruments, and so much more including an extensive website. Now the store is expanding yet again to offer customers the best in baby gear. Dubbed J&R Jr., the store will carry product from companies such as Alex, Vtech, Melissa & Doug, LeapFrog, Safety 1st, EvenFlo, Skip Hop, Maclaren, and many others.
J&R Jr. will offer the customer service extras that New York City parents are looking for such as delivery, assembly, and giftwrap options. The store will also feature space for breast-feeding moms, spots to park a stroller while browsing, easily accessible elevators, and spacious bathrooms. There is even a strip of terrain inside the store to replicate the cobblestone streets of SoHo, inviting shoppers to test out strollers prior to purchasing.
J&R hosted a party on Monday night during Toy Fair, which capped off two weeks of opening celebrations for this new venture. J&R co-founder Rachelle Friedman spoke to the gathered crowd of new toy industry partners as well as long time partners of J&R. She spoke of the store's 40-year history in New York City, the days following the 9/11 terror attacks, and the welcoming of the next generation. Friedman's son, Jason who serves as EVP J&R/J&R Jr., and his wife Danielle who is a pediatrician, will run this venture.
Disney Launched Disney Junior Channel with Celeb Event During Toy Fair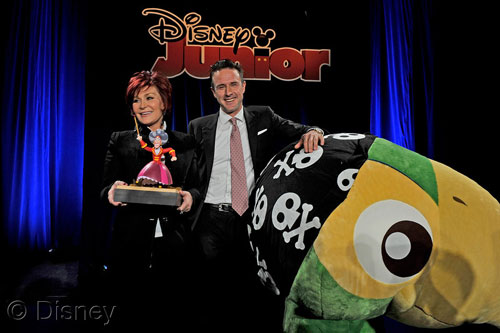 Disney Consumer Products hosted a star-studded event during Toy Fair to launch its new network, Disney Junior. Sharon Osbourne and David Arquette who are the voices of Mama Hook and Skully on Jake and the Never Land Pirates were in attendance to preview the network's shows and corresponding products lines such as Jake and the Never Land Pirates, Mickey Mouse Clubhouse, Minnie's Bow-Toons, and Doc McStuffins. Disney licensees showcased during the event include Fisher-Price, Just Play, Wonder Forge, Vtech, Kiddieland, and Huffy.
Toy Fair Trend Recap
The crowds were back at the Javits Center for this year's Toy Fair. The buzz from the show floor was overwhelming positive with manufacturers reporting packed schedules for the duration of the show. There was a spark at this year's show, which had been missing from Toy Fair—and from trade shows in general the past few years.
The deep, sustained recession, which had everyone panicked last year, was not even a topic of discussion at this year's show. Although unemployment remains high, the Euro Zone is in crisis, and the cost of doing business continues to climb in China, these complaints were not openly voiced at Toy Fair.
However, here are the topics that aNb Media kept hearing during this week's Toy Fair.
• Apps continue to play a key role in the toy industry. Apps are leaping from the virtual world to the real world such as Angry Birds (with numerous licensees), Cut the Rope (with numerous licensees), and Songify (from Jakks). Then there are "app toys" such as those from Spin Master with its fishing and driving games and Mattel launching Apptivity games across its brands.
• Stars from YouTube are leaping onto store shelves. There is Annoying Orange from The Bridge. Gund is introducing a plush line featuring Boo: The World's Cutest Dog.
• Augmented Reality (AR) was the new catchphrase at this year's show. WowWee and Imperial/TCG featured products with an AR/toy/app component. WowWee's App Gear is a line of augmented reality apps that work with a toy and operate on iOs and Android platforms. WowWee described them as video games rather than "app toys." Imperial and TCG introduced Roxx, which is a boys collectible game that features an AR app.
• The tablet market continues to be a battleground. Techno Source is introducing Kurio, which is described as a tablet for the whole family. For $199.99 MSRP, parents can completely customize profiles for up to 8 individual users—meaning parents can block any or all websites. This Android device can run the Microsoft Suite of programs, has 4G of memory, and comes pre-loaded with apps. It has an HDMI and SD slot.
Oregon Scientific is offering Meep for $149.99. It comes preloaded with apps and eBooks. It also features an HDMI and SD slots. Parents can also fully customize this device. The customization takes place through an Oregon Scientific website using "cloud computing."
• Licenses that were prominently featured this year include Hasbro's Battleship, Nickelodeon's Teenage Mutant Ninja Turtles, MGA's Lalaloopsy, Disney's Minnie Mouse, Mickey Mouse, Disney Princess, Jake and the Neverland Pirates, and Star Wars.
• Despite the big-named properties mentioned above, licensing did not seem to play a large role at this year's Toy Fair. While the classic properties remain a strong and very important part of the business, new licenses are emerging from niche areas to serve niche markets. SRM signed blogger Bakerella (real name Angie Dudley). The author of Cake Pops is credited with creating the Cake Pop craze. SRM will collaborate with her for a line of activity products. Madame Alexander is creating a line of dolls based on the Ivy & Bean books by Annie Barrows.
• Classic toys, classic play patterns, and classic brands offered a balance to the proliferation of app/AR offerings. This year's Toy Fair saw on unusually strong showing of classic toys such as building sets, activity sets, puzzles, blocks, games, basic dolls, plush, and lots of low-price collectibles for both boys and girls.
• More manufacturers pointed out products that are Made in the USA such as Kids Only's Original Big Wheels, some items in MGA's Little Tikes line as well as a number of items from Poof/Slinky.
• Cupcakes. Cupcakes. Cupcakes. Did I mention cupcakes? This craze continues and it was everywhere.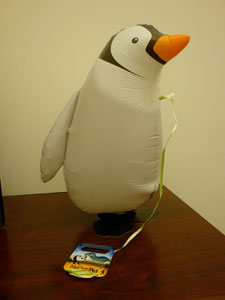 • With all the talk of apps, augmented reality, YouTube sensations, and big budget blockbusters, it seems the hottest thing at Toy Fair may have been a helium balloon. Did you happen to notice everyone walking around with the balloons on a leash?
Burton & Burton is distributing My Own Pet from creator Treb Heining of the GlassHouse Balloon Company. The balloon, which retails for $12–$14 should last about two weeks, according to Heining, considered a pioneer in the balloon industry. The balloons can be refilled with helium and have been on the market for about a year.
Calling helium balloons a trend may be a bit of a stretch, but they certainly got a lot of attention last year with William Mark Corp.'s Air Swimmers. The company is introducing licensed versions this year. Angry Birds were seen flying around the Javits. Fantasma is introducing its own helium balloon with a camera.
The Burton & Burton booth, which didn't have the most prominent location in the Javits Center, was so packed you'd think they were handing out cash. See the product here—it doesn't get more basic than this: www.myownpetballoon.com