Isaac Mizrahi Gowns Heads to Kleinfeld
Xcel Brands, Inc., and Kleinfeld announced the launch of Isaac Mizrahi New York exclusively for Kleinfeld. This exclusive bridal collection is scheduled to debut on the runway at Kleinfeld on April 18. The collection will be available in-store the following day.
Isaac Mizrahi's bridal collection will feature 18 gowns ranging from unique ball gowns to modern sheaths. Retail prices will range from $2,500—$6,000. Satin, charmeuse, and taffeta gowns will be accented by blush colored lace, grosgrain ribbon, and gingham patterned silk.
Chicago Toy and Game Fair Expands
The Chicago Toy and Game Group has signed a new contract with Navy Pier to host the Chicago Toy and Game Fair on Saturday, November 17 and Sunday, November 18.
Already the nation's largest public toy and game fair, this year's interactive play space is expected to attract more than 25,000 visitors. The event, celebrating its 10th anniversary this year, champions the achievements of toy and game inventors and promotes the benefits of play.
The increased space rental at Navy Pier will allow for more visitors and more exhibitors. Last year almost 150 exhibitors from countries around the world were at the Chicago Toy and Game Fair.
Wildbrain Signs Jazwares for Yo Gabba Gabba!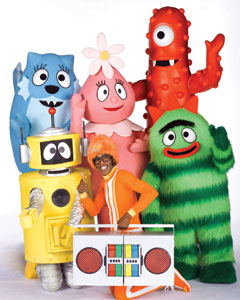 Wildbrain Entertainment, a DHX Media, Ltd. company, has signed Jazwares for Yo Gabba Gabba! Jazwares, which joins an extensive consumer products program that has more than 40 licensees in the U.S., is the brand's master toy licensee and will manufacture, market, and distribute a line of preschool toys based on the TV series, which airs multiple times a day, seven days a week on Nick Jr.
Jazwares' line of toys will cover a broad range of categories, including figures and accessories, plush, playsets, vehicles, and musical toys. Products are scheduled to be available in early spring 2013.
DC Direct Relaunched as DC Collectibles
DC Entertainment announced that its collectibles product line, previously known as DC Direct, has been relaunched as DC Collectibles. Additionally, in early May, DC Collectibles will expand its online store (www.DCComics.com/Collectibles) to offer its entire product line for sale on the web, in addition to the line's current primary availability, which are comic book retail locations.
As part of DC Collectibles online sales expansion, two "online exclusive" products will be offered in May and a new line of custom prints will be available for sale only on the web. The first online exclusive is a Flashpoint Action Figure Box Set including: Batman, Wonder Woman, The Flash, and a previously unreleased Emperor Aquaman. The set also include a $500 Wayne Casino Poker Chip. The second online exclusive is a Heroes of the DC Universe: Blackest Night Green Lantern and Sinestro Bust.
The new online prints will represent different graphical and artistic themes, branching out beyond comic book artwork. Twenty different designs will be available for sale, all printed on thick, archival paper that is designed for framing.