Hasbro Reports Q1 2012
Hasbro reported financial results for first quarter 2012. Net revenues for the quarter were $648.9 million, a decrease of 3 percent, compared to $672 million in 2011. First quarter 2012 net revenues include a negative $8.5 million impact of foreign exchange. Net loss for the first quarter 2012 was $2.6 million, or $0.02 per diluted share, versus net earnings of $17.2 million, or $0.12 per diluted share, in 2011. First quarter 2012 net earnings were $5.1 million, or $0.04 per diluted share, excluding $11.1 million, or $0.06 per diluted share, of severance costs. The first quarter 2012 was a 14-week period versus the first quarter 2011, which was a 13-week period.
U.S. and Canada segment net revenues were $329 million, a decrease of $62.2 million or 16 percent, compared to $391.2 million in 2011. The results reflect growth in the Preschool category offset by declines in the other product categories. The U.S. and Canada segment reported an operating profit of $14.4 million, compared to $41 million in 2011.
International segment net revenues grew $35.4 million or 14 percent to $289.7 million, compared to $254.3 million in 2011. Net revenues in the International segment grew 17 percent absent the negative $8.2 million impact of foreign exchange. Revenue in the International segment reflects growth in the Boys and Games categories, which offset flat revenues in the Preschool category and a decline in the Girls category. The International segment reported an operating loss of $5.1 million, compared to an operating loss of $1.7 million in 2011.
Entertainment and Licensing segment net revenues increased 19 percent to $29.3 million, compared to $24.6 million in 2011. The segment benefited from the sale of television programming in the U.S. and internationally, as well as continued box office and licensed revenues related to Transformers. The Entertainment and Licensing segment reported an operating profit of $7.7 million compared to $5.4 million in 2011.
For the first quarter 2012, net revenues in the Boys category increased 4 percent to $302.8 million led by growth in entertainment-backed brands Marvel and Star Wars. Additionally, Kreo-O, Hasbro's new construction line, contributed to the year-over-year gains. Following a strong 2011, Beyblade was essentially flat in the quarter. Overall, Transformers brand revenue was also flat in the quarter, but down in the Boys category. The Preschool category grew 2 percent to $69.9 million supported by Sesame Street and Playskool Rescue Heroes, including Transformers Rescue Bots.
The increases in net revenues in the Boys and Preschool categories were offset by a 9 percent decline in the Games category to $181.9 million and an 18 percent decline in the Girls category to $93.2 million. Despite declines in these categories several brands posted year-over-year growth. In the Games category, Magic: The Gathering, Duel Masters, and Battleship posted revenue gains in the quarter. Also contributing to the quarter were new games initiatives for 2012, including Star Wars Fighter Pods and Transformers Bot Shots, which launched during the quarter and are performing well. In the Girls category, My Little Pony, which is now backed by television entertainment globally, posted growth in the quarter.
Hasbro repurchased a total of 139,656 shares of common stock during the first quarter 2012 at a total cost of $5 million and an average price of $35.80 per share. At quarter end, $222.3 million remained available in the current share repurchase authorization. Hasbro paid $38.6 million in cash dividends to shareholders during the quarter and on February 2, 2012, declared a quarterly cash dividend of $0.36 per common share, an increase of $0.06 per share, or 20 percent, from the previous quarterly dividend of $0.30 per common share. The dividend will be payable on May 15, 2012, to shareholders of record at the close of business on May 1, 2012.
Jakks Responds to Clinton Groups Calls to Sell the Company
In mid-March, Clinton Group, Inc., an asset management firm with an ownership stake in Jakks Pacific, Inc., said it sent a letter to Jakks' board, asking it to sell the company.
Clinton said it wants Jakks' board to consider Oaktree Capital Management's offer of $20 a share. If the board doesn't act, Clinton Group said, it will solicit Jakks shareholders to consent to several proposals "to protect shareholder interests and ensure that Jakks Pacific has a board of directors that is focused on creating value for the company's shareholders."
Jakks Pacific, Inc., issued a statement announcing that its Board of Directors had taken the following actions:
• approved, subject to certain conditions, a tender offer to its shareholders to purchase common stock of the company with an aggregate value of at least $80,000,000 at a price per share equal to at least $20 per share. The company will use reasonable efforts to commence the self-tender offer no later than May 25, 2012,
• approved an increase in the number of directors from six to eight,
• approved the election of Peter Reilly as an independent director to fill one of the new board seats, and his appointment to the Nominating and Corporate Governance Committee and Audit Committee of the Board, and authorized the company to conduct a search for an additional independent director, and
• authorized representatives of the company to meet with Oaktree Capital Management, L.P., and to provide Oaktree with information about the company, which Oaktree has requested of the Company, subject to execution of a customary confidentiality agreement.
Jakks also announced that it entered an agreement with Clinton Group, Inc., and its affiliated funds, which provides for the foregoing actions. Clinton Group agreed to certain standstill restrictions until 60 days prior to the 2013 annual meeting of the company's stockholders, and agreed to support and vote for the incumbent Board of Directors of the company at the 2012 annual meeting of the company's stockholders and, until the expiration of the standstill period, in connection with any special meeting or written consent solicitation. As part of the agreement with Clinton Group the company also agreed that the new additional independent director would be subject to Clinton Group's reasonable approval.
Swarovski Opens Shop in Las Vegas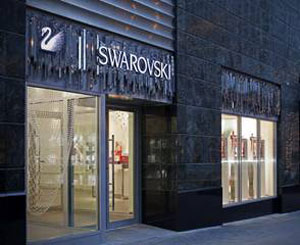 Swarovski in partnership with Marshall Retail Group will open a licensed boutique at the Forum Shops at Caesars in Las Vegas during the last week of April. The new boutique is part of Swarovski's ongoing strategy to expand its profitable licensed boutique business model. The 1,109 square-foot space will offer Swarovski's range of fashion jewelry and watches, as well as home accessories and décor objects.
"Swarovski's licensed boutique business model thrives in highly trafficked casinos and airports," said John Heidt, vice-president of retail for Swarovski North America Limited's consumer goods business. "We see the Forum Shops at Caesars as the ideal location for our next licensed boutique so we will be in excellent company. We depend on experienced partners like Marshall Retail Group to help us grow our licensed boutique business."
Marshall Retail Group is the largest independent retailer in the casino industry. They operate a number of different retail concepts with close to 100 stores in more than 25 different casino properties including Caesars, The Venetian, and the MGM Grand among others.
Swarovski has 21 licensed boutiques in the United States, including 12 casino locations. The company says it plans to open 12 more licensed boutiques by the end of 2012, with at least five of the new locations in casinos. Current sales per square foot for Swarovski licensed boutiques range from $1,500 to $5,000, depending on the venue and the size of the space, which vary from 150 to 1,000 square feet. Current casino locations include: The Grand Canal Shoppes, The Venetian Resort Hotel Casino, The Palazzo Resort Hotel Casino, and Foxwoods Resort Casino.
Swarovski has its own network of nearly 300 retail stores in North America. Swarovski's global retail operation is comprised of more than 2,000 retail outlets.
Studio Licensing Joins Forces with Established Brands Licensing
Canada's Studio Licensing, Inc., has expanded its North American presence by joining forces with U.S.-based retail representation and licensing agent, Established Brands Licensing.
The alliance brings together industry-wide expertise, retail relationships, and a network of licensees to the arena. This is further strengthened by a diverse portfolio of key entertainment brands, which includes Cut the Rope, Angel Cat Sugar, Mix Master Final Force, and Lolligag for North America and the NBA, Elvis Presley, and Stupid Factory Studios for Canada.