Global Merchandising Signs Deals for 1D
Global Merchandising Services, representing the worldwide merchandising rights for the band, 1D, announced that it has entered into agreements with a variety of North American licensing partners who will produce products centered around the members of the boy band.
With a large fan base, including more than 4.7 million Facebook fans and 3.1 million Twitter followers, 1D's U.S. success continued last week as their debut single "What Makes You Beautiful" passed two million digital sales and has been certified double platinum by the RIAA. Licensing partners include Accessory Innovations (bags/backpacks), Browntrout Publishers (calendars), First Act (musical instruments), Hasbro (master toy), iStar (plush, light up toys), Jazwares (electronics), LFUSA (sleepwear), Jay Franco (bedding), MZ Berger (watches, clocks), Sky High (stationery), Trends International (posters), Wish Factory (novelties) as well as Canadian partners Revolution (bedding) and LaMour (sleepwear). Products will be available at major retailers globally this fall.
Monstroids Maps Out Brand Strategy
Evolution and Rollman Entertainment, Inc., have partnered with creator Kevin Grevioux on the rights to Monstroids, Grevioux's fresh twist on classic monsters from the upcoming Astounding Comics & Darkstorm Studios comic book series. Together, the team will utilize their expertise to develop and produce new content with an animated television series targeted to boys 6–12 and spearhead a global brand strategy, licensing, and retail development program for the property.
Evolution will focus primarily on developing and executing the Monstroids brand strategy; while Rollman Entertainment will utilize its experience toward the development and production of the Monstroids television series. The Monstroids television series is anticipated to have a Q2 2014 TV launch, with products at mass retail in fall 2014. Key categories will include toys, video games, apparel, accessories, fast food, beverages, and theme parks.
Smart Toys Acquires Rex Games
Smart Toys and Games, Inc., the U.S. subsidiary of Belgian manufacturer Smart nv, has acquired Rex Games, manufacturer of the Tangoes range of products.
Based on the ancient Chinese Tangram puzzle, Tangoes are a learning tool that combines artistic and mathematical elements. The object of each Tangoes puzzle is to form the image on one of the included challenge cards using all seven puzzle pieces.
Tangoes puzzles joining the Smart Toys and Games product line include Travel Tangoes (People; Animals; Objects), Tangoes Jr., Classic Tangoes, Ultra Tangoes, Mini Tangoes, and Double Tangoes. The products range in price from $1.99 to $24.99 and are appropriate for one or more players ages 5 and up.
Dinosaur Train Enters Russia; Expands International Licensees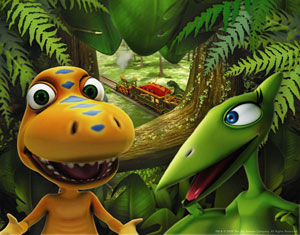 Dinosaur Train, produced by The Jim Henson Company, is expanding its international licensees, and signed a licensing agent in Russia.
TOMY will be introducing its Dinosaur Train product line into both the UK and German retail markets in spring 2013. This is following a successful debut in France in Q4 2011.
New European licensees recently signed for Dinosaur Train include Puffin in the UK for new product in the publishing category beginning in spring 2013; Evasion Communications for costumes and Shok ID for soft toys in France; and Junior Productions for meet-and-greet promos with walk-around character appearances in Sweden. In Portugal, the company has signed a publishing agreement for the brand with Babel; soap, shampoo, and shower gels will be available under a licensing agreement with Secret Fragrancy; and iPlay will debut musical CDs. The European licensing deals were negotiated in collaboration with the local licensing agents: Alphanim in France, Alicom for Sweden, and Atxilipu in Portugal.
The Jim Henson Company has appointed Megalicense to represent the brand's business interest in Russia and C-Trade Ltd. has been appointed as the toy licensee for the region.
In Latin America, Exim Licensing has added several new Dinosaur Train licensees, including Editorial Artemisa for activity, coloring, and sticker books and story books in Argentina, Uruguay, and Chile; Flash Toys for toys, cushions, and plush in Venezuela; Grafiart S.R.L. for party goods in Argentina, Paraguay, and Uruguay; Mexbras Industria Plastica Ltda. for Dinnerware in Brazil; Nenes Chicks for Infant/Toddler apparel in Mexico; Photo Pack for stationery, backpacks, pencil cases, lunch boxes, and melamine plates, bowls, and cups in Mexico.
WBCP, Weta Partner for Hobbit Collectibles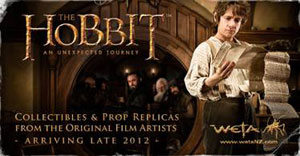 Warner Bros. Consumer Products and Weta Workshop announced a partnership under which Weta will develop and market a wide range of authentic prop replicas, collectibles, and merchandise based on the upcoming films, The Hobbit: An Unexpected Journey and The Hobbit: There and Back Again, productions of New Line Cinema and MGM. The licensing agreement grants Weta access to the library of characters, settings, and stories for the two films. The first products in the collection will be unveiled at San Diego Comic-Con at the Weta booth in July, along with a limited number of exclusive pieces that will be available for purchase. The Hobbit: An Unexpected Journey is slated for theatrical release December 14, 2012.