New Licensees for Pocoyo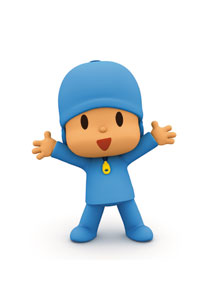 Zinkia Entertainment, brand creator and producer of Pocoyo, has recently signed a roster of new licensing partners in the U.S., negotiated by the company's North American licensing agent, Evolution.
Building upon the more than 200 licensing partners Pocoyo has worldwide, new partners include online Pocoyo party goods and accessories through Buy Seasons; Pocoyo balloons for the global marketplace with Pioneer Balloon Company; Pocoyo toddler bedding and cuddle pillows with Baby Boom Consumer Products; and Pocoyo costume character events with JCP Live Productions.
Sakar, Kidz Bop in Licensing Deal
Sakar International announced that it has signed a licensing agreement to develop, market, and manufacture a new line of audio/video youth electronics with Kidz Bop. Merchandise will include karaoke machines, headphones, earbuds, speakers, and docking stations. Additional product will include DVRs and digital cameras tied to the Kidz Bop music series featuring today's most popular songs, sung by kids for kids. Initial product is expected to hit shelves in the U.S. and Canada during fourth quarter of 2012. Additional product will roll out in 2013.
Sharpe Company to represent Monty Python in North America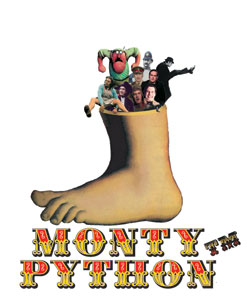 Sharpe Company announced that it is representing the licensing for Monty Python in North America. Working with Bliss House, a licensing program is currently in development.
Monty Python's Flying Circus broadcast 45 episodes on PBS starting in 1974. In addition, there were theatrical releases, books, albums, and a musical.
Annoying Orange Signs Agents in Australia and New Zealand
Collective Digital Studio has appointed Gaffney Global Licensing and Stella Projects to represent The Annoying Orange in Australia and New Zealand.
Fred Gaffney is actively pitching the property to retailers and licensees and is currently appointing a team of core licensees for Australia and New Zealand. Partners that have already signed on include Moose Toys, which will distribute a range of Annoying Orange figurines and plush from The Bridge. The first product will be launched in Toys "R" Us mid-year. Casco Blu will hold the rights to adult and kids outerwear, sleepwear, underwear, and swimwear. Product will be in-store and online in Q4 2012.
In addition, carnival product will be available in August. Other U.S. products will be aligned with local licensees to roll out in 2013.
Lemur Licensing Signs Blue Rhino
Lemur Licensing announced that it has entered into a licensing representative agreement with Ferrellgas, L.P., to represent the Blue Rhino trademark for consumer product licensing. Blue Rhino is the leading name in propane tank exchange. The brand is available at 45,000 retail stores in 50 states and Puerto Rico.
The Ferrellgas, L.P.-owned trademarks that will be available to license are Blue Rhino and the Blue Rhino character. In 1994, Blue Rhino—named for the color of a propane flame and the endangered animal—launched America's first branded tank exchange program. Today, Blue Rhino is more than propane, with a full line of products at the heart of outdoor living. This includes propane tanks, grills, camp stoves, and patio heaters.
Liebmann Licensing Signs QUBI and Virus Attack for U.S., Canada
Italian toy company SUK srl signed Liebmann Licensing as its licensing agent for the U.S. and Canada. Liebmann Licensing will represent QUBI and Virus Attack.
QUBI is a collectible toy that combines a cube with real images and autograph in a stamp. Designed to be thrown like dice, QUBI has two-in-one play value—a trading game and a collectible. Licensed in Italy to the sports newspaper Gazzetta dello Sport, QUBI launched as a collection of Italian Champion Soccer Players. Since launching in 2010, QUBI is now on it's fourth series in Italy.
Virus Attack is a collectible toy line and trading card game based on the popular animated children's television series currently airing on Cartoon Network and Boing in Italy. Launched by Giochi Preziosi in Italy in September 2011, Virus Attack consists of 30 viruses, each with its own unique characteristics including detachable sticky goop and squishy goo. Some of the viruses even come with miniature cars, trucks and other items, which become an additional collectible line.
Zeikos to Make Build-A-Bear Electronics
A Squared Elxsi Entertainment (A2E2) and Build-A-Bear Workshop announced a licensing deal with Zeikos Electronics to produce and distribute consumer electronic accessories including ear buds, headphones, iPhone/iPad cases, and speakers. This line of accessories will be available at select retail locations in time for holiday 2012.
Build-A-Bear Workshop and A2E2 have recently expanded the Build-A-Bear Workshop license into other categories outside of the brand's retail locations. They have announced partnerships with 505 Games, Playmates Toys, Enterplay LLC, Candy Treasures, ConAgra, and TCG (formerly The Canadian Group), which have launched or will launch at retail locations in 2012.
Xcel Brands Signs Jump Apparel
Xcel Brands, Inc., has signed an exclusive licensing agreement with The Jump Apparel Group. This agreement will give Jump the license to manufacture and distribute sportswear, dresses, and suiting under the Isaac Mizrahi New York brand. The collections will debut at retail in spring 2013. In 2011, Xcel acquired designer apparel brand Isaac Mizrahi New York.