TRU Announces Store Growth
Toys "R" Us, Inc., announced that by the end of the year it will have opened eight new stores and transformed 13 existing locations to the side-by-side model. These are representative of the company's ongoing strategy to bring Toys "R" Us and Babies "R" Us together in an integrated store format, providing customers with a streamlined shopping environment that is easy to navigate and showcases the company's differentiated product offerings and services. In adding eight new stores and renovating 13 existing locations, the company says it will create more than 400 new jobs across the country.
By the end of 2012, the company expects to operate 204 side-by-side stores nationwide, accounting for nearly 25 percent of its store base across the country. Stores began opening this year in March and will continue opening through November. Today, these integrated store formats range in size from approximately 30,000 square feet to 70,000 square feet.
EA Sports Partners with Soccer's Tottenham Hotspur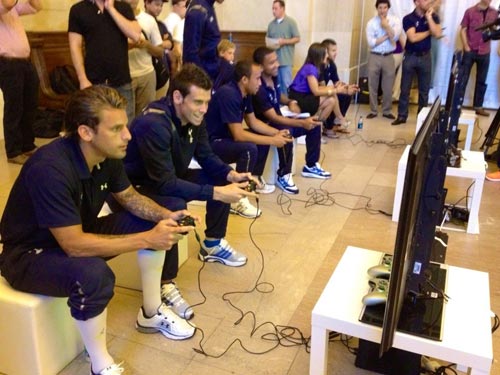 Players from the Tottenham Hotspur Football Club tested out EA Sports' new FIFA 13 video game on Monday at Vanderbilt Hall in New York City's Grand Central Terminal. EA Sports also conducted 3-D head scans of the players while media and fans looked on. The scans will enable the game's development team to capture high-quality and authentic models of the players for use in future games. Electronic Arts and the Hotspur announced a three-year partnership earlier this month, making EA Sports the official video game partner for the English Premier League soccer team. The game is expected to launch at retail on September 28.
The companies said that over the course of the partnership, Tottenham Hotspur and EA will develop a range of initiatives to entertain and engage fans both at White Hart Lane, the club's home pitch, and more widely across their media channels. This includes exclusive videos featuring Tottenham Hotspur players, the ability for fans to predict match outcomes using the EA Sports game engine, and exclusive tournament footage taken from the club's training center to determine the best FIFA 13 player in the squad.
In addition, EA Sports will create a special Tottenham Hotspur game packaging sleeve for FIFA 13, which fans will be able to download from the club website www.tottenhamhotspur.com prior to the game's launch.
Madame Alexander Opens Space in Harrods Toy Kingdom
Madame Alexander opened its Madame Alexander Doll Factory and Middleton Doll Newborn Nursery experiential shop-in-store within Harrods' new 26,000-square-foot Toy Kingdom. The Madame Alexander brand was recently acquired by Kahn Lucas, a global designer and manufacturer of girls' fashion and toy brands.
"We want to engage consumers with all of their senses and allow girls to use their imagination from the moment they see and touch the dolls," says Howard Kahn, CEO of Kahn Lucas. "The Madame Alexander and Newborn Nursery experiences at Harrods are places for families to create memories."
The Madame Alexander Doll Factory inside Harrods allows girls to engage on a personalized level as they choose their favorite doll from a range of skin tones, eye colors, hairstyles, and outfits.
The Middleton Doll Newborn Nursery offers children a fun adoption process where they can choose from eight different baby dolls with the help of a uniformed "NN Nurse." All dolls go through a "check-up" that comes with an adoption certificate. The NN is complete with a full line of outfits and baby accessories.
Melissa & Doug, Preferred Hotel Group in Promo
Preferred Hotel Group announced a new partnership between its Preferred Family program and toy brand Melissa & Doug.
The partnership includes joint marketing initiatives via social media, travel giveaways to some of the 200 Preferred Family Certified hotels worldwide, as well as the chance to win Melissa & Doug's most popular toys and travel goods, including Trunki, the ultimate ride-on suitcase.
Preferred Hotel Group and Melissa & Doug are launching the Preferred Family Packing for Fun Giveaway on Facebook with a grand prize of a four-night stay for four at Mauna Kea Beach Hotel in Hawaii, plus two Trunkis loaded with Melissa & Doug's most popular items. Now underway, visitors to the Preferred Family website, as well as visitors to the Preferred and Melissa & Doug social media channels, can enter by "liking" Preferred Hotel Group on Facebook and completing an entry form telling what items they never leave home without when packing for a family vacation.
The Preferred Family Packing for Fun Giveaway will run through August 17, 2012, when the grand prize will be awarded based on a random drawing. A variety of toys and travel goods from Melissa & Doug will also be given away throughout the promotion.