Rawlings Partners with ESI

Rawlings Sporting Goods Company, Inc., has partnered with ESI Cases and Accessories to create Rawlings-branded consumer electronics accessories, including headphones, ear buds, and pedometers, as well as leather and non-leather protective cases. The license was negotiated by Brand Central LLC, on behalf of Rawlings.
Excel in Deal with RT Holdings' Miami Ink
Excel Corporation announced that it has entered into an exclusive representation agreement with RT Development Holdings, LLC (RTDH), the latest venture from the artists behind Miami Ink. Under the terms of the agreement, Excel Corp. will act as the exclusive licensing agent for RTDH's Ruthless Collective and Ruthless & Toothless brands.
Excel Corp. will be pursuing a variety of licensing opportunities.
TCG Appoints Lisle for Roxx Licensing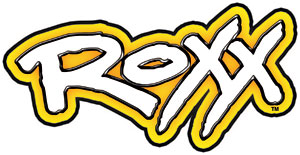 TCG (formerly The Canadian Group) has appointed Lisle International Licensing as its licensing and merchandising agent for the Roxx brand in Europe (including UK), Australia, New Zealand, and emerging markets including Russia and the Middle East.
Roxx is a collectible, competitive skill game targeted to tween boys. The Roxx line includes the collectible pieces, carrying, and display cases, and additional accessories.
Under terms of the deal, Lisle International will represent Roxx for the move from toys and collectibles into apparel, hats, shoes, stationery, and plush. In addition, Lisle will implement Roxx promotions in packaged goods and at fast food chains.
This expansion comes on the heels of a mid-July announcement that Katalyst Licensing & Promotions, Inc., was named as the licensing and merchandising agent for the Roxx brand in Canada.
Joester Loria Adds Deals for PepsiCo Brands
The Joester Loria Group announced that is has expanded its client PepsiCo's soft goods program to a multi-platform partnership with Dynasty Apparel across PepsiCo's brands.
For Pepsi, the program will feature graphics from Pepsi's more than 100 year old archives and layer in new technology, such as augmented reality, to showcase unique brand content such as the Pepsi Max "Uncle Drew" viral sensation that has more than 13 million views.
For SoBe, the Dynasty apparel will capture the vibe and rhythm of sunny South Beach. The collection will include T-shirts, tanks, and fleece for men, young men, juniors, and women.
Mountain Dew apparel by Dynasty will leverage the brand's ties to gaming and a social community through augmented reality technology, as well as feature graphics that reflect the Mountain Dew connection to music and sports.
In addition, The Joester Loria Group expands Mountain Dew's soft goods program in a new partnership with Fanatics, an online retailer, to offer unique Mountain Dew apparel collections for Fanatics digital platforms.
Fanatics dedicated e-commerce site along with online partners such as Amazon.com will now offer T-shirts, tanks, dresses, fleece tops, and bottoms. The collections will be available for men, young men, juniors, and women for this fall.
TeamWorks to Represent Calimero in Italy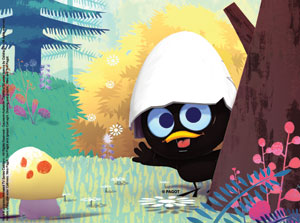 The Italian TV network RAI recently announced a new Calimero series. As a result, Paris-based Alphanim has appointed TeamWorks to represent the property in its home market of Italy.
The character of Calimero was created in 1963 by Nino Pagot, Toni Pagot, and Ignazio Colnaghi. The character became the centerpiece in a successful TV advertising campaign that ran on RAI through the 1960s and 1970s.
In later years, from 1970 to the present, more than 70 hours and 290 episodes of entertainment programming aired in 79 countries making Calimero a European cultural icon.
Alphanim is now producing the new CGI series with TF1 under the direction of Marco Pagot. Broadcast is expected to start for the brand's 50th anniversary in 2013–2014. Alphanim distributes the program and manages the brand internationally on behalf of Calidra, the rights owner.
Suzy's Zoo Partners with StickerYou.com
Lawless Entertainment and Suzy's Zoo announced the launch of Suzy's Zoo's custom sticker pages in partnership with StickerYou.com.
StickerYou.com offers customers the opportunity to create their very own sticker sheets with many of their favorite characters, which will now include Suzy's Zoo. Customers can select from the images offered to create their own custom-made stickers in different sizes and combinations, or choose one of the sticker sheets pre-selected by StickerYou. New characters and new images will be added to the assortment regularly.