Back to School By The Numbers
This Labor Day weekend marks the unofficial end of summer. With the start of each new school year, families shop for a variety of items and this year they are expected to spend more than last year. According to the National Retail Federation (NRF), parents with children in grades K–12 are expected to spend an average of $688 this year, compared with $603 in 2011. The NRF says that college families will spend $907, up from $808 last year. College items and grade school spending for the back-to-school season will reach $83.8 billion. This is more than Mother's Day, Father's Day, Valentine's Day, and Easter spending combined, according to the NRF. Meanwhile to offer a comparison of consumer spending, $470 billion is spent on Christmas.
Neil Patrick Harris in Hasbro Games Ad Campaign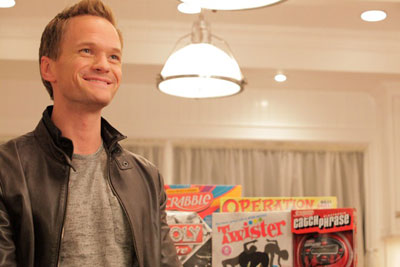 Actor Neil Patrick Harris has teamed up with Hasbro for a new ad campaign featuring the Scrabble Catch Phrase game. Harris, star of CBS' How I Met Your Mother, is featured in the game's television advertising campaign, which began airing this week in the U.S.
"It's no secret I love games," said Neil Patrick Harris, in a statement. "Since I regularly host game nights, teaming up with Hasbro for this campaign to introduce Scrabble Catch Phrase was a no brainer. I had a great time making the ads and showing how games make a party great and bring people together in a fun, comical way."
Along with the commercial, Harris will help kick off Hasbro Game Night, a new campaign that celebrates the fun and spontaneity of adding a game to any occasion.
Vote for The Playmakers in American Airlines Contest and Win Advantage Miles
Holiday weekends are usually filled with travel plans. Regardless of your plans this Labor Day weekend, here is a chance to earn American Airlines Advantage Miles while supporting the toy industry.
The Playmakers has been selected as one of the Top-9 companies in the "Existing Business" category selected by American Airlines—Flights. Camera. Action—Video Upload Contest. The contest is sponsored by American Airlines, Inc., and promoted by Startup America Partnership, LLC.
Participants in the American Airlines Video Upload Contest were asked to answer the question; "How do the connections you make through travel help boost your business?" To answer the question, The Playmakers founder, Tim Walsh, set about producing the selected video which can be seen here: www.crazychins.com/aa.
Voting for the contest is now open to the public until September 14. The top nine videos (three from each category), as voted on by the public, will then be judged by a panel of small-to-medium-sized business experts on persuasiveness, creativity, and impact. The Grand Prize winner will be announced at the Inc. 500|5000 Awards and Ceremony in Phoenix, Ariz. Participating voters also have the chance to earn 25,000 AA Advantage Miles.
Vote for The Playmakers at www.crazychins.com/aa. The Playmakers also created a blooper reel, which can be seen here.
TOMY Named Global Master Toy Licensee for Pajanimals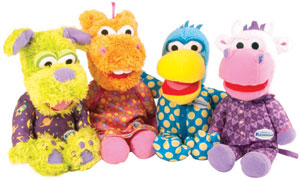 The Jim Henson Company has extended its licensing agreement with TOMY International naming the company as the global master toy licensee for its Pajanimals brand. TOMY International was initially appointed the company's U.S. master toy licensing partner in October 2011.
Under the terms of the multi-year agreement, TOMY International will develop an assortment of toys and juvenile products for the global marketplace. Replicating the company's U.S. product line, among the TOMY Pajanimals products and merchandise being developed for international retail are 9-inch and 15-inch plush toys based on each of the series' four main characters, nighttime projectors, monitors, nightlights, and a Snuggle Up Story Mat.
TOMY will debut the first Pajanimals products in the U.S. this October; and the same product line will also debut this fall in Australia. The broader line will roll out in both the U.S. and in Europe, Latin America, Australia, and Canada next year.
Wild Kratts Expands Globally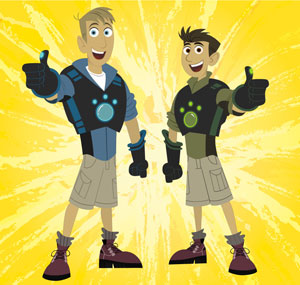 9 Story Entertainment announces multiple sales of the animated children's comedy adventure series Wild Kratts. A co-production between The Kratt Brothers Company and 9 Story Entertainment, Wild Kratts is distributed internationally by 9 Story Entertainment and by Kratt Brothers Company in the U.S. and Canada.
Chello Media has purchased season one (40×22') for Eastern Europe (Hungary, Romania, Czech Republic, Moldova, Slovakia, Albania, Bosnia-Herzegovina, Serbia, Kosovo, Montenegro, Croatia, and Slovenia). Season two (26×22') has been sold to MediaCorp PTE Ltd. (Singapore), TV3 Catalunya (Spain), Discovery Kids Latin America, Discovery Kids Asia, Noga (Israel), and Primetime (Columbia).
Wild Kratts was created and developed by real life brothers and zoologists Martin and Chris Kratt. The series premiered in January 2011 on PBS Kids Go in the U.S., and TVOntario, Knowledge Network, and Télé-Québec in Canada. The series has also been sold to children's broadcasters including Super RTL (Germany), Al Jazeera Children's Channel (Middle East), SIC (Portugal), RTE (Ireland), and VRT (Belgium).
In Wild Kratts, the Kratt brothers leap into animated action in a half-hour comedy adventure. In each episode, Chris and Martin Kratt travel to a different corner of the world to meet new animals.