For many years, Moose Toys' product lines were distributed in the U.S. by other toy companies. Now Moose Toys is ready to make its own statement in the U.S. with the continued expansion of The Trash Pack product line and the introduction of Gelarti and The Fortune Cookie Maker as well as other brands.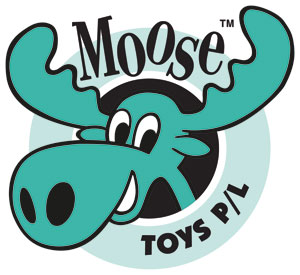 Nancy Lombardi: Consumers, along with the toy industry, may not be fully aware of the name "Moose Toys." However, everyone should be familiar with your products because the lines have been distributed by other companies for the North American market for many years. How do you plan to make a full brand statement in the U.S. at this time?
Paul Solomon: Moose Toys has been around for 20 years and has operated in the United States for more than 10 years. Our products are distributed across the globe in more than 75 countries and we have products in all categories including collectibles, arts and crafts, activity toys, novelty items, and outdoor products.
U.S. consumers and the toy industry would be familiar with Moose's products because we previously worked with other toy companies to distribute our products. For instance, Moose manufactured the hit collectible Mighty Beanz in 2002. Last year we made our grand entrance into the U.S. market as both a manufacturer and distributor as we introduced The Trash Pack. The brand has been immensely popular, with more than 15 million Trashies sold worldwide. This fall, we will be launching series three of The Trash Pack with an expanded line that now includes numerous vehicles and playsets, including a competitive game to stack the trash, and even more Trashies for fans to collect and swap with more than 100 new characters.
Our successful launch of The Trash Pack last year made it possible for us to introduce more brands this year, including Micro Chargers, Blingles, Gelarti, and Fortune Cookie Maker.
N.L.: The Trash Pack has been a very successful brand. To what do you attribute the success and how do you plan to keep the momentum moving? What core play patterns does this touch on that keeps kids interested?
P.S.: We attribute the success of The Trash Pack to our experience in turning toys such as Mighty Beanz into highly sought-after collectibles. When designing The Trash Pack we knew this product would tap into kids' interest in collecting. The disgustingly fun themes and names of the Trashies, appeals to kids, especially boys. From the time it was introduced in fall 2011, it was instantly a success and fans are always clamoring for the latest Trashies—especially the limited edition characters.
We're going to build upon this momentum with the launch of series three this fall at Toys "R" Us. The highly anticipated launch of series three is expected to put the brand onto the wish lists of kids nationwide and establish The Trash Pack as a beloved collectible for years to come.
The core play patterns that The Trash Pack touches on include imaginative play, collectibility, and improving fine motor skills. Personally, I think it is the collectibility that makes The Trash Pack so successful. Kids love the challenge of building a complete collection and with such reasonable price points; it's something that is attainable for families.
N.L.: Explain some of the other key brands for this holiday season. The products seem to feature classic play patterns with a fresh, modern twist such as Micro Chargers and the Fortune Cookie Maker.

P.S.: We are launching Micro Chargers, Blingles, and Fortune Cookie Maker this fall. Micro Chargers are micro-sized racecars that charge in just eight seconds to race at scale speeds of 600-plus miles per hour. Blingles is a new addition to the arts and crafts category that gives kids the opportunity to create gem stickers. Fortune Cookie Maker is an all-in-one kit that lets kids make and decorate fortune cookies. In addition to these brands, we also introduced Gelarti, a new product in the arts and crafts category that allows kids to make their own reusable gel stickers, this past spring.
Our company prides itself on tapping into what we know kids love and then putting a new spin on it that makes our products fresh and innovative. Micro Chargers is a great example of this since it's well known that kids love racing and competition. We developed the brand with this in mind and then took it to the next level with the speed and size of the cars. We believe that the out-of-this-world speed of Micro Chargers will contribute to the brand's success.
Moose Toys is also excited to introduce Blingles and Fortune Cookie Maker to the market in time for the holidays. Blingles are gem stickers that kids create using the included templates or by creating their own designs with their imagination. They can use the gem stickers to personalize and accessorize their mp3 players, headphones, notebooks, laptops, and countless other accessories. Fortune Cookie Maker taps into the classic play pattern of baking and creating food. These types of products are always popular with kids, but to put a fresh spin on it, we added the step of writing a fortune. This gives an additional level of fun to making and decorating fortune cookies.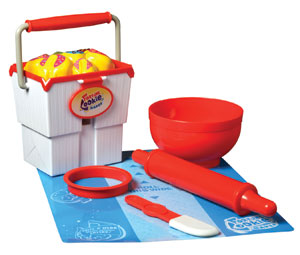 N.L.: How do you get your message out to kids and to parents? Traditional ads? Social media? What media platform(s) do you find to be the most effective?
P.S.: Each of the five Moose brands—The Trash Pack, Micro Chargers, Blingles, Gelarti, and Fortune Cookie Maker—will be advertised on TV throughout the fall and leading into the holiday season. Advertising during children's programming is a great way for us to introduce our brands to kids while we reach parents through social media, gift guides, and stories that they are reading in print throughout the fall. Publicity is a major focus as we do reach out to the media to secure editorial in print, TV segments, and blogger coverage. We have not run print advertising to date but would consider it as part of a 360 approach if the message could be creatively translated. Further, many of our brands interact with our fans socially on our brands' Facebook pages and regularly encourage our consumers to become active fans in our online community.
N.L.: Explain the relationship with Toys "R" Us (TRU). Is TRU carrying Moose products exclusively or will the items also be found at other retailers? Who are some of your other retail partners in North America?
P.S.: We have a very strong relationship with all of the retailers that carry our products, but this is especially true with TRU. They were immensely supportive and did a great job in helping to launch The Trash Pack last fall when it was their exclusive item. We also look forward to launching exclusive items with them this fall, including some Trash Pack products.
We have had great support from the U.S. retail market. Distribution for this fall includes Target, Walmart, Walgreens, Five Below, Kmart, and specialty retailers, as well as Toys "R" Us.