Hunger Games Promo at TRU; Appearance by Amandla Stenberg
In anticipation of The Hunger Games DVD and Blu-Ray release on Saturday, August 18, Toys "R" Us (TRU) stores across the country will serve as the go-to destination for fans to find the latest products. Additionally, fans can celebrate this release at 12:01 am on Saturday, August 18 in select Toys "R" Us stores across the country.
"The Hunger Games has quickly become one of the most popular properties in the world, and from dolls to charm bracelets, shoppers are sure to find the broadest assortment of products based on the film at Toys "R" Us," said Lisa Harnisch, senior vice-president, general merchandise manager, Toys "R" Us, U.S. "We worked closely with Lionsgate to create a one-stop shopping destination for fans as they anxiously count down the time until the DVD and Blu-Ray release."
Nearly 100 TRU stores in the U.S. will open their doors shortly before midnight, allowing customers to be among the first to purchase The Hunger Games. A full list of stores participating in the midnight opening can be found online at Toysrus.com/HungerGamesStores.
Toys "R" Us Times Square will host a special appearance by Amandla Stenberg, who played "Rue" in the film, on Saturday, August 18 at 10am. She will visit TRU to meet with a limited number of fans and autograph select purchases.
Middleberg Communications Acquires G.S. Schwartz
Middleberg Communications announced that it has acquired GS Schwartz & Co. GS Schwartz's team of eight staffers has joined Middleberg's 25-employee office, said CEO Don Middleberg. He added that GS Schwartz founder and CEO Jerry Schwartz has taken on the role of senior counselor, focusing on new business and client relations, and COO Rachel Honig became managing director and principal at Middleberg.
No layoffs will occur as a result of the deal, said Middleberg in a statement. Financial terms of the deal were not disclosed.
GS Schwartz's client roster includes Reader's Digest, the Toy Industry Association, and law firm Golenbock Eiseman Assor Bell & Peskoe. Middleberg Communications reported revenue of $3.05 million in 2011, down 8 percent compared with the previous year. GS Schwartz saw revenue of $3.85 million last year, a drop of 19 percent compared with 2010, according to a statement from the companies.
Since founding the firm in 2006, Middleberg has acquired agencies including TowersGroup, The Weiser Group, and social media agency Laundry Service, which occurred earlier this year.
Restaurants Giggles N' Hugs Signs with The Licensing Shop
Giggles N' Hugs, Inc., an upscale, children's-themed restaurant, has partnered with The Licensing Shop, Inc., (TLS) to develop and support the company's brand merchandising strategy.
Giggles N' Hugs offers an upscale, family-friendly restaurant with a play area dedicated to children 10 years and younger. The restaurant has a high-quality menu made from fresh, organic foods.
Joey Parsi founded the company in 2007 after what he describes as a "void in the marketplace" for restaurants that encourage kids to be themselves while parents can enjoy a quality meal in a casual setting. Among its family-friendly vibe, Giggles N' Hugs is also known for their own creation called "Mom's Tricky Treat Sauce," which hides pureed vegetables in kids' favorite meals such as pizza and macaroni and cheese.
"The early success of our first two locations has led us to engage licensing and merchandising experts like the Licensing Shop to help build our brand," said Parsi in a statement. "We plan to extend the quality experience of our differentiated concept into on-brand products that can be sold within our physical locations, as well as retail partners. These items will include, branded children's clothing, frozen foods with our Mom's Tricky Treat Sauce, and coloring books among others. As we look to expand company-owned stores and franchises, our branded products are yet another way we are able to provide our unique items that both kids and parents can agree on."
In addition to the Southern California market, the company's immediate growth plans include markets such as Seattle, Vancouver, and the East Coast.
Domo on Summer Van Tour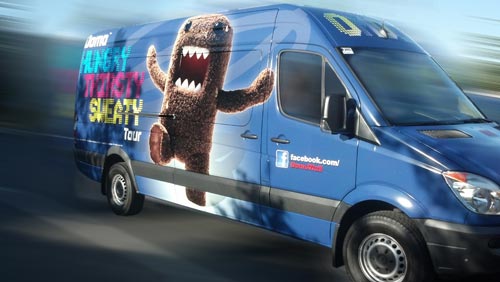 Big Tent Entertainment announced that Domo is in the midst of its first-ever summer tour called "Hungry Thirsty Sweaty," from July 30–August 20. Domo will be interacting with fans up and down the West Coast, making appearances at Spencer's stores and other retail locations as well as this summer's biggest music festivals. To build excitement, street artists Swank One and Teknyc have created Domo-inspired murals, which will be prominently displayed in Los Angeles and San Francisco tour stops.
The "Hungry Thirsty Sweaty" Summer Tour will be visiting 18 cities across three states beginning in Vancouver, Wash., and concluding in Los Angeles.
Follow his journey online through daily tweets, messages, photos, and videos on Domo's personal Facebook, Twitter, and Instagram accounts as well as on Spencer's Facebook page. Visit domonation.com
Spin Master Launches its New Doll Line LaDeeDa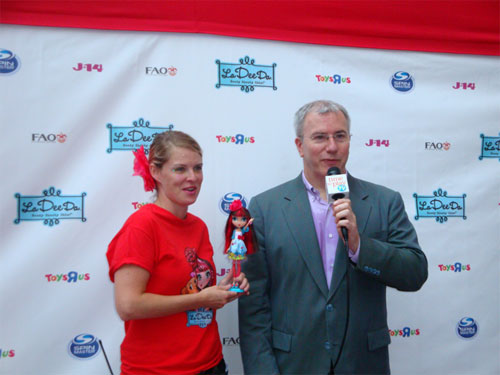 Spin Master launched its new doll line LaDeeDa at an event in Times Square this morning. Kids were invited to take part in a host of activities such as face painting, photos ops, crafts, raffles, and treats.
Shown here is Chris Byrne (The Toy Guy) interviewing Spin Master's Rachel Griffin about the doll for TimetoPlayMag.com.
For more information on the doll line watch (and read) the review here.