TRU Launches its Own Tablet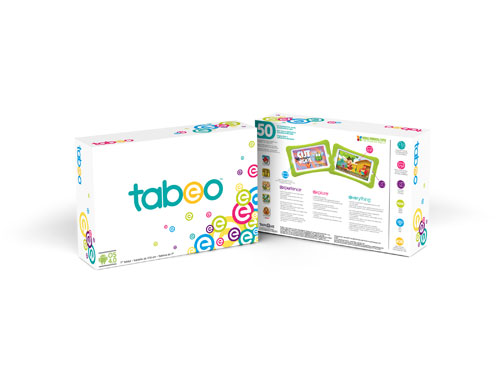 Toys "R" Us (TRU) announced the introduction of its first wi-fi tablet, tabeo. This 7-inch, multi-touch tablet features 50 free, pre-installed apps. There are nearly 20 included games such as Angry Birds, Fruit Ninja, Cut the Rope, Temple Run, 100 Floors, Collapse!, Tiki Golf, Tiki Cart 3-D, and more.
Nearly 10 apps help children learn about letters, math, science, and additional categories. Software installed on tabeo includes AlphaTots, Discovery Kids Putterbugs, Operation Math, and TechCalc, along with five more learning apps.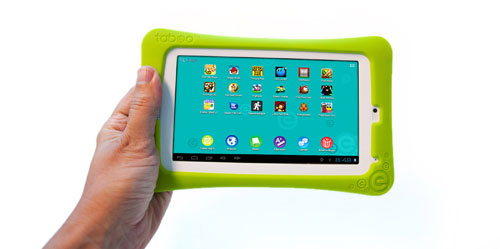 Those ready to explore the world around them can find creativity, photography, cooking and activity apps, such as Putt Putt Zoo, Freddy Fish and the Stolen Shell, Camera App, and more than 10 additional apps. Tabeo also comes with iStorybooks. There are thousands of apps, available for purchase at the tabeo App Store.
There is 4GB of internal flash memory. It is expandable through a micro SDHC slot. Additionally, each tabeo comes with one USB cable and USB power adaptor to ensure easy connection to a computer or wall outlet for charging.
Integrated parental controls offer the flexibility to customize levels of internet access for each member of the family. Tabeo will be available exclusively at TRU stores nationwide starting October 21 for $149.99 and is now available for pre-order online at Toysrus.com.
Disney Opens Disney Baby Store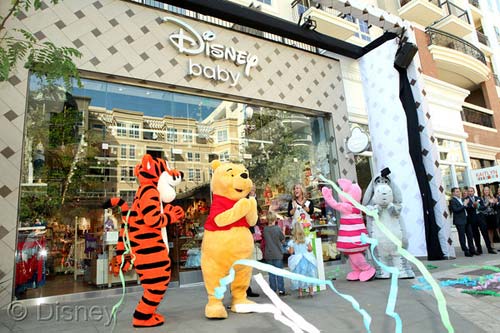 Disney opened its first Disney Baby Store last week in Glendale, Calif., at The Americana at Brand, offering an exclusive array of baby products. In addition to the first store, the Disney Baby online boutique launched at DisneyStore.com/disneybaby, and a selection of Disney Baby products is also available within Disney Store locations nationwide.
At the opening celebration to kick off the launch of the store, president of Disney Consumer Products Bob Chapek and actress and mom Allison Sweeney greeted more than 20 expectant military moms with Operation Shower, a non-profit organization that supports military families by hosting baby showers to ease the stress of deployment. Disney teamed with Operation Shower to honor the new moms and their families by treating them to a baby shower and complimentary shopping experience in the new store.
In addition, Disney says that a focused assortment of Disney Baby products is also available at Amazon.com, Babies "R" Us, Kmart, Sears, Target, and Walmart.
Saban, MarVista Partner for Julius Jr. TV Series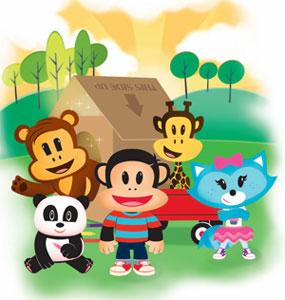 Saban Brands, the brand owner for the Paul Frank franchise, introduces the new animated preschool series Julius Jr. and names MarVista Entertainment the international television distributor for the 2-D animated series.
Saban Brands and Brain Power Studio are currently in production on 26 half-hour episodes (or 52 x 11 minute episodes) of Julius Jr., a preschool series starring characters based on the Paul Frank brand, which MarVista will debut to international television buyers at this year's MIP Junior market.
In the new series, Julius Jr. is a monkey with a penchant for invention and a dream, a team, and a scheme to make all his wildest imaginings come true. Everyday items come to life with quirky characteristics and unexpected results.
Saban Brands will support Julius Jr. with a global consumer products campaign, which is currently in development.
Carlin West Agency Signs Mr. Nussbaum Educational Website for Licensing

Carlin West Agency LLC (CWA) announced that it has been named agency of record for K-8 education site MrNussbaum.com and the Mr. Nussbaum brand. MrNussbaum.com is home to more than 100 free educational games, covering subjects from math and language arts, to science and social studies, and thousands of free educational activities. The website gets six million page views and 800,000 unique visitors per month. CWA is actively seeking strategic licensing partners from hard goods to multimedia and publishing as it grows the brand's awareness.
CWA also announces its first global content partnership for Mr. Nussbaum. Educational games from MrNussbaum.com, including Speed Math, Conquer the States, and Around the World are now available as free pre-loaded apps on Techno Source's Kurio tablet.
MrNussbaum.com was created in 2002 by Greg Nussbaum, an elementary school teacher in Fairfax County, Va., who wanted to supplement his students' classroom learning in a fun engaging way. Mr. Nussbaum taught himself how to code and developed a website with free interactive games and activities that creatively combine fundamental learning principles with kids' entertainment.