Stan Lee's SLAM7 to Air on The Hub, Licensing Deals Signed
A2 Entertainment, a full-service brand entertainment company, and Stan Lee's POW Entertainment announced a number of licensing and branded content deals for Stan Lee's Mighty 7 (SLAM7).
Stan Lee's Mighty 7 is set to have a television movie premiere next year on The Hub TV network. The film is expected to serve as a springboard for a potential future television series. Gaiam Vivendi Entertainment has been granted the rights for home video distribution.
Hot Topic and GreenSource have signed a deal to introduce an exclusive SLAM7 apparel program at Hot Topic in 2013.
Archie Comics, publisher of Stan Lee's Mighty 7 comic book, announced another series of original SLAM7 comic books, which will continue to be released every other month through 2013.
Stan Lee is known as the co-creator of Spider-Man, The Incredible Hulk, X-Men, and Iron Man, among many others.
Entertainment Licensing Assoc. Partners with Kaliya K.K.
Entertainment Licensing Associates (ELA) announced the formation of a joint venture with Tokyo-based Kaliya K.K. headed by Kei Hiroki. The joint venture will seek to acquire, adapt, develop, produce, and license films, anime, manga, video games, toys, and other Japanese intellectual property rights for exploitation across all platforms in North America and around the world.
ELA's Dan Kletzky and Hiroki have known and worked together for more than 10 years, first at Konami Digital Entertainment and then at Fields Corp, where Kletzky served as a consultant to the Pachinko film subsidiary Lucent Pictures where Hiroki was an executive.
Chica Gets a Float in Macy's Thanksgiving Day Parade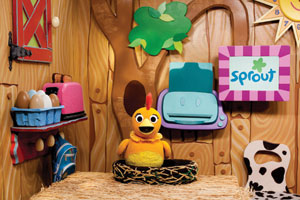 This Thanksgiving, 24-hour preschool television channel Sprout will have its own float in the 86th Annual Macy's Thanksgiving Day Parade, which takes place in New York City. The new Sprout float will feature Chica the Chicken along with her Sprout friends.
Designed and constructed by the team at Macy's Parade Studio, the Sprout float will feature a barn and tree house for Chica and the gang. The new float joins the Macy's Parade lineup in celebration of the The Chica Show, set to premiere on Sprout, Saturday, November 24. Chica was initially featured on The Sunny Side Up Show on Sprout.
Henson's Doozers Go Global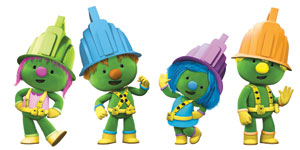 The Jim Henson Company has made the first international sale of its preschool CG-animated series The Doozers, a co-production with DHX Media, to Turner Broadcasting in EMEA. The series, consisting of 52 x 11 minute episodes, will air in most territories across Europe, the Middle East, and Africa on Turner Broadcasting's preschool channel, Cartoonito, beginning fall 2013.
The Doozers are only three inches tall, green, and live in communities (just beyond the view of humans) all around the world. This new animated series focuses on Doozer Creek, a Doozer community that is a high-tech enchanted forest melding nature with innovation. It's a self-sustaining community, in harmony with nature.