Yo Gabba Gabba! Creator Launches Transmedia Property UMIGO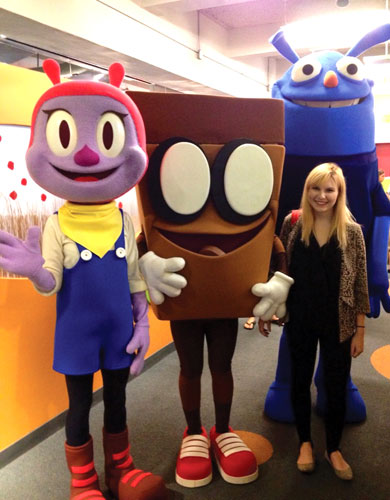 W!LDBRAIN Entertainment, in cooperation with its outreach partners The Children's Museum of Manhattan (CMOM) and WTTW Chicago, introduced the new, first-of-its-kind transmedia math-focused property UMIGO (You Make It Go) at CMOM on Thursday, Oct. 4. UMIGO was spawned from the mind of Michael Polis, W!LDBRAIN Entertainment president and executive producer of Yo Gabba Gabba! UMIGO is designed to engage kids ages 6–8 in the exploration of science, technology, and mathematical concepts through multiple entry points of interactive, collaborative play. This includes animated music videos with original songs by popular artists, an interactive online environment, mobile apps, books, board games, and more. The imaginary world of UMIGO is populated by geometric building blocks known as UMIs. Its cast of characters, inspired by Polis' own three children, include Bit, the magic box, who gives learners the tools they need to navigate the world; Dizzy, the big blue bundle of energy, who provides inspiration; and Bean, who helps learners execute tasks.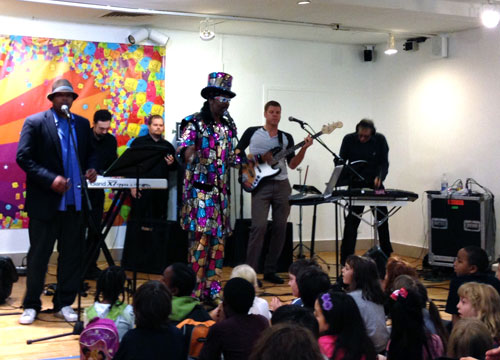 The event featured the first live performance of UMIGO songs performed by musical artists Biz Markie and Parliament Funkadelic's Bootsy Collins and a meet-and-greet with UMIGO characters. The event also invited children from the New York Public School system and homeschoolers to participate in transmedia UMIGO math workshops using UMIGO's Stack Attack board game and digital content on iPads. These items are currently only available through UMIGO's outreach partners.
UMIGO was developed by W!LDBRAIN in partnership with WTTW Chicago and the Michael Cohen Group, LLC. UMIGO is funded in part by a Ready to Learn Award from the U.S. Department of Education. For additional information on the property, visit umigo.info and Facebook.com/UMIGO or check out its new video content available at www.youtube.com/yoUMakeItGO.
UK Licensing Agent Named for Upcoming DreamWorks Films
DreamWorks Animation SKG, Inc., has signed Bulldog Licensing as its UK licensing agent for three new CG animated films Rise of the Guardians (November 2012), The Croods (March 2013), and Turbo (July 2013). Bulldog will work to promote all three properties across all licensing categories. Confirmed partners already include Fisher-Price and Mattel as master toy for The Croods and Turbo respectively, and D3Publisher is currently developing interactive product for all three titles.
Wendy's Serves Up Augmented Reality Game with Kids' Meals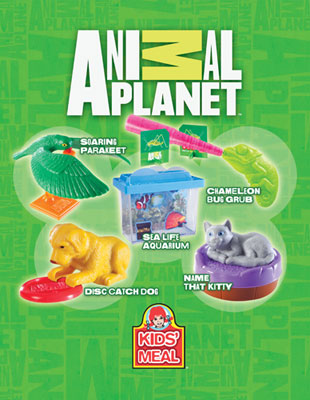 Discovery Communications and Wendy's entered a partnership to bring an augmented reality (AR) game to Wendy's kids' meals. Beginning October 8, Wendy's will distribute Animal Planet-themed kids' meal premiums featuring an AR overlay. The new Animal Planet toys are designed to bring the essence of the brand to life and enhance the kids' meal play experience. With each purchase, kids will receive an Animal Planet premium featuring one of five animals: a dog, cat, parakeet, chameleon, or fish. Each toy will showcase a trait of the specific pet, such as a dog catching a disc or a cat purring. The AR experience features the same pets and allows kids to play games from a desktop or mobile device through iTunes and Google Play. Each game of virtual play is differentiated among the five pets and incorporates each animal's natural play patterns. Participating Wendy's will also distribute coupons for a special offer on Animal Planet products, available at Toys "R" Us. The promotion will be supported with in-restaurant marketing in more than 6,000 Wendy's locations nationwide. Animal Planet's North American licensing agent The Joester Loria Group brokered the deal.
Winx Club Secures New Deals in Brazil
Nickelodeon & Viacom Consumer Products has signed a series of new deals for Winx Club in Brazil. Licensees launching new product this month include Panini (magazines and stickers), SulAmericana (dress-up fairy costumes), Algazarra (puzzles and balls), and Cotiplás (dolls and roleplay products). In November, Alphafestas will release Winx Club party goods at Walmart, Extra, and Carrefour as well as other retailers. Xeryus will launch Winx Club-branded backpacks in December at specialty stores such as Darco, Inovathi, Comtesse, while Colibri will offer Winx Club-branded blankets beginning in spring 2013.