Henson's HIP to Distribute Driftwood Bay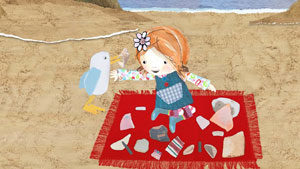 Sixteen South Television has named The Jim Henson Company's third-party licensing label, HIP (Henson Independent Properties) as the exclusive worldwide distributor for its new mixed media, animated preschool series, Driftwood Bay.
Season one of Driftwood Bay (52 x 7' episodes) is currently in production with delivery slated for spring 2014. Driftwood Bay follows the imaginative adventures of five-year-old Lily who lives in a beach hut with her Dad on an island.
The series is inspired by the artwork of Joanne Carmichael, a mixed media artist whose work comprises items salvaged from the beach near her home on Scotland's Isle of Arran. The script is edited by Sam Barlow (Thomas & Friends, Bob the Builder). Storylines encourage youngsters to create their own fun and adventures, finding inspiration from the everyday and unusual items that appear in our lives.
Ubisoft Acquires THQ Montreal
Ubisoft announced the acquisition of THQ Montreal as well as the publishing rights for the upcoming South Park: The Stick of Truth video game, being developed externally by Obsidian.
"This deal adds experienced developers to our internal creative teams at a key moment in the cycle of the video game industry," said Yannis Mallat, president of Ubisoft Montreal.
In addition to the team at THQ Montreal, Ubisoft also acquired a new, yet-to-be announced IP in development at the studio. THQ Montreal will join Ubisoft's development teams.
South Park: The Stick of Truth is being developed by Obsidian Entertainment, the studio behind Fallout: New Vegas, and is scheduled for release in 2013.
Atari Files Chapter 11
Atari, Inc., Atari Interactive, Inc., Humongous, Inc., and California U.S. Holdings, Inc., filed petitions for relief under chapter 11 of the United States Bankruptcy Code in the United States Bankruptcy Court for the Southern District of New York earlier this month. With this move, the U.S.-based Atari operations seek to separate from its French parent holding company, Atari S.A. (formerly Infogrames S.A.) and secure independent capital for future growth, primarily in the areas of digital and mobile games.
Within the next 90-120 days, the companies expect to effectuate a sale of all, or substantially all, of their assets in a "sale free and clear" under section 363 of the Bankruptcy Code or to confirm plans of reorganization that accomplish substantially the same result. These assets include not only one of the most widely recognized brand logos but also legendary game titles including Pong, Asteroids, Centipede, Missile Command, Battlezone, and Tempest. Other recognized brands include Test Drive, Backyard Sports, and Humongous.
Under current management, Atari, Inc., has shifted its business from traditional retail games to digital games and licensing with an increased focus on developing mobile games based on some of Atari's most iconic and enduring franchises.