Barbie's Malibu Dreamhouse for Sale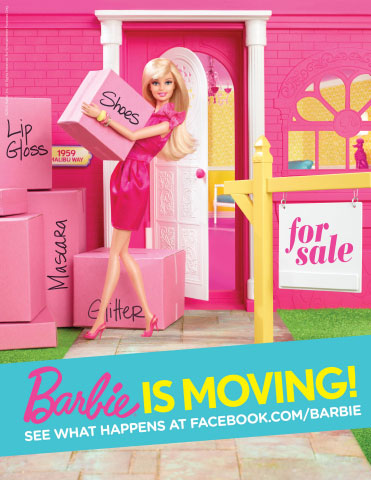 Mattel's latest year-long global brand campaign has Barbie's iconic Malibu, Calif., Dreamhouse for sale for an imaginary price of $25 million. Mattel is working with realtor-to-the-stars Josh Altman and there is even a listing on realty website, Trulia.com (Trulia.com/Barbie).
Over the next few months, Mattel will have Barbie embark on a worldwide scouting tour where she will enlist the help of a "Dream Team" of designers to provide her with advice and inspiration to make a decision on her new home. This year's global campaign will feature real-life, life-sized experiences, online engagement, and retail touch points that bring the Barbie Dreamhouse to life in new ways.
The Barbie Dream Team of interior designers include Los Angeles-based textile designer and design influencer Lulu Dekwiatkowski, New York/Palm Beach-based designer Celerie Kemble, and West Coast fashion and home product designer Trina Turk.
Barbie will open the doors to her Dreamhouse with the first-ever, larger-than-life Barbie The Dreamhouse Experience, which will debut on two locations—Florida in the U.S. and Berlin, Germany. Inspired by Mattel's web series, Barbie Life in the Dreamhouse, this interactive installation celebrates Barbie's fabulous life, allowing fans a look inside her pink palace.
On Barbie.com, which reaches 13 million unique visitors around the world monthly, girls can make their dreams a reality by customizing their own Dreamhouse.
Also beginning in March, Royal Caribbean International is offering the Barbie Premium Experience. Available fleetwide, the onboard Barbie package lets girls sleep in Barbie-themed staterooms, attend a Barbie tea party, and design Barbie outfits.
This fall, Mattel will introduce the 2013 Barbie Dreamhouse, which is expected two feature two elevators.
What to Expect, Little Airplane Partner for Preschool Content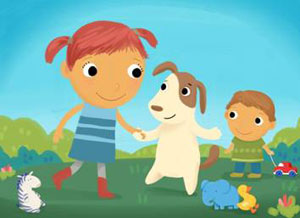 What to Expect, the brand that has been the world's resource for expectant and new parents for more than 25 years, has teamed up with Little Airplane Productions, producer of multiple TV series for preschoolers, including The Wonder Pets, 3rd & Bird, and Small Potatoes. Together, they are launching What to Expect Jr., a new partnership that will create original television content for young viewers. It is the first time the What to Expect brand, the home of the What to Expect pregnancy and parenting book series, and WhatToExpect.com, has been developed for television.
The first venture in the new partnership is the animated short form television series Amazing Ace & Grace, created by What to Expect's Heidi and Erik Murkoff and Little Airplane's founder and president Josh Selig.
Amazing Ace & Grace uses humor and music to help preschoolers navigate through new experiences and challenging transitions. Amazing Ace & Grace features Grace, a creative and curious 4-year old girl; her little brother Chase; and her constant companion, her favorite stuffed dog, Ace.