Disney Reports Q1 Results
The Walt Disney Company reported earnings for its first quarter ended December 29, 2012. Diluted earnings per share (EPS) for the quarter was $0.77, but excluding certain items affecting comparability EPS was $0.79 compared to $0.80 in the prior-year quarter.
"After delivering another record year of growth in 2012, we're off to a solid start in Fiscal 2013," said Robert A. Iger, chairman and CEO, The Walt Disney Company. "Our ongoing success is driven by our long-term strategy, the strength of our brands and businesses, and our high quality family entertainment."
Media Networks revenues for the quarter increased 7 percent to $5.1 billion and segment operating income increased 2 percent to $1.2 billion.
Cable Networks
Operating income at Cable Networks decreased $15 million to $952 million for the quarter due to a decrease at ESPN, partially offset by growth at the domestic Disney Channels, ABC Family, and A&E Television Networks (AETN). The decrease at ESPN was driven by higher programming and production costs, partially offset by higher affiliate revenue. The increase in programming and production costs reflected contractual rate increases for college football and the NFL and an increase in the number of NBA games due to the lockout in the prior year. The increase in affiliate revenue was due to contractual rate increases and a reduction in revenue deferrals related to annual programming commitments. During the quarter Disney deferred $154 million of revenue compared to $190 million in the prior-year quarter. The decrease in revenue deferrals was due to changes in the provisions related to annual programming commitments in certain affiliate contracts. At the domestic Disney Channels, growth was driven by higher affiliate revenue due to contractual rate increases. The improvement at ABC Family was driven by higher advertising sales reflecting higher units sold and lower marketing costs. Higher equity income from AETN reflected higher affiliate and advertising revenues, partially offset by higher marketing costs, along with the benefit of the increase in the Company's ownership from 42 percent to 50 percent.
Broadcasting
Operating income at Broadcasting increased $36 million to $262 million driven by increased advertising revenues at the ABC Television Network and owned television stations and higher program sales, partially offset by higher primetime network programming costs. The increase in network advertising revenues was primarily due to higher advertising rates and higher online advertising, partially offset by lower ratings and fewer units sold. Higher advertising revenue at the owned television stations reflected increased political advertising. Program sales growth was driven by Revenge and Once Upon A Time. Higher programming costs were due to more hours of first run original scripted programming in the current quarter.
Parks and Resorts
Parks and Resorts revenues for the quarter increased 7 percent to $3.4 billion and segment operating income increased 4 percent to $577 million. Results for the quarter were driven by an increase at Disney's domestic operations, partially offset by a decrease at the company's international operations.
Higher operating income at domestic operations was primarily due to increased guest spending at both Walt Disney World Resort and Disneyland Resort, the addition of the Disney Fantasy cruise ship, which launched in March 2012, attendance growth at Disneyland Resort, and higher occupied room nights at Walt Disney World Resort. These increases were partially offset by higher operating costs and lower average cruise ship ticket prices driven by a cruise itinerary out of a new port location for the Disney Magic. Increased guest spending reflected higher average ticket prices, daily hotel room rates and food, beverage, and merchandise spending. Higher operating costs were due to resort expansion and new guest offerings, including the addition of the Disney Fantasy and investments in systems infrastructure at Walt Disney World Resort, as well as labor and other cost inflation.
Lower results from international operations reflect higher costs due to new guest offerings and labor cost inflation at Disneyland Paris and start up costs at Shanghai Disney Resort, partially offset by increased guest spending at Hong Kong Disneyland Resort.
Studio Entertainment
Studio Entertainment revenues decreased 5 percent to $1.5 billion and segment operating income decreased 43 percent to $234 million.
Lower operating income for the quarter was driven by decreases in home entertainment and theatrical distribution, partially offset by an increase in television and subscription video on demand (TV/SVOD) distribution.
The decrease at home entertainment was due to lower unit sales reflecting the strong performance of The Lion King Diamond release in the prior-year quarter compared to the Cinderella Diamond release in the current quarter. Additionally, the prior-year quarter included Cars 2, which had lower production cost amortization given the strength of its merchandise licensing revenues, compared to Brave in the current quarter.
The decline in theatrical distribution was driven by marketing and distribution costs for Lincoln and Monsters, Inc. 3D in the current quarter, the continuing strong performance in the prior year of The Lion King 3D, which was released in Q4 2011, and one additional new Disney theatrical title in wide release in the current quarter. Key new Disney titles in wide release in the current quarter were Wreck-it Ralph and Frankenweenie while The Muppets was released in the prior-year quarter.
The operating income increase in TV/SVOD distribution was primarily due to a domestic SVOD sale of library titles in the current quarter and higher international sales driven by the timing of title availabilities.
Consumer Products
Consumer Products revenues increased 7 percent to $1 billion and segment operating income increased 11 percent to $346 million. Higher operating income was due to increases at Merchandise Licensing and at Disney's retail business.
The increase at Merchandise Licensing was due to lower revenue share with the Studio Entertainment segment, which reflected a higher mix of revenues from properties subject to the revenue share in the prior-year quarter driven by sales of Cars merchandise.
For the retail business, higher operating income was driven by higher comparable store sales in Japan and growth in North America, which benefited from higher online sales, comparable store sales growth, and store format changes.
Interactive
Interactive revenues for the quarter increased 4 percent to $291 million and segment operating results improved from a loss of $28 million to income of $9 million. Higher operating results were driven by lower acquisition accounting impacts for the social games business, which were adverse in the prior-year quarter and growth from the company's Japan mobile business from a new licensing agreement for Disney branded mobile phones and content.
REMINDER: Organization Created to Foster Next Gen in Toy Industry; Party During Toy Fair
Toy Industry Association (TIA), endorsed the establishment of Toy Industry Next Generation (TING), a new organization created to support the growth, development, and retention of young professionals in the toy industry.
The group, for those 35 and under, is organized around three strategic principles: Gather, Grow and Give. TING-sponsored events, forums, and educational seminars are intended to help its members build successful career tracks and foster a high level of personal investment within the toy industry early in their career.
Membership in TING is free and open to professionals who are employed by TIA members. Qualifying individuals from non-TIA member companies will be able to participate in certain TING-sponsored activities for a modest fee.
TING will make its debut during Toy Fair with a launch event on Monday, February 11 from 6–8pm at The Parlour (247 W. 30th Street; between 7th and 8th Avenues, New York City). Light hors d'oeuvres and one complimentary drink will be provided for all attendees. There will be a $25 (cash only) entrance fee for non-TIA members. Proceeds will be donated to the Toy Industry Foundation.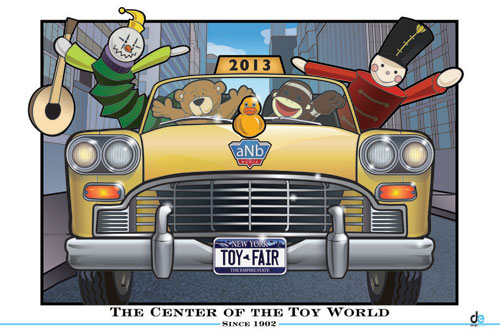 For more information and to RSVP, please email TING.Organization@gmail.com. At the launch event, TING will be collecting contact information for its planned social media outreach on LinkedIn, Facebook, and Twitter.
2013 Toy Fair Poster Unveiled
aNb Media in collaboration with Design Edge unveil the 2013 Toy Fair poster. Shown here, the poster created by Design Edge, will be available at aNb Media's booth 2001 at Toy Fair in the Javits Center. Posters are free while supplies last.