Fisher-Price Named Master Toy for Julius Jr.
Saban Brands announced that Fisher-Price will be the global master toy licensee for the company's newly announced Julius Jr. property. Julius Jr. is an animated preschool series slated to launch on Nick Jr. in 2013, and is inspired by the Paul Frank family of characters and its iconic monkey, Julius. Fisher-Price plans to produce a full range of products including playsets, plush, roleplay toys, and more for the global marketplace.
Saban Brands' new property follows the adventures of a young version of Julius. Julius Jr. is a funky monkey with a penchant for invention. Together with his best pals, Worry Bear, Sheree, Clancy, and Ping, they build a playhouse out of a simple cardboard box. But when they walk inside they discover that ordinary objects magically come to life and amazing adventures are just a door away. Julius Jr. proves every day that the best inventions are the ones that help your friends.
Fremantle Expands Wizards vs. Aliens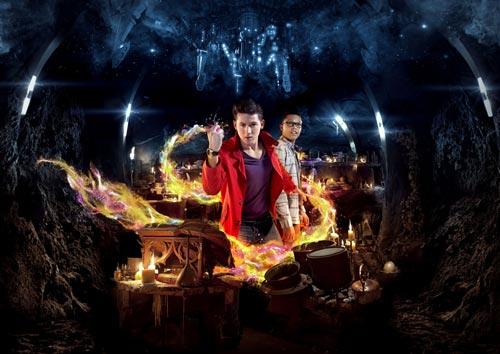 FremantleMedia Kids & Family Entertainment's action-adventure drama series Wizards vs. Aliens announced sales to a number of territories including North America, Latin America, Australia, New Zealand, France, and more.
Following the success of season one in the UK, Wizards vs. Aliens will make its American debut on The Hub in 2013.
In addition to The Hub, Wizards vs. Aliens has also been sold to upwards of 50 territories including Australia and New Zealand (ABC, UKTV), Canada (BBC Kids), Latin America (HBO Family), France (Canal J), Poland (Canal+), Israel (Imagine Media), Thailand (Workpoint), and Malaysia (RTM).
Wizards vs. Aliens is filmed in Cardiff and produced by BBC Cymru Wales in association with FremantleMedia Kids & Family Entertainment for CBBC. Created by Russell T. Davies and Phil Ford—those behind Doctor Who, Torchwood, and The Sarah Jane Adventures—the pitting of science versus magic has proven to be a winning incantation.
Wizards vs. Aliens follows the adventures of two 16-year-old schoolboys, Tom and Benny, who battle to save Earth from the Nekross, an alien race. While Tom lives a seemingly ordinary life with his dad and grandmother, he hides a deep secret: his family members are wizards. So when the Nekross arrive to attempt to steal all the magic from Earth, they haven't expected resistance from Tom and his friend, science super-brain Benny. Together they form an extraordinary alliance using Tom's magic and Benny's science to battle the Nekross and save Earth.
FremantleMedia Kids & Family Entertainment manages worldwide distribution of the series outside the UK, as well as brand licensing, home entertainment, and other ancillary rights including publishing.
Out of the Blue, Amazon in Preschool TV Deal
Out of the Blue Enterprises has partnered with Amazon.com to develop Guggie's Creative Galaxy, an all-new original animated creative arts series for preschoolers for Amazon Instant Video. Out of the Blue, producers of Daniel Tiger's Neighborhood and Super Why, says this new series aims to inspire creative thinking and hands-on learning through play. In addition to its role as executive producer, Out of the Blue also will serve as licensing consultant for the new property.
Guggie's Creative Galaxy aims to stimulate young imaginations and teach parents the fundamentals of creativity through its dynamic mix of a variety of artistic mediums, including crafts, story, music, and dance. The show follows the fun adventures of an alien and his inspirational sidekick as they travel through the galaxy, solving creative challenges along the way with the help of live-action preschoolers, while at the same time enlisting the help of the preschool home viewer. The show focuses on one simple theme at a time, exploring it from all angles—visually, musically, kinetically, and emotionally.
Mr. Peabody & Sherman Movie Moved to 2014
DreamWorks Animation SKG, Inc., announced that, at the recommendation of its distributor, Twentieth Century Fox, it has decided to change the domestic theatrical release date for Mr. Peabody & Sherman to March 7, 2014. The film had previously been scheduled for release on November 1, 2013. Me & My Shadow, which had previously been scheduled for release in March 2014, will now return to development at the studio.
"Our distributor, who has had great success in March with their Ice Age franchise, has recommended we move Mr. Peabody & Sherman to the spring of 2014, which we totally agree is a much more advantageous release window," said Anne Globe, CMO of DreamWorks Animation. "Mr. Peabody & Sherman is now the first of our three-picture lineup for next year."
The company's feature film slate for 2013 and 2014 is now as follows: The Croods on March 22, 2013; Turbo on July 19, 2013; Mr. Peabody & Sherman on March 7, 2014; How to Train Your Dragon 2 on June 20, 2014; and Happy Smekday! on November 26, 2014.
Correction: TOTY Award Winners
In yesterday's news, two TOTY awards were omitted from the story. The overall Toy of the Year award was presented to LEGO Friends (The LEGO Group). LeapPad2 (LeapFrog Enterprises, Inc.) received the inaugural People's Choice award. We regret the error.