Netflix, DreamWorks Partner for Kids TV Series
Netflix and DreamWorks Animation announced that they will create the first-ever Netflix original series for kids. Based on the DreamWorks film Turbo, premiering in theaters this summer, the Netflix series Turbo: F.A.S.T. (Fast Action Stunt Team) debuts exclusively this December globally where Netflix offers its service.
DreamWorks Animation's Turbo is a 3-D comedy about an ordinary snail who dares to dream big—and fast. After a freak accident miraculously gives him the power of super-speed, Turbo embarks on a journey to achieve the seemingly impossible: competing in the Indianapolis 500. The film, which stars the voices of Ryan Reynolds, Paul Giamatti, Michael Pena, Luis Guzman, Bill Hader, Richard Jenkins, Ken Jeong, Michelle Rodriguez, Maya Rudolph, Ben Schwartz, Kurtwood Smith, Snoop Lion, and Samuel L. Jackson, is expected in theaters on July 19, 2013.
Turbo's pursuit of racing greatness continues in Turbo: F.A.S.T., which is an episodic animated television series that picks up where the feature film leaves off.
In addition DreamWorks Animation feature titles will be made available for Netflix members in the U.S. to watch beginning with the studio's 2013 film lineup.
Skylanders Passes $1 Billion in Retail Sales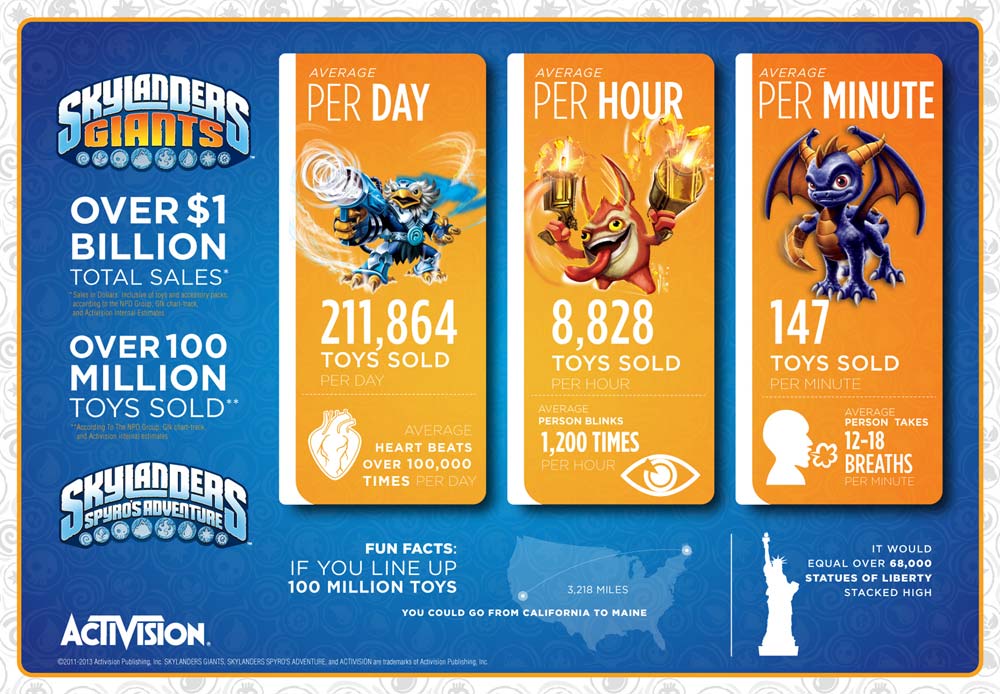 Activision Publishing, Inc., a wholly owned subsidiary of Activision Blizzard, Inc., announced that together Skylanders Spyro's Adventure and Skylanders Giants have generated more than $1 billion in retail sales worldwide (inclusive of toys and accessories) in just 15 months, according to The NPD Group, GfK Chart-track, and Activision internal estimates.
Activision says that through January 2013, more than 100 million Skylanders toys have been sold at retail (inclusive of toys and accessory packs), according to The NPD Group, GfK Chart-track, and Activision internal estimates.
Additionally, Activision announced the launch of Skylanders Swap Force at Toy Fair, which lets kids customize their own characters.
Skylanders Swap Force lets players reconfigure 16 Swap Force characters into more than 250 unique combinations. Kids can mix and match characters' powers and then bring them to life in the game. In addition to the new characters, the game features 32 core Skylanders characters (16 completely new Skylanders characters and 16 new versions of fan-favorite characters from previous games) and eight new LightCore characters.
Fans of the franchise also can play Skylanders Swap Force with their entire collection of toys from both Skylanders Spyro's Adventure and Skylanders Giants, now with the added capability of jumping.
MGA, Nick Partner for Lalaloopsy TV Series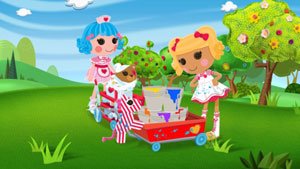 MGA Entertainment and Nickelodeon have partnered to launch 52 episodes of the animated preschool series Lalaloopsy, which is set to premiere this spring on Nickelodeon. Based on MGA's Lalaloopsy doll line, the half-hour series celebrates diversity, friendship, and teamwork and features the original eight Lalaloopsy characters including Crumbs Sugar Cookie, Mittens Fluff 'n Stuff, Bea Spells-a-Lot, Pillow Featherbed, Jewel Sparkles, Peanut Big Top, Spot Splatter Splash, Dot Starlight, and all of their friends. The characters magically came to life when their last stitch is sewn, with personalities based on the fabrics that were used to make them.
Jakks Signed for El Chavo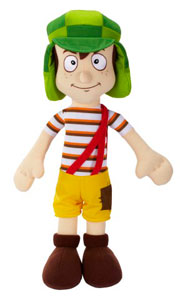 Jakks Pacific announced during Toy Fair that it has been appointed as the North American master toy licensee by Univision Communications, Inc., to manufacture, distribute, and market a line of toys inspired by El Chavo, the comedy series that airs in the U.S. and in Spanish-speaking countries worldwide.
The El Chavo product line from Jakks Pacific will include action figures, plush, dolls, roleplay products, dress up, seasonal toys, table top games, and novelty items that celebrate the world of El Chavo including a variety of characters seen in El Chavo Animado, the animated series airing on the Univision Network. The line is expected to be out this fall.
The most-watched television sitcom in Mexican history, El Chavo was made famous by comic Roberto Gómez Bolaños more than four decades ago. The show has been watched by audiences across all of Latin America, Spain, and the U.S. for more than 25 years. El Chavo Animado on Univision will bring the nostalgia and popularity of the original series to a new generation.
TRU Launches Fisher-Price's Octonauts Toy Line
Toys "R" Us will introduce an assortment of toys from Fisher-Price based on Octonauts, which will be available in stores nationwide and online at Toysrus.com beginning in March. TRU will be the first retailer in the U.S. to offer the preschool line of action figures, playsets, and vehicles based on the TV show, which airs daily on Disney Channel and Disney Junior.
Octonauts, inspired by the children's books of the same name, follows the underwater adventures of Captain Barnacles Bear, Lieutenant Kwazii Cat, and their expert medic, Peso Penguin, as the group sets out to explore the world's oceans, rescue the creatures who live there, and protect their habitats. The series initially launched in the UK in 2010 before making its U.S. debut on Disney Channel in January 2012.
WBCP Announces Licensees for Wizard of Oz 75th Anniversary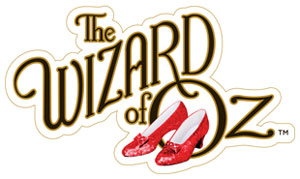 Warner Bros. Consumer Products (WBCP) announced during Toy Fair its extensive list of licensees for the 75th anniversary of The Wizard of Oz in 2014. Jazwares, the master toy licensee, will unveil a range of five-inch fashion dolls, playsets, and roleplay accessories this fall.
Mattel will unveil three new Pink Label The Wizard of Oz Barbie dolls this fall as a part of the Barbie Collector line. Hand and finger puppets from Puppet Heap will offer caricatures of Dorothy and her friends and foes. It will be sold in packaging that converts into a puppet theater. Schylling offers a Jack-in-the-Box with a plush Dorothy. R.J. Wright Dolls will introduce Toto as a companion for its Dorothy doll. A themed train-set from Lionel Little Lines will be available. Alexander Doll will unveil The Wizard of Oz 12-inch machine-washable plush dolls. Round 2 will offer figures, wooden toys, puzzle games, clip-ons, banks, and sound-and-motion dioramas. Funko, Rubie's Costumes, Promotional Partners, and Darice will continue to offer fan-favorites for kids and collectors.
USAopoly will launch The Wizard of Oz Monopoly, Game of Life, and Memory Challenge this summer. Masterpiece Puzzles and Ceaco will offer puzzles inspired by Thomas Kinkade renditions of moments from the film.
Also available for collectors is a plush bear dressed as The Wicked Witch from Steiff, complete with a 75th anniversary medallion. High-end dolls from Tonner and Adora will round out the collectible lineup.