Storch Steps Down as TRU CEO
Toys "R" Us, Inc., just announced that Gerald L. Storch will transition from his role as CEO of the company, while remaining in his capacity as chairman of the board. The company will begin a search for a successor CEO, and Storch will continue in his position as CEO during the transition period.
Storch joined the company in February 2006 following its acquisition by an investment group consisting of affiliates of Bain Capital Partners LLC, Kohlberg Kravis Roberts & Co., and Vornado Realty Trust. As chairman of the board, Storch will continue to provide strategic guidance and play a key role in its growth initiatives.
Hasbro Signed as Master Toy for Jurassic Park 4
Universal Partnerships & Licensing (UP&L) and Hasbro announced that they will join forces to market and distribute toy products globally for Jurassic Park 4, the next installment of Steven Spielberg's film series that is scheduled to be released on June 13, 2014. Hasbro has been the master toy partner for each of the prior three films.
With the fourth installment, Hasbro has the rights to develop a wide variety of toys including figures, plush, dolls, playsets, vehicles, roleplay, games, KRE-O branded building sets, and novelty items. Products will be available on shelves beginning in summer 2014.
Additionally, Universal will release the classic Jurassic Park in 3-D on April 5, 2013.
Hexbug Happy Meal Promotion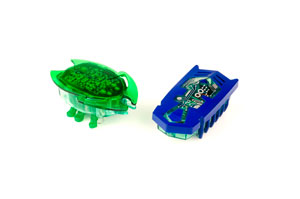 Innovation First International, creators of the Hexbug Micro Robotic Creatures brand announced a partnership with McDonald's to feature custom Hexbug toys in McDonald's Happy Meals at participating restaurants across North America.
The four-week Hexbug Happy Meal program will run from February 22–March 21, 2013, while supplies last. Participating McDonald's restaurants across the United States and Canada will offer customers one of six collectible Hexbug Micro Robotic Creatures with the purchase of a Happy Meal. The options include fast crawling Hexbug Speed Beetle in green and red; slow crawling Hexbug Beetle in black and orange; and bump-and-go Hexbug Nano Pullback blue and black.
McDonald's will support the partnership with a fully-integrated marketing campaign that includes television advertising, in-restaurant merchandising, custom packaging, and an online web presence. The television advertising campaign will run from February 22–March 21, 2013.
PlaSmart to Distribute Morphology
PlaSmart, Inc., has signed an exclusive agreement to distribute the board game Morphology worldwide.
"Morpohology is an entertaining team game that brings families and friends together in creative and hilarious fun," says Tim Kimber, owner and CEO of PlaSmart Inc. "It is an outstanding addition to the family of smart, simple, and amusing products we proudly distribute around the world."
Launched in 2009 for ages 13 and up, Morphology is a hands-on board game for four or more players where creativity wins. The "Morphologists" use their ingenuity to build and animate shapes with wooden pieces, glass beads, strings, and colored cubes, as well as their own body parts.