Think Asia, Think Hong Kong Promotion Launches
The largest Hong Kong promotion ever to take place in the U.S will be held this summer to showcase Hong Kong's advantages for American companies looking to tap new business opportunities in Asia, particularly on the Chinese mainland, according to the Hong Kong Trade Development Council (HKTDC).
"Think Asia, Think Hong Kong" will feature symposiums in New York and Los Angeles, June 11 and 14 respectively. Speakers will include CY Leung, chief executive of the Hong Kong SAR Government, and more than 60 prominent senior executives from global companies. The event is organized by the HKTDC, with support from 14 Hong Kong partners and nearly 100 U.S. organizations.
The sessions will focus on why U.S. companies should use Hong Kong's business advantages. They will also look at how Chinese enterprises have been expanding their international presence through Hong Kong, and what mainland companies are looking for in global partners.
In addition, some 10 industry sessions will take place. These will provide practical tips on selling consumer brands to mainland China and throughout Asia, explore technology partnership opportunities, discuss finance-related topics, spotlight the latest trends in the mainland's outbound investment and look at Hong Kong-mainland collaborations in film and digital entertainment.
More than 100 Hong Kong government officials and business leaders from a wide spectrum of sectors, including lifestyle products, fashion, food and wine, technology, finance, accounting, legal, logistics, and marketing, will take part in Think Asia, Think Hong Kong. Business-matching sessions will be organized with U.S. companies onsite. The campaign is expected to attract more than 2,000 American corporate leaders, government representatives, heads of small and medium enterprises (SMEs), and opinion leaders with a special interest in Asia. Visit www.thinkasiathinkhk.com/usa/en/index.html
Henson's HIP Signs I Love Egg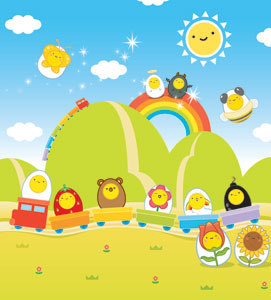 HIP (Henson Independent Properties), The Jim Henson Company's third-party media distribution and consumer products banner, has acquired the global rights outside of Asia to I Love Egg from D&H, Inc., of Korea.
The property originated as a series of animated shorts on the Korean website, www.iloveegg.com. HIP will be screening I Love Egg interstitial content for international program buyers during MIPTV in Cannes, France next month. A licensing strategy for I Love Egg will be a focus at this year's Licensing Show.