Hello Kitty and KISS Team Up for New Animated Series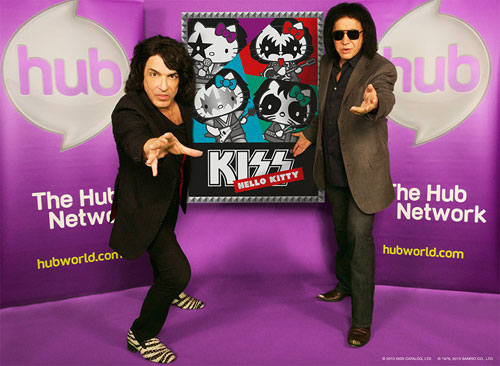 The Hub Network has optioned the rights to the new animated series KISS Hello Kitty (working title). The series is based on the successful KISS x Hello Kitty line of co-branded products from Sanrio, which launched globally in 2010.
It will feature the four KISS x Hello Kitty characters living their rock 'n' roll dreams and bringing pink anarchy to every situation they are in.
The series is in the initial stages of development with KISS frontman Gene Simmons signed on as an executive producer. It will be produced by KISS Catalogue Ltd. and Sanrio.
Ford Mustang Unveils 50th Anniversary Logo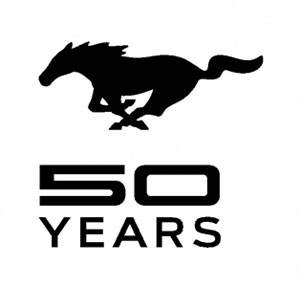 The Ford Mustang is marking its 50th anniversary with a commemorative logo crafted by Ford designer Michael Thompson. The logo features a silhouette of Mustang's trademark galloping pony over the characters "50 Years." The new icon will appear in white on black or black on white. Only 50 companies will be licensed to create products bearing the special edition logo. Product, which will roll out over the coming months, will include high-quality die-cast vehicles, video games, watches, and apparel.
Babies 'R' Us, WhatToExpect.com to Offer New Resources for Parents-to-be
Babies "R" Us and WhatToExpect.com have entered into a strategic partnership to offer expectant moms convenient access to their combined content and retail resources. As part of the collaboration, the Babies "R" Us Registry is now available on WhatToExpect.com. This is the first time the Babies "R" Us Registry will be available through an external channel beyond Babiesrus.com and Babies "R" Us stores. WhatToExpect.com will also feature Babies "R" Us user reviews and suggested must-have products for moms- and dads-to-be.
Additionally, the Resource Center on Babiesrus.com will begin featuring expert editorial content from WhatToExpect.com, including articles, videos, and tips from Heidi Murkoff, the creator of the What to Expect When You're Expecting pregnancy and parenting brand. Topics will focus on both pre- and post-natal advice, including crib-training techniques, tips for bathing a newborn and diaper bag necessities, and more. Babies "R" Us will use this content across its other channels, including on its social media sites and in stores.
The two brands will support the partnership with a comprehensive cross-promotional program, inclusive of digital advertising, social media and signage within Babies "R" Us stores nationwide.