Actress Gwyneth Paltrow to Deliver Licensing Show Keynote
Advanstar and The International Licensing Industry Merchandisers Association (LIMA), jointly announced last week that actress and entrepreneur, Gwyneth Paltrow, will deliver the 11:30 a.m. keynote address at Licensing Expo 2013 in Las Vegas on Tuesday June 18.
The presentation will be followed by a question and answer session with Paltrow and her business partner, fitness expert, Tracy Anderson.
The show will open on the morning of June 18 at 8:30 a.m. with an executive keynote panel, featuring Brad Globe, president, Warner Bros. Consumer Products; Andy Prince, senior category director, toys, Walmart; Josh Silverman, executive vice-president, global licensing, Disney Consumer Products; and Henry Stupp, director and CEO, The Cherokee Group. The group will discuss the state of licensing and the forces that will impact the industry's future such as the globalization of retailing, communication, brands, and products. The effects of technology on interaction with retailers, brands, and content as well as how the changing media landscape will affect business.
Paltrow's keynote, entitled, Brands on the Brink of Global Expansion, is free for all Licensing Expo attendees. Speaking in her capacity as founder of Goop.com, a digital media company and lifestyle resource, and as co-owner of the Tracy Anderson brand, Paltrow will discuss her strategy for global expansion.
Paltrow and Anderson will exhibit in the new Fashion District at Licensing Show. They will launch global extensions for the Tracy Anderson brand, which currently includes fitness content, custom machinery and equipment, four state-of-the-art fitness studios in the U.S., and a range of DVD fitness programs.
Tree Fu Tom Launches on Sprout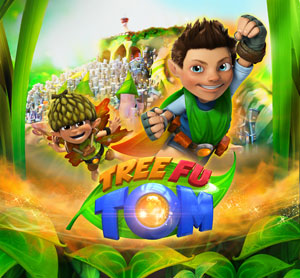 FremantleMedia Kids & Family Entertainment announced that Tree Fu Tom will be premiering on Sprout, the 24-hour preschool channel on April 22. Featuring former Doctor Who star David Tennant (voice of Twigs), Tree Fu Tom is a CG-animated show set in an enchanted world called Treetopolis, where movement creates magic and every child gets to be a hero. Children are brought into magical action through special movements designed to help their motor-skill development. When Tom performs a special sequence of action movements, he creates Tree Fu Magic that transforms him into a superhero.
With animation by Blue Zoo Animation, Tree Fu Tom is a co-production between FremantleMedia Kids & Family Entertainment and CBeebies In-house Production. FremantleMedia Kids & Family Entertainment manages international distribution for the series outside of the UK and manages other ancillary rights globally. Tree Fu Tom originally launched in the UK on CBeebies.