Hasbro Reports Q1
Hasbro reported financial results for the first quarter 2013. Net revenues for the quarter increased 2 percent to $663.7 million compared to $648.9 million in 2012. First quarter 2013 net revenues include a negative $3.3 million impact of foreign exchange. The net loss for the first quarter 2013 was $6.7 million, or ($0.05) per diluted share compared to a net loss of $2.6 million, or ($0.02) per diluted share, in 2012. The first quarter 2013 was a 13-week period compared to the first quarter 2012, which was a 14-week period.
As adjusted, net earnings for the first quarter 2013 increased 30 percent to $6.6 million, or $0.05 per diluted share. This excludes pre-tax charges of $28.9 million, or $0.14 per diluted share, associated with previously disclosed restructuring actions as well as favorable tax adjustments of $5.5 million, or $0.04 per diluted share. First quarter 2012 net earnings were $5.1 million, or $0.04 per diluted share, excluding $11.1 million, or $0.06 per diluted share, of restructuring charges.
"We entered 2013 with a heightened focus on our brands, organization, and profitability, and delivered a good start to the year. In the first quarter, our global Hasbro teams generated revenue growth and strong underlying profitability growth," said Brian Goldner, Hasbro's president and CEO. "We are creating innovative consumer experiences across our brand blueprint globally while improving efficiencies and focus throughout our business. Our emerging markets continued to post double-digit revenue gains while the U.S. and Canada team delivered another quarter of revenue growth backed by profitability improvement. The reinvention of our Games business led to another quarter of revenue growth in the Games category while brand innovation and new initiatives delivered gains in the Girls and Preschool categories."
As previously announced, the Company is undertaking a cost-savings initiative designed to better align resources and costs while targeting $100 million in annual savings by 2015. During the first quarter 2013, the Company incurred $28.9 million in pre-tax charges, or $0.14 per diluted share, associated with this initiative. The Company currently expects full-year charges of $30 to $35 million, prior to potential pension charges. Potential pension charges could be up to $10 million, dependent on the type of benefit payments pension participants request during the remainder of 2013.
Gross savings for 2013 are now expected to be $45 to $48 million, resulting in expected net savings of $13 to $15 million for the full-year, prior to potential pension charges.
Major Segment Performance
U.S. and Canada segment net revenues increased 4 percent to $342.1 million compared to $329 million in 2012. The results reflect growth in the Girls and Games categories. The U.S. and Canada segment reported 162 percent growth in operating profit to $37.7 million compared to $14.4 million in 2012.
International segment net revenues were essentially flat at $289.8 million compared to $289.7 million in 2012. Net revenues in the International segment grew 1 percent excluding a negative $3 million impact of foreign exchange. Revenues in the International segment reflect growth in Latin America and Asia Pacific as well as the Games, Girls, and Preschool categories. The International segment reported an operating loss of $4.5 million compared to an operating loss of $5.1 million in 2012.
Entertainment and Licensing segment net revenues increased 5 percent to $30.8 million compared to $29.3 million in 2012. The segment primarily benefited from the sale of television programming. The Entertainment and Licensing segment reported an operating profit of $5.3 million compared to $7.7 million in 2012.
First Quarter 2013 Product Category Performance
For the first quarter 2013, net revenues in the Boys category decreased 20 percent to $242.8 million. Marvel, Nerf, and G.I. Joe product revenues grew in the quarter, while several brands faced difficult comparisons with the first quarter 2012.
The Games category continued its positive momentum from year-end, posting 26 percent revenue growth in the first quarter 2013 versus last year. Games that grew in the quarter include Magic: The Gathering products, Angry Birds Star Wars, and Transformers games, the reinvention of Twister with the Twister Rave line, and Monopoly, which was led by a tremendously successful global campaign to "Save Your Token."
The Girls category also continued its year-end growth trend, increasing 23 percent in the quarter. Furby, My Little Pony, and One Direction products contributed to the year-over-year gains.
The Preschool category also grew in the first quarter, increasing 8 percent to $75.2 million. Play-Doh and Playskool Heroes brands continued to grow in the quarter.
Dividend and Share Repurchase
On February 6, 2013, Hasbro declared a quarterly cash dividend of $0.40 per common share, an increase of $0.04 per share, or 11 percent, from the previous quarterly dividend of $0.36 per common share. The dividend will be payable on May 15, 2013, to shareholders of record at the close of business on May 1, 2013. During the first quarter 2013, the Company repurchased a total of 519,600 shares of common stock at a total cost of $20.2 million and an average price of $38.81 per share. At quarter end, $107.1 million remained available in the current share repurchase authorization.
MAP, MSRP Seminar at ASTRA Convention
The American Specialty Toy Retailing Association (ASTRA) announced that updated information on pricing regulations will be available for specialty toy retailers and manufacturers at the ASTRA Marketplace & Academy in Nashville, Tenn. An educational session titled MAP, MSRP, and RPM: What's Legal and How Do You Enforce It? will be offered on Sunday, June 16, 2013, from 5pm to 6pm. It will cover minimum advertised pricing (MAP) rules, antitrust laws, and related issues.
Leading the MAP session at ASTRA's Marketplace & Academy is attorney Todd R. Seelman, co-chair of the antitrust and competition practice group at Lathrop & Gage LLC. He will be joined by representatives from International Playthings, Neat-Oh!, and The Creditors Network for a discussion of pricing pitfalls for manufacturers and retailers. The discussion will provide clear guidance on antitrust laws and what constitutes price fixing, and will help manufacturers and retailers understand how to avoid pricing behaviors that are prohibited.
L. Frank Baum's Life and Adventures of Santa Claus Heads to Big Screen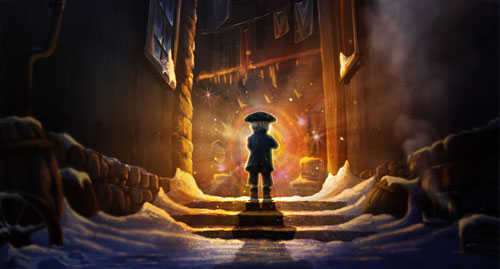 RGH Entertainment (a division of Rubicon Group Holding) has started production on Life and Adventures of Santa Claus, an animated feature film to be released in 3-D CG. RGH will be attending the Cannes Film Festival with worldwide rights to the film, which is expected to be available for a global theatrical release for Christmas 2014.
The film is directed by Anthony Bell (Alpha and Omega, Rugrats, and the upcoming Norm of the North) from a screenplay written by Rob Edwards (The Princess and the Frog, Treasure Planet). RGH Entertainment's CEO Randa Ayoubi and David Corbett, RGH executive director, North America are serving as executive producers.
Inspired by the book authored by L. Frank Baum, the creator of The Wizard of Oz, Life and Adventures of Santa Claus tells the story of a young boy who overcomes the odds to become one of the most beloved characters the world has ever known.