Walmart, WB Partner for Man of Steel Movie Launch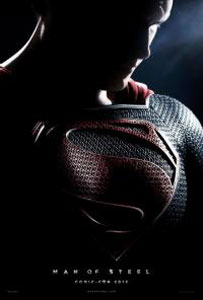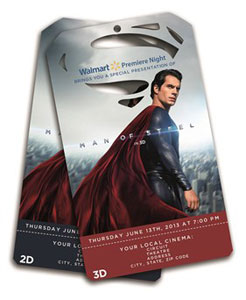 Walmart announced that it has partnered with Warner Bros. to give the store's customers exclusive access to see Warner Bros. Pictures and Legendary Pictures' Man of Steel in theaters nationwide before the film's official release. Both companies say that this program marks the first time that a studio has partnered with a retailer for this type of promotion.
Tickets for the exclusive screening of Man of Steel, will go on sale in more than 3,700 Walmart stores starting at 8am on May 18. Customers will be able to purchase up to four tickets per visit, and have the option to choose between 2-D or 3-D showings, where applicable. The advance screening will take place in select local theaters nationwide at 7pm on June 13. The film opens nationwide on June 14.
"We couldn't be more excited to give our customers and associates early access to one of the summer's most anticipated movies," said Laura Phillips, senior vice-president of entertainment at Walmart U.S., in a statement. "Walmart's premiere of Man of Steel once again proves we have the ambition and studio partnerships to develop unique retail programs that give our customers access to the movies they love."
Dan Fellman, Warner Bros. Pictures president of domestic distribution, said in a statement, "We are extremely pleased to partner with Walmart on this unprecedented initiative, which will allow devoted fans to be among the first to see Man of Steel. We know the movie delivers and believe this unique partnership will kick off strong word of mouth that, thanks to the reach and immediacy of social media, will propel moviegoers to theaters nationwide."
In addition to being among the first to see Man of Steel, Walmart customers can also take advantage of the following special offers:
• Priority Purchase of Blu-ray Combo Pack or HD Digital Download: Each ticket bought at Walmart will feature a code on the back that allows customers to pre-order their own Blu-ray Combo Pack or HD Digital Download of Man of Steel, which will contain exclusive film content.
• Official Man of Steel Experience Mobile App: The app allows customers to take photos with the superhero, as well as unlock special photo frames by pointing their phone at Man of Steel signage in their local Walmart.
• Exclusive Original Digital Comic Book: Customers will receive a free original Digital Comic Book written by Man of Steel screenwriter David Goyer with every ticket.
• Man of Steel Merchandise: Beginning April 28, a variety of Man of Steel merchandise such as T-shirts, electronics, posters, and more from top brands will be available at Walmart stores and at Walmart.com.
ABC, JPMA Not Merging; Partnership Continues
All Baby and Child Corporation, (ABC), creators of the ABC Kids Expo, and the Juvenile Products Manufacturers Association (JPMA), the industry trade association for juvenile products, announced that the two non-profit trade organizations will remain independent and will not merge.
However, the organizations also announced that they will continue their collaborative relationship, which has strengthened over the past two years. While the merger discussions will not continue, the ongoing evolution of the working relationship will remain in order to best support the manufacturer and retail communities.
ABC remains committed to ongoing funding of key industry strategic initiatives at least through March 2015, including the enhancement of more frequent communications to all industry stakeholders to increase consumer confidence in the juvenile products industry. Furthermore, according to Larry Schur, president of ABC, "ABC is working with JPMA to evaluate ongoing funding support for our industry's important strategic objectives beyond March 2015, which includes establishing the industry trade show as the preeminent worldwide event for the juvenile products industry."
According to Michael Dwyer, executive director of JPMA, "We are in the second year of a three-year agreement with ABC, collaborating together to determine key industry initiatives and how to move forward with funding the agreed upon strategic industry programs after the expiration of that agreement. Both JPMA and ABC have always believed that finances should be transparent and profits from the ABC Show should be earmarked for the good of the industry."
Since discussions began in early 2012, the formation of a specialty retail trade group, Brixy, was launched and continues to be funded by ABC. Additionally, JPMA achieved an industry goal by establishing an office in Washington, D.C. to increase the effectiveness of advocacy efforts at federal and state levels in the best interests of manufacturers, retailers, and consumers.
Additional ongoing initiatives included in the funding agreement include increasing the scope and effectiveness of safety standards, the JPMA Certification Program, and the value of membership with JPMA.