Beatrix Girls Appoints AALMG as Licensing Agency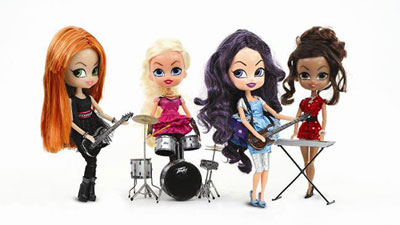 The Beatrix Girls, a new line of collectible pop star dolls driven by original music, has appointed All American Licensing & Management Group (AALMG) as its exclusive licensing agency. Beatrix Girls are expected to make their debut at major retailers this year. AALMG will develop, market, and execute an integrated licensed consumer products campaign focusing on girls' music, fashion, and style. AALMG plans to license the doll line into apparel and footwear, accessories, back-to-school, domestics, gift and novelty, HBA, jewelry, platform and mobile games, and complementary toys and electronics.
With fully developed personalities, The Beatrix Girls band members Brayden, Ainsley, Lark, and Chantal live and interact in the human world—producing real music, real hits, and real fans—kids can collect their music, join their fan club, and vicariously live the fantasy of being a pop-star through play.
The line was created and is being brought to the market by Sherry Gunther Shugerman, a two-time Emmy Award-winning producer and studio executive with more than two decades of experience.
Working with Gunther Shugerman is Mary Mueller, an entertainment industry brand ambassador who specializes in the family and children's category. She has launched marketing and licensing programs for brands at Fortune 500 companies including Kid Rhino (a Warner Bros. Co.), John Tesh/PolyGram Records, MGM Studios, and many others.
Iron Man 3 Dominates Box Office This Weekend
Iron Man 3 opened domestically this weekend, dominating the box office with $175.3 million in ticket sales. BoxOfficeMojo.com reports that this makes Iron Man 3 the second largest movie opening behind last year's The Avengers ($207.4 million), and is up significantly over the previous Iron Man films. The movie is also on its way to earning more than $1 billion worldwide. The film opened in Paris on April 14. For more information on Iron Man 3 and the film's licensed toy line, visit Time to Play.