Jakks Reports Q3
Jakks Pacific, Inc., reported results for the company's third quarter ended September 30, 2013. Net sales for the third quarter of 2013 were $310.9 million compared to net sales of $314.5 million reported in the comparable period in 2012. The reported net income for the third quarter was $36.6 million, or $1.11 per diluted share, which reflects the net dilutive impact of $0.21 per diluted share associated with the common shares underlying the $100 million convertible senior notes recently issued and repurchased in July 2013. This compares to net income of $30.4 million, or $1.10 per diluted share, reported in the comparable period in 2012.
Net sales for the nine months ending September 30, 2013, were $495.2 million compared to $533.3 million in 2012. The reported net loss for the nine-month period was $37.8 million, or $1.73 per diluted share, which includes charges for license minimum guarantee shortfalls of $14.4 million and inventory impairment of $14.9 million. This compares to net income for the first nine months of 2012 of $14.7 million, or $0.59 per diluted share, which included $4.1 million, or $0.10 per diluted share, of pre-tax financial and legal advisory fees and expenses related to an unsolicited indication of interest that ended.
"We are pleased with our financial results for the third quarter during which we completed our $100 million convertible senior note financing," said Stephen Berman, president and CEO of Jakks Pacific in a statement. "During the quarter, we sold a broad array of products including Disney Princess dolls, dress-up, and roleplay, Sofia the First dress-up and roleplay items, Disguise Halloween costumes, 31-inch Giant Action Figures, foot-to-floor ride-ons and kids furniture."
He continued. "We recently completed our Fall Toy Preview meetings and are pleased with the enthusiastic response from retailers, licensors, and other industry partners to our 2014 product lineup, particularly the reaction to our new line of technology-driven toys. We anticipate these toys will provide children with a new and heightened play experience by combining our strong lineup of physical toys with DreamPlay iD technology and enhanced augmented reality content, all of which will come together in new and exciting apps. Looking ahead to 2014, as Jakks approaches its 20th year in business, we are looking forward to returning Jakks to profitability. We expect to achieve this by continuing to offer new and exciting products, continuing to spend on technology and content, and by realizing the benefits of our previously announced restructuring plan, which has resulted in the reduction of our head count of employees and will reduce leased space and other overhead expenses," said Berman.
2013 Guidance
Jakks currently anticipates net sales for the full year of approximately $620 million, with a loss per share, as previously announced, of approximately $56.1 million, or $2.56 per diluted share.
Small Potatoes Plush Goes Direct from Factory to Consumer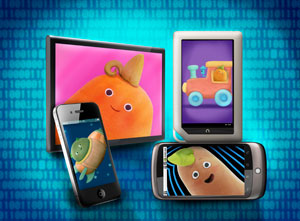 Little Airplane Productions has partnered with plush manufacturer Animal Magic for a joint initiative that will see the Small Potatoes characters become part of Animal Magic's newly formed F2C business, which produces customized soft toys delivered directly from the factory to the consumer.
Through F2C it will now be possible for Small Potatoes Facebook followers to interact digitally through the Small Potatoes Facebook page to design their own plush Small Potato from a palette of features and accessories, have them created to order, and sent directly to their homes from Animal Magic's plush factory in South China.
Build-A-Bear Opens in FAO
Build-A-Bear Workshop announced plans to open a shop within the FAO Schwarz Fifth Avenue flagship store. Opening in early November, the new location is the first Build-A-Bear Workshop store-within-a-store in the U.S.
In-store shoppers can participate in the hands-on Build-A-Bear Workshop stuffed animal-making experience, which has been enhanced with digital technology. Build-A-Bear worked with Microsoft, Samsung, and other leading technology companies to create the store design, which includes a touch-screen storefront display.