Nickelodeon to Offer Kids Custom Channel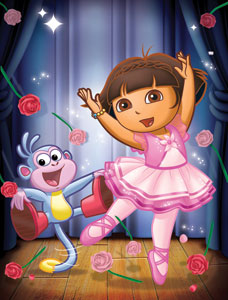 The Wall Street Journal reported yesterday that Viacom, in partnership with Verizon's FiOS TV service, plan to launch a customizable kids TV network. Dubbed My Nickelodeon Jr., the channel combines elements of Pandora and Netflix, according to the article, allowing families to customize their viewing experience. The channel will provide access to Nickelodeon's extensive library of programming with series such as Dora the Explorer.
Parents will able to customize the content based on a series of themes. From there, kids can rate the shows using icons and the service will tweak the programming accordingly.
The channel is expected on Verizon FiOS in the coming months and will roll out to other pay-TV operators later on, according to The Wall Street Journal. The channel is not expected to have advertising. Costs for the service have not yet been announced.
Trending on TimetoPlayMag.com: Activity Toys
TimetoPlayMag.com is showcasing what's trending in each specific product category. Today it's ACTIVITY TOYS. This trending list is determined by consumers. It's the number of page views for that item in the previous 30 days and is updated every 24 hours.
Joester & Loria to Be Inducted into LIMA Hall of Fame

The board of directors of the International Licensing Industry Merchandisers' Association (LIMA) has selected veteran licensing agents Debra Joester and Joanne Loria, co-founding partners of The Joester Loria Group (TJLG), for induction into the LIMA Licensing Industry Hall of Fame. They will be honored at the annual LIMA Awards Ceremony on June 17, 2014, during Licensing Expo 2014 in Las Vegas.
Joester is the company's president and CEO, and Loria is executive vice-president and COO. The agency's achievements include LIMA awards for Jeep as Corporate Brand of the Year in 2004, 2006, and 2008; American Greetings' Care Bears, which won four LIMA awards, including Best Character Brand of the Year in 2004; Animal Planet as LIMA Corporate Brand of the Year in 2010; and Eric Carle's Very Hungry Caterpillar, named 2012 Art Brand of the Year.
Their many accomplishments include strategic brand extensions for food, automotive, and media brands, reigniting Care Bears as a multi-billion dollar property, and establishing successful programs for pop culture breakout hits.
Joester was the chief architect behind the building of the Jeep brand into a consumer products powerhouse, growing the brand via a diverse collection of apparel and accessories, bicycles, juvenile products, and luggage. She also is credited with establishing more than 600 dedicated Jeep shops and freestanding stores in Asia, Africa, and Latin America. Other notable achievements include the brand extension of Animal Planet to a successful pet product brand.
Previous to joining with Loria to form The Joester Loria Group, Joester was president of Hamilton Projects, a Viacom company, where she led the agency's most significant programs, including the licensing success of Jeep, Chrysler, and Dodge as well as Dr. Scholl's, Coppertone, Miller Brewing Company, Hershey's, Campbell Soup, the United States Postal Service, and entertainment properties Beverly Hills 90210, Melrose Place, and South Park.
Joester has served on the LIMA board of directors and as an association officer. A passionate children's advocate, she serves on the board of Kids in Distressed Situations. She founded Shemesh Joester Foundation in 2007, which is dedicated to supporting children's charities, and is a key contributor to Friends without Borders, funding hospitals for children in Cambodia and Laos.
Loria is credited with creating retail licensing programs for Parents magazine and South Park, and was instrumental in crafting the relaunch strategy for Hanna Barbera's classic cartoon archive. Since co-founding the agency, Loria has led strategic planning and development for PepsiCo North America brands Pepsi, Mountain Dew, Aquafina, AMP, and SoBe; as well as Kellogg's. She has also been instrumental in the growth of the agency's food and beverage portfolio with brands such as Johnsonville Foods, Entenmann's, and SoBe. Prior to co-founding TJLG, Loria was senior vice-president of Hamilton Projects.
Loria has served on the LIMA Board of Directors and is an active fundraiser for the Children's Brain Tumor Foundation, LIMA's charity of choice. She also is a contributor and supporter of the Doe Fund as well as cancer research foundations.
ICSC Says Holiday Sales Up 3 Percent
The International Council of Shopping Centers (ICSC) says that despite the extreme weather across much of the U.S. during prime holiday shopping time, and a shortened holiday season, sales for the November/December holiday period increased by 3 percent, based on a tally of monthly reporting firms compiled by the ICSC. The December same-store increase was 3.4 percent on a year-over-year basis, which was stronger than November's sluggish 2.1 percent gain.
For the two-month holiday-selling period of 2013, U.S. chain-store sales for the industry—as reflected by the monthly reporting firms—outpaced the prior year's rise of 1.8 percent, though individual retailer performance was very uneven and sales were extremely promotional across a wide spectrum of retailers, causing some retailers to warn of weaker earnings for the quarter.
For the calendar year 2013, industry sales grew by 3.3 percent—in line with holiday season—and was the strongest annual sale performance since 2011 when sales spurted by 4.7 percent.