SEGA Launches Sonic Boom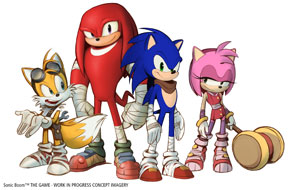 Last week SEGA introduced a major new initiative for Sonic called Sonic Boom. It encompasses a new look for Sonic and friends, the launch of their first-ever CG-animated television series, new video games for the Wii U system and the Nintendo 3DS handheld system, and a new toy line from master toy licensee TOMY.
The worlds of the TV series and video game will share a common narrative and a number of location and stylistic similarities reflecting full collaboration between video game, TV series partners, and SEGA from the outset.
The Sonic Boom television series, co-produced by SEGA of America, Inc., and OuiDO! Productions, will debut on Cartoon Network in the U.S. and on Canal J and Gulli in France during the 2014/2015 season. The series is 52 x 11-minute stand-alone episodes.
Serving as a prequel to the stories revealed in the TV series, the Sonic Boom video game will deliver a different experience from previous Sonic games with collaborative gameplay at its core. Developed in the U.S. by California-based Big Red Button Entertainment (Wii U) and Sanzaru Games (Nintendo 3DS) in collaboration with the Sonic Team, this is the third title to be released as part of an exclusive deal with Nintendo.
Sonic Boom will be supported by a global licensing and merchandising program, anchored by new master toy partner TOMY. TOMY will develop a comprehensive toy range across a broad number of categories including plush, action figures, R/C, roleplay, vehicles, and novelty.
SEGA will launch a broad licensing program across multiple categories including toys, apparel, publishing, accessories, food and beverage, health, and more.
Sonic the Hedgehog first appeared as a video game character in June 1991. There have been more than 140 million video games sold or downloaded worldwide across consoles, PCs, mobile phones, and tablets since that time.
Hasbro Reports Q4, 2013 Results
Hasbro reported financial results for the full-year and fourth quarter 2013. Net revenues for the full-year 2013 were $4.08 billion and flat with full-year 2012 revenues of $4.09 billion. Full-year 2013 net revenues include a favorable $3.7 million impact of foreign exchange.
Net earnings for the full-year 2013 were $286.2 million, or $2.17 per diluted share, versus $336 million, or $2.55 per diluted share, in 2012. 2013 net earnings include pre-tax charges of $36.7 million associated with restructuring, $7 million of related pension costs, $61.1 million associated with the settlement of a previously disclosed adverse arbitration award, $40.6 million of charges related to certain non-strategic brands as well as a $23.6 million favorable tax adjustment. Excluding these items, 2013 net earnings were $372.4 million, or $2.83 per diluted share.
Net earnings for the full-year 2012 were $336 million, or $2.55 per diluted share. Excluding pre-tax restructuring charges of $47.2 million, or $0.26 per diluted share, 2012 net earnings were $370.8 million, or $2.81 per diluted share.
For the fourth quarter 2013, the company reported net revenues of $1.28 billion, which were flat with $1.28 billion in 2012. Foreign exchange had a $2.3 million positive impact on revenues for the fourth quarter 2013.
The company reported net earnings for the fourth quarter 2013 of $129.8 million, or $0.98 per diluted share, including pre-tax charges of $48.8 million associated with restructuring and related pension costs and product-related charges, and a benefit of $15.4 million related to the settlement of an adverse arbitration award for less than the previously recorded charge. 2012 fourth quarter reported net earnings were $130.3 million, or $0.99 per diluted share, including $36 million pre-tax, or $0.21 per share, in restructuring charges. Excluding charges in both periods and the benefit in 2013, 2013 fourth quarter net earnings were $148.8 million, or $1.12 per diluted share, compared to $157.4 million, or $1.20 per diluted share, in 2012.
"Our heightened focus on Hasbro's Franchise Brands and emerging markets delivered positive momentum for us in 2013," said Brian Goldner, Hasbro's president and CEO. "In 2013, our Franchise Brands grew 15 percent with six of the seven brands growing, the Girls category increased 26 percent to reach a record $1 billion in revenues, our Games category posted 10 percent growth and our emerging markets increased 25 percent year-over-year. Cost savings efforts are lowering our underlying cost base and the increase in the quarterly dividend reflects confidence in our ability to profitably grow Hasbro over the long-term. We are entering 2014 with very good momentum in our brands globally, innovative new products and a multi-year pipeline of extremely strong film and television entertainment to leverage."
U.S. and Canada segment net revenues were $2.01 billion compared to $2.12 billion in 2012. The segment's results reflect growth in the Girls and Games categories, which was more than offset by declines in the Boys and Preschool categories. The U.S. and Canada segment reported operating profit of $313.7 million, or 15.6 percent of revenues, compared to $319.1 million, or 15.1 percent of revenues, in 2012.
International segment net revenues grew 5 percent to $1.87 billion compared to $1.78 billion in 2012. 2013 revenues include a positive $7 million impact from foreign exchange. Revenue in the International segment reflects growth across all regions with Europe increasing 3 percent, Latin America up 12 percent and Asia Pacific growing 4 percent. Emerging markets grew 25 percent in 2013 versus 2012. Additionally, the Girls, Games, and Preschool category revenues increased, more than offsetting the decline in the Boys category. The International segment reported a 9 percent increase in operating profit to $235.5 million, or 12.6 percent of revenues, compared to $215.5 million, or 12.1 percent, in 2012.
Entertainment and Licensing segment net revenues increased 5 percent to $191 million compared to $181.4 million in 2012. The segment benefitted from growth in digital gaming, including the addition of Backflip Studios, as well as growth in lifestyle licensing. These gains were partially offset by lower entertainment revenues in 2013. The Entertainment and Licensing segment reported $45.5 million in operating profit compared to $53.2 million in 2012.
For the full-year 2013, net revenues in the Boys category decreased 22 percent to $1.24 billion. 2013 revenues grew for Franchise Brands Transformers and Nerf; however, these gains were more than offset by declines in Beyblade and Marvel products, which had difficult comparisons versus 2012.
The Games category grew for the second consecutive year and fifth consecutive quarter. Franchise Brands Magic: The Gathering and Monopoly posted revenue gains in 2013 versus 2012. Additionally, excluding the growth from the two Games Franchise Brands, the remainder of the Games category grew in 2013 led by Games Mega Brands and new gaming initiatives.
The Girls category posted its sixth straight quarter of growth and reported $1 billion in revenues for the year, a record level for Hasbro's Girls business. The continued growth in Furby and Franchise Brand My Little Pony was further supported by highly successful new initiatives including My Little Pony Equestria Girls and the launch of Nerf Rebelle.
The Preschool category grew revenues 1 percent in 2013 behind strong performances in Franchise Brand Play-Doh, growth in Sesame Street driven by Big Hugs Elmo and continued growth in Transformers Rescue Bots products.
Cost Savings Initiative & Other Charges
As previously announced, the company is undertaking a cost savings initiative designed to better align resources and costs while targeting $100 million in annual savings by 2015. Gross savings for 2013 totaled $50 million, resulting in net savings of $13 million for the full-year, prior to pension charges.
During 2013, the company incurred $43.7 million in pre-tax restructuring and related pension charges, or $0.23 per diluted share, associated with this initiative. In line with previous estimates, pre-tax restructuring charges in the year were $36.7 million and related pension charges were $7 million.
Additionally, the company incurred pre-tax charges of $40.6 million associated with exiting certain non-strategic brands and reduced expectations from declining initiatives, which the company is no longer focusing on. The company also incurred pre-tax charges of $61.1 million associated with the settlement of a previously announced adverse arbitration award.
Dividend and Share Repurchase
Hasbro's board of directors has declared a quarterly cash dividend of $0.43 per common share. This represents an increase of $0.03 per share, or 8 percent, from the previous quarterly dividend of $0.40 per common share. The dividend will be payable on May 15, 2014, to shareholders of record at the close of business on May 1, 2014.
The company paid $156.1 million in cash dividends to shareholders during 2013. The company paid dividends of $46.6 million in December 2012 associated with a dividend payment, which typically would have been paid in February 2013.
Additionally, Hasbro repurchased a total of 2.3 million shares of common stock during 2013 at a total cost of $102.5 million and an average price of $45.17 per share. At year-end, $524.8 million remained available in the current share repurchase authorizations.
DreamWorks Launches Publishing Division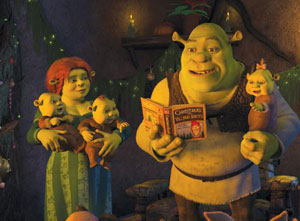 DreamWorks Animation announced the launch of DreamWorks Press, an in-house operation, which will publish digital and print books inspired by the studio's IP library. The newly formed division will also join with The Perseus Books Group for the sale and distribution of its digital and print books through Perseus' Publishers Group West distribution unit.
DreamWorks Press signals the studio's first-ever, year-round publishing program to establish permanent shelf space across top retailers as well as deliver content through a diverse range of formats and price points. The department will be run by Emma Whittard, an 18-year veteran of kids' publishing including eight years with Disney, and supported by DreamWorks Animation's head of franchise, Shawn Dennis, who previously oversaw publishing for American Girl. The in-house staff will produce digital and print books, along with book apps featuring DreamWorks Animation franchises including Kung Fu Panda, Madagascar, Shrek, and the upcoming B.O.O.: Bureau of Otherworldly Operations, as well as assets from the DreamWorks Classics portfolio and recent acquisition AwesomenessTV.
The first wave of books from DreamWorks Press is expected to launch in time for the 2014 holiday season. DreamWorks Animation will also build an international team within the publishing arm.
Trending on TimetoPlayMag.com: Plush
TimetoPlayMag.com is showcasing what's trending in each specific product category. Today it's PLUSH. This trending list is determined by consumers. It's the number of page views for that item in the previous 30 days and is updated every 24 hours.