Alicia Keys Opens Toy Fair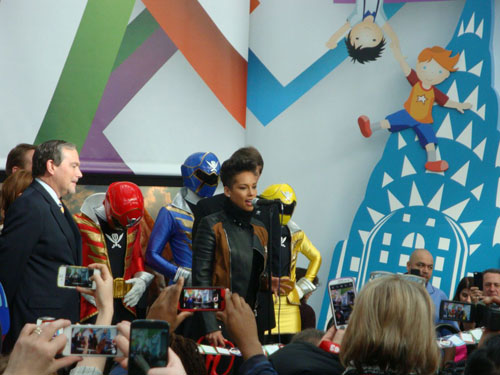 Toy Fair kicked off on Sunday morning with a ribbon-cutting ceremony featuring Grammy-winning artist Alicia Keys, co-creator of the interactive children's app, The Journals of Mama Mae & LeeLee.
TOTY Winners Announced
The Toy of the Year (TOTY) Awards were announced on Saturday night just prior to the start of this year's Toy Fair. The winners are as follows:
• Activity Toy of the Year—Rainbow Loom from Choon's Design
• Boy Toy of the Year—Despicable Me 2 Special Feature Minion Dave Talking Action Figure from Thinkway Toys
• e-Connected Toy of the Year—LeapPad Ultra from LeapFrog
• Educational Toy of the Year—GoldieBlox and the Spinning Machine from GoldieBlox, Inc.
• Game of the Year—Boom Boom Balloon from Spin Master
• Girl Toy of the Year—Rainbow Loom from Choon's Design
• Infant/Toddler Toy of the Year—Big Hugs Elmo from Playskool
• Innovative Toy of the Year—Zoomer from Spin Master
• Outdoor Toy of the Year—Razor Crazy Cart from Razor USA
• Preschool Toy of the Year—Doc McStuffins Get Better Check-Up Center from Just Play
• Property of the Year—Minecraft from Mojang AB
• Specialty Toy of the Year—Rainbow Loom from Choon's Design
Henson Options Rights to Dot Picture Book for TV
The Jim Henson Company has optioned the rights to author Randi Zuckerberg's debut picture book, Dot. The book was recently published by Harper Collins, and is illustrated by Joe Berger. The company plans to develop the property into an animated television series targeting children ages 5–9.
In this new picture book, Dot is a spunky little girl well versed in electronic devices. She knows how to tap . . . to swipe . . . to share . . . and she pays little attention to anything else, until one day Dot sets off on an interactive adventure with the world surrounding her. Dot's tech-savvy expertise, mingled with her resourceful imagination, proves Dot really does know a lot.
Henson says that this property teaches kids how to be digital citizens; to encourage technology to be a part of their lives in a creatively fulfilling and positive way. Henson says it intends to produce a fun and forward thinking series that encourages the combination of a child's traditional play and digital experiences.
Author Randi Zuckerberg is also editor-in-chief of Dot Complicated, a modern lifestyle community and blog. She was an early employee of Facebook (and is the sister of Mark Zuckerberg) where she pioneered live streaming initiatives and struck deals with ABC and CNN.
Joe Berger is a children's author, illustrator, and cartoonist.
ASTRA Survey Says Retailers Saw Growth for Holiday 2013
Results from a national survey of more than 2,600 independent business owners conducted by the Institute for Local Self Reliance in partnership with the Advocates for Independent Business coalition—of which the American Specialty Toy Retailing Association (ASTRA) is a founding member—report positive sales news for holiday 2013. The survey found that shop-local initiatives such ASTRA's annual Neighborhood Toy Store Day are boosting customer traffic. Other key findings show:
• Sales Growth—Independent retailers experienced a 1.4 percent increase in same-store holiday sales, comparable to many competing chains.
• Buy Local—More than 75 percent of businesses located in cities with active Local First campaigns reported increased customer traffic or other benefits from these initiatives. They also reported sales growth of 7 percent on average in 2013, compared to 2.3 percent for independent businesses in places without such an initiative.
• Internet Sales Tax—More than three-quarters of independent retailers said that the fact that many online companies are not required to collect sales tax had negatively impacted their sales, with 41 percent describing the level of impact on their sales as "significant."
• Policy Priorities—Among independent retailers, the top policy priorities are extending the requirement to collect sales tax to large online retailers, eliminating public subsidies and tax breaks for big companies, and regulating the swipe fees that Visa and Mastercard charge.
Trending on TimetoPlayMag.com: Girls' Toys
TimetoPlayMag.com is showcasing what's trending in each specific product category. Today it's GIRLS TOYS. This trending list is determined by consumers. It's the number of page views for that item in the previous 30 days and is updated every 24 hours.