Nickelodeon Announces New Shows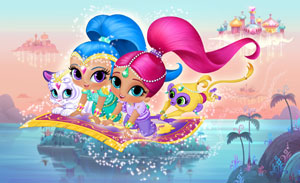 Nickelodeon will premiere more than 100 episodes of new preschool series in the 2014–2015 season. Joining the just-launched Wallykazam!, and the upcoming Dora and Friends: Into the City! and Blaze and the Monster Machines, Nickelodeon's preschool slate is getting two more newly greenlit series for the upcoming season: Shimmer & Shine, (pictured here), an animated show starring twin genies-in-training and featuring an emotional-intelligence curriculum; and Fresh Beat Band of Spies, an animated version of the live-action series The Fresh Beat Band, teaching problem-solving.
Trending on TTPM.com: Baby Toys
TTPM.com is showcasing what's trending in each specific product category. Today it's BABY TOYS. This trending list is determined by consumers. It's the number of page views for that item in the previous 30 days and is updated every 24 hours.
Zak Designs Opens New Showroom
Zak Designs announced that it has finalized plans to open a new showroom in New York City on the third floor of 41 Madison Avenue. The showroom will be open in time for the New York Tabletop Market April 22–25.