Goliath Acquires Pressman
Goliath B.V. announced that it has acquired Pressman Toy Corporation. Founded in 1922 by Jack Pressman, Pressman Toy Corporation is an industry leader that has generated billions of dollars in retail sales. A few of Pressman's many hit games include Who Wants to Be A Millionaire, Deal or No Deal, Mastermind, and Let's Go Fishin'. Terms of the deal were not disclosed.
Goliath was founded by Adi Golad in 1980 and has such hit games as Pop the Pig and Doggie Doo. Goliath has offices in the Netherlands, France, Germany, Belgium, Spain, Portugal, Poland, Hong Kong, Australia, Canada, and the U.S.
"Pressman and Goliath have a great history of working together to globally build popular brands such as Gooey Louie, Domino Rally, Tri-Ominos, and Rummikub," said Jim Pressman in a statement. "I could not have found a better partner than Goliath."
Golad added. "Pressman has been my close friend for decades, it's an honor to carry on the Pressman brand. I couldn't be happier."
Both Pressman's and Goliath's brands will continue as separate entities. Pressman will continue to develop its own products and maintain its brand while enjoying the benefit of Goliath's global resources, including R&D, purchasing, and national and international TV campaigns.
Jim Pressman will continue as president of Pressman Toy Corporation, a position he's held for 35 years, while overseeing licensing for both companies globally. David Norman will continue as president of Goliath Games, LLC.
Swimways Acquires Aqua Rider Product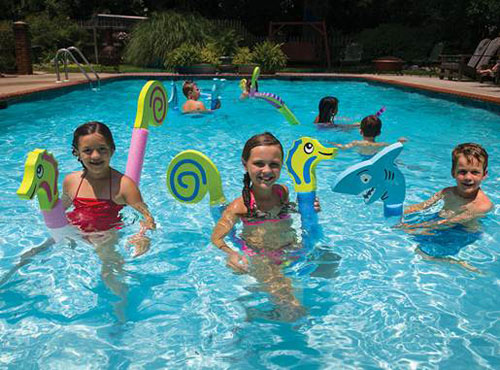 Swimways Corp. announced that it is acquiring the Aqua Rider, a patent-pending pool noodle float that features the head and tail of colorful animal characters and a built-in seat for easy riding.
Aqua Riders, which were introduced to market in 2013, will be available in many styles, including Orca, Shark, Gator, and Sea Horse, and appeal to swimmers of all ages.
Swimways will begin distribution of the Aqua Rider under its SwimWays brand in January 2015 at retailers nationwide.
Fox Plans Theme Park in Korea
Governor Hong Joon-pyo, Gyeongsangnam-do Province, Jeffrey Godsick, president of Twentieth Century Fox Consumer Products, and Tim Fisher, CEO of Village Roadshow Theme Parks, announced the signing of Memorandum of Understanding (MoU) agreements to plan for Korea's first international theme park and resort destination called Twentieth Century Fox World. The proposed park will be part of a larger development in the Republic of Korea known as the Ungdong Entertainment Complex.
Initial plans for Twentieth Century Fox World Korea include a theme park spanning more than 75 acres of land and will be part of a 700-plus acre leisure resort and development. The park will be located in the Ungdong Area of Busan-Jinhae Free Economic Zone, Jinhae-gu, Changwon City. Operating partner Village Roadshow joins the group as a design and development consultant, and the manager of the studio theme park.
The announcement of the plans to develop Twentieth Century Fox World Korea joins a host of location-based entertainment announcements from Twentieth Century Fox Consumer Products. Fox Consumer Products recently announced Fox's first ever theme park, Twentieth Century Fox World, set to open in Malaysia in 2016. Fox Consumer Products also announced the expansion of Springfield at Universal Studios Hollywood, which is scheduled for spring 2015.
Trending on TTPM: Kids' Audio
TTPM is showcasing what's trending in each specific product category. Today it's Kids Audio. This trending list is determined by consumers. It's the number of page views for that item in the previous 30 days and is updated every 24 hours.