Cartoon Network's Dubai Theme Park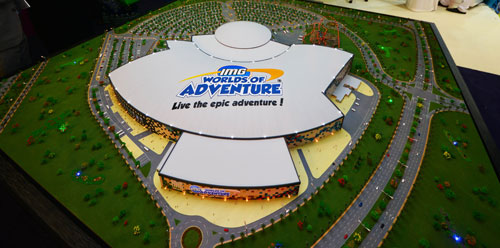 Cartoon Network Enterprises EMEA (CNE EMEA) has signed an agreement with the Ilyas & Mustafa Galadari (IMG) Group for the launch of a dedicated Cartoon Network Zone within IMG Worlds of Adventure; Dubai's first mega-themed entertainment destination. The 1.5 million square foot project will be the world's largest temperature-controlled indoor-themed entertainment destination with a capacity to welcome more than 20,000 guests from all over the world every day, according to the companies.
The Cartoon Network Zone will feature the first-ever Ben 10 5-D cinema and a lineup of branded restaurants and retail locations, including the world's largest Ben 10 retail store.
Cartoon Network Arabic is one of the leading children's entertainment channels in the Middle East. Key franchises including The Amazing World of Gumball, Ben 10 Omniverse, and Adventure Time. These shows ranked among the top-five most watched by Arabic children ages 7–14 in the United Arab Emirates and the channel is amongst the top three free-to-air kids channels in the Gulf region.
CartoonNetworkArabic.com thus far has 1.3 million unique visitors and 40 million page views in 2014.
LIMA, Kidz Global Launch Survey
The International Licensing Industry Merchandisers' Association (LIMA) will introduce the first of a new series of consumer survey reports detailing kids' favorite brands and characters across a variety of categories in 31 nations around the world. LIMA's new Kidz Global Studies are consumer surveys to be released quarterly for nine nations and semi-annually for the other 22 countries. LIMA has commissioned Kidz Global to produce the reports, which will be free to LIMA members and accessible on the members-only portion of the LIMA website.
Of the 31 countries reviewed annually, surveys covering the U.S., Australia, Canada, France, Germany, Italy, Japan, Spain, and UK will be updated and released quarterly. Two reports per year will be compiled for the following countries: Argentina, Belgium, Brazil, China, Czech Republic, Denmark, Hungary, India, Indonesia, Malaysia, Mexico, Netherlands, Philippines, Poland, Russia, Saudi Arabia, South Africa, South Korea, Sweden, Taiwan, Thailand, and Turkey.
With each report, BrandTrends will measure the relative awareness, popularity, and merchandise appeal of the top-30 most important brands to children. Every report will identify the most recognizable kid licenses in the country for both boys and girls, by category and in four different age groups from infants to tweens/young teens.
Trending on TTPM: Collectible Toys
TTPM is showcasing what's trending in each specific product category. Today it's Collectible Toys. This trending list is determined by consumers. It's the number of page views for that item in the previous 30 days and is updated every 24 hours.