TRU to Feature Claire's Shops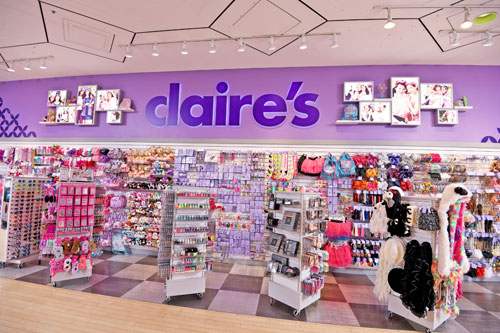 Toys "R" Us and Claire's announced they have entered into a strategic global partnership to bring products to Toys "R" Us customers in select stores around the world. Following a successful pilot program in Europe, Claire's-branded shops within Toys "R" Us stores will expand to nearly 100 locations across the continent, including stores in the United Kingdom, France, Germany, Austria, and Spain, and set in 12 Toys "R" Us stores in the United States by the end of 2014. Shoppers will be able to choose from thousands of products found in Claire's stand-alone stores, including a unique assortment of jewelry, headbands, hair and fashion accessories, jewelry holders, legwear, seasonal items, and more.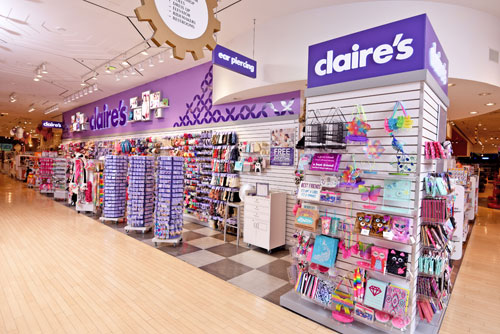 Two Claire's locations in the United States will officially debut this week in the company's flagship Toys "R" Us Times Square and FAO Schwarz stores in New York City. These larger shop locations will be the only stores to feature ear piercing services at this time. The additional 10 locations in the United States are expected to be open by the end of October and will be located in Murrieta, Calif; Colorado Springs, Colo.; Jensen Beach, Fla.; Florence, Ky.; Waldorf, Md.; Henderson, Nev.; Toledo, Ohio; Tulsa, Okla; Philadelphia, Pa.; and Houston, Texas. The shops will vary in size by location.
The two brands will support the launch with a cross-promotional program, inclusive of targeted email marketing, social media, and signage within participating Toys "R" Us stores.
Speculation Says Discovery Will Rebrand The Hub
The Wall Street Journal is reporting that Discovery Communications, Inc., and Hasbro are reworking the terms of their deal for cable network The Hub. Discovery is expected to take over controlling interest of The Hub renaming it Discovery Family. The rebranded family-focused network will target parents and kids with its programming. According to The Wall Street Journal, Hasbro will retain a large stake in the network controlling six hours of daytime programming.
The Hub launched in 2010 and is estimated to reach about 75 million U.S. homes. However, the network faced stiff competition from established players Disney and Nickelodeon. In addition, Amazon and Netflix have invested heavily in children's content in recent years.
A spokesperson for Hasbro said they could not comment on speculation at this time.
Nickelodeon's Worldwide Day of Play This Saturday
Nickelodeon will empower kids to get up and get active when its TV channels, websites, and app go off air and offline for its 11th annual Worldwide Day of Play (WWDoP) on Saturday, September 20, from 12 p.m. to 3 p.m. (all times ET/PT). Nickelodeon, Nicktoons, Nick Jr., TeenNick, Nick.com, NickJr.com, Nicktoons.com, TeenNick.com, and the Nick App will all participate.
Kids across the country are expected to participate in several thousand locally scheduled events. These events will be hosted by Nickelodeon's national partners, including the Afterschool Alliance, the Association of Children's Museums, Big Brothers Big Sisters of New York City, the Boys and Girls Club of America, Girls on the Run, the Girl Scouts of the USA, Key Club/Kiwanis, the National Environment Education Foundation, NFL PLAY 60, Playworks, Right to Play (USA Gymnastics), Roller Skating International, Save the Children, the United States Tennis Association, Up2Us, USA BMX, and the YMCA.
Nickelodeon's 11th annual Worldwide Day of Play is sponsored by the United States Tennis Association and Yvolution. Visit www.nick.com/play.
Bid on One-of-a-Kind Experiences for TIF
The Toy Industry Foundation (TIF), in cooperation with global charity auction site Charitybuzz.com, announced the launch of an online fundraising auction featuring one-of-a-kind experiences. Bids may be placed through September 30, 2014, at charitybuzz.com/TIF. The auction's proceeds will benefit TIF programs and grants, which bring the therapeutic benefits of play to children in need around the world.
Open now through Tuesday, September 30 at 2 p.m. (EST), the auction includes the following items up for bid:
Balance Point Also Investing in Patch Products
Balance Point Capital Partners, a private equity fund focused on providing debt and equity capital to lower middle market companies across the U.S., announced its investment in Patch Products to support Topspin Partners' acquisition of the company, which was announced earlier this week. Balance Point provided the senior subordinated notes as well as a minority equity co-investment for the acquisition.
"We are excited to have the opportunity to partner again with Topspin," said Seth Alvord, managing partner with Balance Point. "Topspin has been an excellent sponsor to work with over the years and we look forward to the continued partnership with Patch."
Trending on TTPM: Teen Video Games
TTPM is showcasing what's trending in each specific product category. Today it's Teen (and older) Video Games. This trending list is determined by consumers. It's the number of page views for that item in the previous 30 days and is updated every 24 hours.