TTPM Announces 2014 People's Play Awards Nominees; Vote Now
Voting is now open for this year's People's Play Awards. Each year, the TTPM People's Play Awards program invites consumers to choose the toys and games they are hoping to receive this holiday season. The nominees in each of the 21 product categories were carefully reviewed and selected by the TTPM editorial team.
We encourage you to vote and share this on your company's social media channels.
Sonic Boom to Debut Nov. 8 on Cartoon Network
SEGA announced that the Sonic Boom animated series will premiere on Cartoon Network on November 8, 2014. The action-packed comedy series, and the first CG-animated TV series for the franchise, focuses on Sonic and his friends Tails, Knuckles, Amy, and newcomer Sticks; their never-ending search for adventure; and their battles with Sonic's arch-nemesis, Dr. Eggman. The team's adventures will bring them to locations both familiar and new as they explore and protect an all-new Sonic universe. The brand new series includes 11-minute episodes co-produced by SEGA of America Inc., and OuiDO! Productions. The series premiere in the U.S. will be followed by debuts in France on Canal J on November 19 and on Gulli in spring 2015. The Middle East will launch spring 2015 with other territories to follow in fall 2015.
Sonic Boom is a key pillar of the multiplatform Sonic Boom initiative, the newest branch of the Sonic the Hedgehog universe that includes upcoming video games for the Wii U and Nintendo 3DS platforms, as well as a robust merchandise line anchored by master toy partner TOMY.
Outfit7 Announces 2 Billion App Downloads, Movie for Talking Tom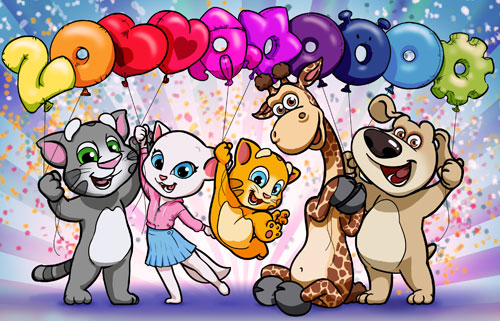 Outfit7 Limited, the multinational entertainment company behind the Talking Tom and Friends franchise, announced that its iconic suite of apps reached two billion downloads. This milestone coincides with the announcement that Outfit7 Limited and Mythology Entertainment have partnered in a deal to adapt the Talking Tom and Friends universe into a fully animated or hybrid live-action/animated motion picture franchise for family audiences. The franchise will be produced by Mythology co-founders Brad Fischer and James Vanderbilt, and William Sherak, with Outfit7 founder and CEO Samo Login executive producing.
Hess Toy Truck Celebrates 50 Years with Mobile Museum
In honor of the Hess Toy Truck's 50th anniversary, a 40-foot Mobile Museum chronicling the entire collection of Hess Toy Trucks will embark on a seven-week tour spanning the East Coast beginning November 1. The museum will showcase for the first time the entire collection of holiday Hess Toy Trucks in one location and never-before-seen artifacts chronicling the history of the popular toy. The Mobile Museum will be accompanied by outdoor activities for children (dependent on weather), including a photo op where guests can choose a custom background, a Kids' Zone featuring puzzles and a holiday card coloring area, a prize wheel, and a bank of toy truck computer games. The tour will stop in New York, New Jersey, Massachusetts, Pennsylvania, North Carolina, and Florida. The Mobile Museum will be free of charge and open to the general public. For more details and a complete list of stops, visit www.hesstoytruck.com.
Skyreader Media Brings Interactivity to Guardians
Skyreader Media Inc., launched its first interactive eMagazine experience with The Official Guardians of the Galaxy Essential Interactive eMagazine focused on Marvel's ever-popular superhero franchise. Through a patented interactive authoring technology, Skyreader Studio has advanced the interactivity standard in new media through an enriched, groundbreaking user experience that invites readers to immerse themselves in the universe of characters, vehicles, armaments, and worlds through interactive adventures, feature animation, film, sound effects, music, CGI effects, and more. Skyreader Media and its team will also bring this cutting-edge technology to several upcoming films.
Juicy Couture Heads to India
Authentic Brands Group signed an exclusive agreement with Indian distributor Reliance Brands to bring Juicy Couture to India. The partnership aims to launch 20 Juicy Couture brand stores in India during the first five-year phase, starting in fall 2015. Under the terms of the agreement, Reliance will offer the full Juicy Couture lifestyle collection, which includes women's and girls' apparel, handbags, footwear, intimates, swimwear, fragrance, jewelry, and accessories.