Big Tent, Brain Power Studio Launches New YouTube Channel
Big Tent Entertainment and Brain Power Studio have joined forces to launch a new pet-themed YouTube channel called Something Fuzzy. Through pop culture-driven comedy sketches, Something Fuzzy will provide a new stage for pets to take the phenomenon of silly animal videos to new heights.
Brain Power has already created a library of more than 50 hours of green screen footage featuring 250 different pets, from the furry to the scaly. Using both the extensive library of footage and new material, content will feature real animal footage composited onto animated and realistic backgrounds.
Programming currently available includes:
• "Around the Waterbowl": From Star Wars to Star Trek, the employees at Something Fuzzy (SFN Networks) debate around their office water cooler, this versus that.
• "Something Fuzzy Special Reports": Dumb bunny Marcie and handsome puppy Mark bring up-to-date coverage of live events such as the Macy's Day Parade.
• "Tea with the Guineas": Cranky old guineas complain about what life in their golden years is like.
• "Pet Cribs": Filmed in a mocumentary style, animals show off their digs.
• "Super Hero Pet Squad": RazorTooth (puppy), Shelly (turtle), Professor Fin (goldfish), Hopscotch (bunny) and Captain Canine (dog) help to save the city, but first they must work together to conquer their own pet issues.
Big Tent will be focused on building Something Fuzzy into a multi-dimensional franchise with plans for a targeted licensing program focusing heavily on apparel, novelty, pet products, and social expressions categories. Big Tent and Brain Power Studio have also brought music, video, and film distribution company The Orchard on board to optimize viewership and build a subscription base for the new channel.
Day 6 Sports Group Teams with NBA for Backyard Sports Relaunch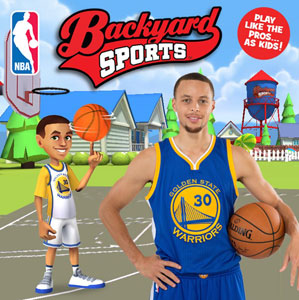 Sports and entertainment company Day 6 Sports Group is teaming up with the NBA for the relaunch of Backyard Sports, a series of digital games starring kid versions of popular professional sports stars that first debuted in 1997.
The franchise will be available as mobile games for smartphones and tablets. A new roster of professional sports stars will also join the Backyard Sports team and will be enhanced by an array of in-game power ups and special features.
Golden State Warriors point guard Stephen Curry has joined forces with Day 6 Sports Group as the face of the Backyard Sports Basketball line and is the first NBA player to sign an endorsement deal with the franchise.
"Relaunching a brand that was so iconic is an exciting step for us," said Jim Wagner, CEO, Day 6 Sports Group. "And partnering with the NBA and Stephen Curry is the perfect way for us to engage with both our existing community of fans as well as the next generation of Backyard Sports players."
Backyard Sports NBA Basketball will be released in spring 2015.