TOMY Named Master Toy for Two Upcoming Disney/Pixar Films; 20 Years of Toy Story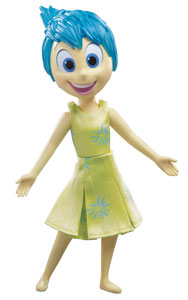 Disney Consumer Products (DCP) announced that TOMY is the master toy licensee for the upcoming Disney/Pixar films Inside Out (June 19, 2015) and The Good Dinosaur (November 25, 2015). TOMY's toy line for Inside Out is inspired by the humor, visual style, and whimsical elements within the film, which is about the emotions of a young girl. The poseable character figures have light-up features. The broad toy range for The Good Dinosaur appeals to kids of all ages, for both action figure play and more sophisticated remote control walking and talking, according to DCP. For more information, read the February issue of TFE.
Separately, this summer DCP will roll out a special toy line to celebrate Toy Story's 20th anniversary in collaboration with Thinkway Toys and Mattel. It will include a broad assortment of characters in a collectible figure range, favorite characters in action figure form, and true-to-film talking versions of Buzz, Woody, and Jessie.
ASTRA Announces Marketplace Speakers
The American Specialty Toy Retailing Association (ASTRA) announced that networking guru Sarah Michel and innovative retailer Bob Negen will headline ASTRA's 2015 Marketplace & Academy. This year's event is scheduled for June 7–10, 2015, in Charlotte, N.C.
Michel will open the conference with an interactive keynote on "Where Community and Connections Intersect." Participants will learn how to communicate their value to anyone, anywhere, anytime—and therefore increase their access and influence in their community.
Negen's closing keynote is "Retail Success: How to Create a Store that People Love, Runs Like a Dream, and Makes Lots of Money." Negen is recognized as an innovative retail speaker and an expert on providing training in retail staff development, on-the-floor selling, store operations, and creating a customer-focused, service-driven store culture.
Visit www.astramarketplace.org for more information.
Trending on TTPM: Pet Toys
TTPM is showcasing what's trending in each specific product category. Today it's Pet Toys. This trending list is determined by consumers. It's the number of page views for that item in the previous 30 days and is updated every 24 hours.