HKTDC Assesses Global Holiday Sales
The Hong Kong Trade Development Council (HKTDC) released a global sales assessment for holiday 2014. While exact sales results for the entire holiday season will not be available until retailers announce their December sales figures, the HKTDC says that preliminary indications show that holiday sales in the U.S. were encouraging, despite the lackluster sales performance over Black Friday weekend and on Cyber Monday.
Retailers offered promotions much earlier this year so there was no need to wait until Black Friday for attractive deals. For other shoppers, procrastination works better, as consumers have been conditioned to know that there will be deeper discounts towards the end of the season. U.S. retailers, helped by both positive weather conditions and a better economy, are likely to achieve a sales increase of some 4 percent over 2013, according to the HKTDC.
U.S. consumer sentiment has continued to improve backed by solid employment gains and a rise in wages and assets. Falling energy prices were an added boost. Of particular note this year, was the use of mobile devices and social networks to look for gift ideas and low prices. Consumer electronics were among the biggest draws, with smartphones, tablets, and wearable technology topping shoppers' lists. Toys were another standout, particularly LEGO, Teenage Mutant Ninja Turtles, and Disney Frozen merchandise, says the HKTDC. For clothing and accessories, consumers searched for the basics. Of note, were discounted high-end apparel items.
Europe
It's been a tough holiday season in Europe when compared with the U.S. On the whole, holiday shoppers, in the face of high joblessness and continued European Union austerity measures, remained conservative. Most retailers continued to resort to deep discounts and promotions to lure sales. European shoppers used mobile devices and social networks to find the best prices.
Holiday sales in both France and Italy are estimated to have declined somewhat from the 2013 levels, says the HKTDC. While shoppers in both markets opted for practical and basic gift items, smartphones and tablets were still in demand.
Holiday sales in the UK are expected to have risen by almost 3 percent thanks to widespread discounts and promotions. The British economy continues to recover with stronger employment and property prices. Consumer electronics were the standout gifts, especially smartphones, tablets, and notebooks. The UK's robust housing market further shored up demand for appliances, furniture, and housewares. Mid-priced watches and jewelry were also on shopping lists. Apparel sales didn't fare as well due to unusually warm weather across Europe, says the HKTDC. Meanwhile, online shopping continues to grow in Europe.
Japan
Japanese consumers have started spending despite a three-percentage point rise in the sales tax that took effect in April, says the HKTDC. Consumers responded to wage increases, a rebound of the stock market, as well as extensive discounts and promotions. Japanese retail sales are expected to have grown by some 2 percent during the year-end season. Discount stores and online shopping were popular in Japan. Consumer electronics, lead by smartphones and 4K TVs, were popular. Demand for luxury products is on the rise as sales of watches and jewelry were up. A cold winter in Japan has lead to the demand of clothing and footwear. Sales of toys were sluggish, although items relating to Youkai Watch and Disney Frozen were big hits.
China
In China, massive discounts and promotions and the buoyant stock market lifted year-end consumption. After the 11.5 percent rise in October, retail sales grew slightly faster by 11.7 percent in November, suggesting an upward trend of consumption amid a slow economy. In addition to holiday shopping, there is the rise of China's Double 11 and Double 12 Days— two popular online shopping festivals that contributed significantly to the year-end spending binge. Consumer electronics were popular led by mobile phones. Demand for luxury goods was dampened by the continued frugality campaign. Sales of housewares and appliances were down due to the slow housing market. However, the continuing air pollution problem across the mainland has stimulated sales for air purifiers and humidifiers. Sales of clothing and toys have remained steady.
Mexico, Latin America, Central and Eastern Europe, and Russia
In Mexico, where the economy has moved in tandem with the U.S., year-end sales were solid, as evidenced by Mexico's Good Weekend, which is the equivalent of Black Friday in the U.S. Consumers are spending in Chile. In Brazil, sales were up moderately in the face of a cooling job market and higher interest rates. Consumer electronics, appliances, apparel, and toys were among the more popular gifts in these markets.
In Central and Eastern Europe, a reviving EU economy, though modest and uneven, seemed to be a boon to holiday spending, despite the negative impact of the Russian crisis. Sales increases of varying extents were recorded for Hungary, Poland, and the Czech Republic. Like their counterparts in Western Europe, however, shoppers remained concerned about their purchasing power, and good deals were required to lure spending. In these markets, consumer electronics, toys, and apparel dominated.
Russia, in spite of tumbling oil prices and a faltering economy, posted big sales gains as consumers rushed to purchase items before prices soared rather than shopping for festive reasons. The Russian spending spree made for a strong performance of year-end sales, says the HKTDC.
Mattel Announces Newest American Girl Doll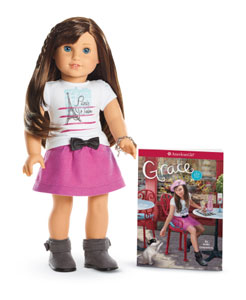 American Girl, a division of Mattel, announced Grace Thomas as the 2015 Girl of the Year. The storyline depicts Grace as an avid baker with an entrepreneurial spirit. She is motivated to follow her dream of starting a baking business after a trip to Paris. Available for only one year, the Grace collection includes an 18-inch Grace doll plus several French-inspired outfits, accessories, and toys such as the French Bakery Set with more than 60 pieces.
The 2015 Girl of the Year books—Grace, Grace Stirs It Up, and Grace Makes It Great—are written by Mary Casanova. A full-length movie is expected to debut on DVD from Universal Studios Home Entertainment in summer 2015. Additional products, retail events and classes, an app, and online play will also be available this year.
In addition, American Girl has created For Goodness, Bake!, a year-long fundraising initiative in support of No Kid Hungry, the campaign to end childhood hunger in America from Share Our Strength.
Trending on TTPM: Arts & Crafts Toys
TTPM is showcasing what's trending in each specific product category. Today it's Arts & Crafts Toys. This trending list is determined by consumers. It's the number of page views for that item in the previous 30 days and is updated every 24 hours.