TFE Exclusive: Cartoon Network Signs Spin Master for Powerpuff Girls Relaunch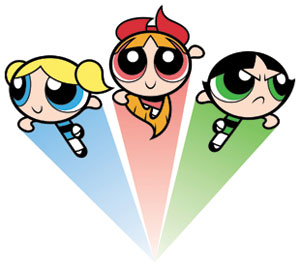 Cartoon Network Enterprises (CNE) announced that it has signed Spin Master as the global master toy licensee for the relaunch of The Powerpuff Girls. Cartoon Network is launching a new TV series in 2016 for Bubbles, Blossom, and Buttercup. However, "we are not just launching a TV show," says Pete Yoder, vice-president, CNE, North America. "We are launching a global brand."
Spin Master will lead the charge with various product lines such as plush, dolls, figures, and playsets, as well as novelty and impulse items.
"This won't be the typical product [found] in the girls' aisle," says Adam Beder, Spin Master's executive vice-president of global licensing and business affairs. "Spin Master is looking to bring its 'disruptive innovation' to The Powerpuff Girls program and the girls' aisle. This property will be extremely meaningful and compelling to today's girl."
Cartoon Network and Spin Master are strengthening an already existing relationship dating back to 2008 with CNE serving as licensing agent for Spin Master and Nelvana's Bakugan. The relationship was extended in 2010 with Spin Master granting CNE exclusive licensing rights for its portfolio of brands.
To read the full, exclusive story click here or pick up the February issue of TFE at booth 601 during Toy Fair.
TOTY Award Winners Announced
The Toy Industry Association (TIA) hosted its annual Toy of the Year Awards (TOTY) in New York City last night. Here are the winners:
• Activity Toy of the Year—Crayola Paint Maker (Crayola)
• Boy Toy of the Year—Zoomer Dino (Spin Master)
• e-Connected Toy of the Year—LEGO Fusion (LEGO Systems)
• Educational Toy of the Year—LEGO Technic (LEGO Systems)
• Game of the Year—Simon Swipe (Hasbro)
• Girl Toy of the Year—Shopkins Small Mart Playset (Moose Toys)
• Infant/Toddler Toy of the Year—Go! Go! Smart Animals Zoo Explorers Playset (VTech)
• Innovative Toy of the Year—MiP (WowWee)
• Outdoor Toy of the Year—Nerf Rebelle Dolphina Bow (Hasbro)
• Preschool Toy of the Year—LEGO Juniors (LEGO Systems)
• Property of the Year—Disney's Frozen (The Walt Disney Company)
• Specialty Toy of the Year—Gravity Maze (ThinkFun)
The overall Toy of the Year award went to Zoomer Dino from Spin Master. Crayola's Paint Maker won the People's Choice Award.
Last night's event also welcomed the induction of two individuals into the Toy Industry Hall of Fame: Pat Feely, former chairman, Toy Industry Foundation and retired CEO of Radica Games Ltd., and Leslie Berger, founder, Cardinal Industries, Inc.
Mattel, Google Update View-Master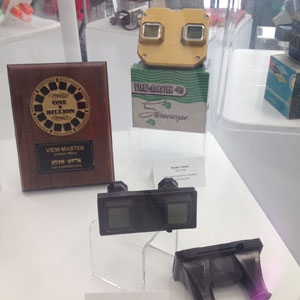 Mattel, Inc., unveiled a collaboration with Google for the iconic View-Master through Google's Cardboard platform. Mattel's new View-Master offers an easy-to-use and affordable platform that will enable users to take field trips where they can explore famous places, landmarks, nature, planets, and more in 360-degree photospheres. By pairing the View-Master's experience reel and app with an Android smartphone, kids will immediately experience an imaginative and interactive learning environment.
"The power of the smartphone and the power of Google Cardboard allows kids to immerse themselves in worlds that they have never experienced," said Doug Wadleigh, SVP, global brand general manager, Toy Box at Mattel, during yesterday's event. "They can go on an undersea adventure. They can explore galaxies far, far away. They can experience entertainment like they've never seen before, or even historical landmarks or monuments in virtual reality."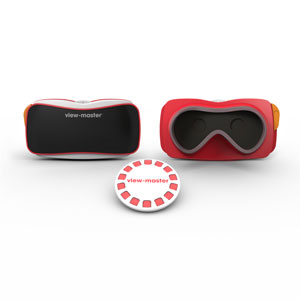 Available this October, consumers can purchase the View-Master viewer and a sample experience reel for an MSRP $29.99. The sample reel (when paired with app and smartphone) provides a glimpse of the full View-Master experience, including a gallery of classic View-Master images, a journey into space with a tour inside a space shuttle, and a chance to explore a unique destination in 360 degrees. Additional experience reel packs will be sold separately at retail for MSRP $14.99, and each pack will feature four themed experience reels (with themes such as nature, adventure destinations, and science) and each experience reel will be loaded with multiple areas to explore.
"We developed Google Cardboard as an open platform to inspire companies like Mattel to rethink how to deliver new user experiences through technology," said Mike Jazayeri, product director for Google Cardboard.
To continue to expand offerings on the View-Master platform Mattel will begin to curate and create new experience reels with other Google Cardboard developers to offer users even more unique content to enjoy.
"[This is] really indicative of some of the work Mattel is moving forward with," said Richard Dickson, president, Mattel, at yesterday's launch event. "[We are] connecting and reimaging iconic toys for the future."
Mattel also hinted that this could be the first glimpse into a larger plan to delve deeper into the augmented-reality space merging other classic products in Mattel's portfolio with future technology.
ASTRA Helps to Offer Exclusive Specialty Products to Retailers
The American Specialty Toy Retailing Association (ASTRA) announced that Snapo, PlanToys, and Outset Media have each signed a deal to offer a line of preschool products exclusively to independent toy stores that are ASTRA members.
"ASTRA retailers are always looking for ways to differentiate their stores from the competition—especially the big box discounters," said Kathleen McHugh, president of ASTRA. "One strategy for making ASTRA stores a destination in their communities is to offer top-quality products with exceptional play value that their customers cannot find anywhere else. This deal is a win-win because it will spotlight the participating manufacturers at retail outlets nationwide and it is a huge customer benefit ASTRA members can feature in marketing their stores."
Several manufacturers were invited to submit proposals for exclusive products, says ASTRA. Snapo, PlanToys, and Outset Media were chosen by a committee of ASTRA retailers for their unique product submissions and their fit with a specialty toy store brand. The products to be offered include:
• Snapo: 10 construction products for ages 18 months and up
• PlanToys: 7 items for ages 12 months and up
• Outset Media: 7 games for ages 3 and up
ASTRA members can see the products in person and get more information during Toy Fair's Exclusively Yours Reception today from 5:30pm to 6:30pm at the Javits Center, level 1, hall 1E, room 1E06. Retailers, manufacturers, and sales reps can join ASTRA any time during Toy Fair at booth 5849. The products will also be available at ASTRA's Marketplace & Academy in Charlotte, NC June 7–10, 2015.
Just Play, MEG Relaunch Puppy in My Pocket
Just Play and MEG Toys announced that they have signed a master toy licensing deal for the Puppy in My Pocket property for North America, South America, Mexico, Australia, New Zealand, and Southeast Asia. Under the terms of the agreement, Just Play will manufacture and distribute figures, accessories, and playsets based on MEG Toys' brand of collectible, pocket-sized puppies.
Puppy in My Pocket was originally introduced in 1993 and marketed worldwide through 1999. In 2005, the brand was reconfigured and once again quickly became a top-selling toy line that generated significant sales through 2010.
Wicked Cool Named Master Toy for Cabbage Patch Kids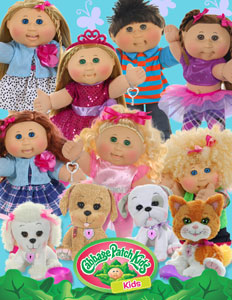 Wicked Cool Toys has entered into a worldwide licensing agreement with Original Appalachian Artworks, Inc., to become the master toy licensee for the Cabbage Patch Kids.
Wicked Cool Toys has a comprehensive line of new Cabbage Patch Kids products planned for fall 2015. The 14-inch Cabbage Patch Kids come in eight different themes. The Cabbage Patch Kids will feature a bracelet with a heart-shaped charm that interacts with the Kids' newest best friends the Adoptimal Pets. The 8-inch Adoptimals feature pet sounds and a heart locket that lights up when pressed.
Madame Alexander, Crayola in Deal
Madame Alexander and Crayola announced that they have entered into an agreement for a new line of co-branded dolls that allow girls to craft and draw on age-appropriate dolls and doll accessories. The products will be designed to appeal to the varying and unique interests of toddlers, preschoolers, and young girls who have embraced the DIY trend. The first in a series of new collections will be introduced in 2015. The product will be distributed through Madame Alexander's extensive distribution channels and on MadameAlexander.com.
MEGA Signs Turtles, Terminator for Construction Sets
MEGA Brands, a division of Mattel, signed an agreement with Nickelodeon for a Teenage Mutant Ninja Turtles construction toy line. Product is expected on shelf in 2016. Age-appropriate sets are expected for preschoolers to adult collectors.
In a separate announcement, MEGA Brands says that it has signed a deal with Skydance Productions to produce Terminator Genisys collector construction sets, themed to the reset of the Terminator movies. The film will be distributed by Paramount Pictures this summer.
Luxury Shoe Designers Reimagine Cinderella's Glass Slipper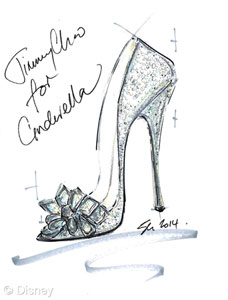 In celebration of the release of Disney's live-action film inspired by the classic fairy tale Cinderella, Disney Consumer Products (DCP) has collaborated with nine luxury designer shoe brands to assemble a collection of shoes that reimagine Cinderella's iconic glass slipper. The designers, in alphabetical order, are: Paul Andrew, Alexandre Birman, René Caovilla, Jimmy Choo (image shown here), Salvatore Ferragamo, Nicholas Kirkwood, Charlotte Olympia, Jerome C. Rousseau, and Stuart Weitzman. Each brand has created its own interpretation of the famed glass slipper Cinderella accidentally leaves behind when the clock strikes midnight.
Swarovski, which produced the iconic glass slipper for the film under the direction of Academy Award-winning costume designer Sandy Powell, provided the crystals featured in the designers' shoes.
The shoes will be available for order in some of the following retail stores around the world, as well as in some of the designers' own stores.
• United States—Saks Fifth Avenue (New York and Beverly Hills)
• London—Harrods
• Paris—Galeries Lafayette
• Milan—Excelsior Milano
• Moscow—Tsum
• Tokyo—Isetan Shinjuku
• Dubai—Level Shoe District, The Dubai Mall
In early March, Saks Fifth Avenue will bring Disney's Cinderella to life by creating vignettes within the center six windows of its New York flagship as well as select windows in its Beverly Hills location. The windows will prominently feature the complete designer footwear collection as well as select props from the film. In addition to the windows, both locations will display the footwear collection at Saks' dedicated shoe floor. The film's actors Lily James and Richard Madden will also star on the covers of Saks Fifth Avenue's latest March Magalog, the store's fashion catalog. The Magalog debuts March 4. The Walt Disney Studios film Cinderella will be in theaters March 13, 2015.
Moose to Auction Off Exclusive Crystal Shopkins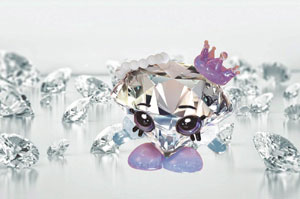 Moose Toys is celebrating the launch of Shopkins season three this fall with a one-of-a-kind character made entirely out of crystal. The crystal Shopkins character, named Gemma Stone, will be on display at Toy Fair in booth 1527. Gemma Stone will be auctioned off online later in the year. All proceeds from the auction will benefit the Toy Industry Foundation, a nonprofit organization that distributes toys to undeserved, at-risk, and homeless children around the world.
"The success of Shopkins in 2014 was extraordinary, and we are thrilled to have the opportunity to use the success and escalating popularity of Shopkins to give back to the Toy Industry Foundation," said Paul Solomon, co-CEO of Moose Toys. "We're excited to contribute to the great work that the Toy Industry Foundation does to give the gift of play to children in need."
Over 140 new characters will join the Shopkins family along with new playsets in 2015.
Etch A Sketch Turns 55
Etch A Sketch turns 55 in 2015 (#EtchASketch55Bday). The iconic toy was first introduced in the United States in 1960 by The Ohio Art Company as a mechanical drawing toy. More than 175 million units have been sold worldwide since it made its debut at Toy Fair in New York City 55 years ago.
There will be a professional Etch A Sketch artist on-site at The Ohio Art booth 251 on Saturday and Sunday of Toy Fair in celebration of the 55th birthday.
Toy Fair Issue Now Online
The February Issue of TFE is now available online. The issue features the following:
• HKTDC Facilitates Buying for Specialty Stores in Hong Kong
• TOMY Is the Master Toy Licensee for Disney's Inside Out. Get a First Look at TOMY's Plush Line
• TFE EXCLUSIVE: Spin Master Named Master Toy Licensee for Powerpuff Girls
• Thomas the Tank Engine Celebrates 70 Years
• Experts Assess the Specialty Toy Market
• TFE Licensing: Where Kids Are Watching/A Look at Content Providers
New Look, New Name/Same Great Information: Toys & Family Entertainment is now TFE. Inside every issue is TFE Licensing (formerly Royaltie$). Pick up an issue at booth 601. Get the 2015 Toy Fair Poster FREE at booth 601, while supplies last.