ZhuZhu Pets Partner with Nelvana for TV Series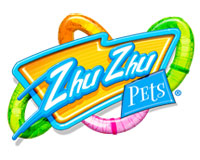 Corus Entertainment's Nelvana announced a partnership with Cepia, LLC for Nelvana Studio to produce a new animated series based upon ZhuZhu Pets. Nelvana Enterprises will also oversee global merchandising of the ZhuZhu Pets in conjunction with the distribution of the new series. In anticipation of the new content, Cepia will be reintroducing the original hamster toys refreshed with an all-new look for this fall.
"We are incredibly excited to be working on a highly sought-after brand that has already proven to have sizable success with kids," said Andrew Kerr, co-head of Nelvana Enterprises. "We look forward to reimagining the brand, alongside Cepia, to bring ZhuZhu Pets to life on screen and further expand the brand's offering for kids around the world."
The original line of ZhuZhu Pets took the world by storm in 2009 with global retail sales exceeding $2 billion and more than 70 million pieces sold in two years, according to Cepia.
"ZhuZhu Pets have always had distinct personalities so bringing the characters to life through entertainment is a natural evolution of the brand," said Cepia CEO and ZhuZhu Pets inventor James Russell Hornsby. "We are delighted to have found the perfect alliance with Nelvana to accomplish this dream and to create wonderful entertainment as well as new ways to enrich the brand experience with kids."
Tech 4 Kids, Irwin Toy in 3-D Creation Maker Deal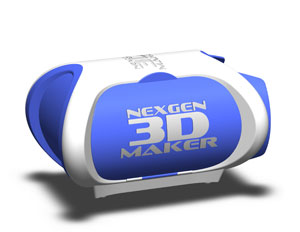 Tech 4 Kids has partnered with Irwin Toy for the first kid-friendly 3-D printer with the 3D Creation Maker. Irwin Toy helped develop the item and is selecting partners and distributors globally. Using an applicator with a unique gel, children trace a design onto a template that gets inserted into the 3D Maker. After 10 seconds the gel turns into a solid, allowing kids to build multi-dimensional structures. The companies say that the patent-pending process is done safely with light and not heat.
The gel is available in multiple colors including a glow-in-the-dark formula and the 3D Maker comes with a variety of pre-designed templates.
In addition, there is a free 3D Magic App, available for both Android and iOS devices. When using the app, kids create structures and turn them into a template, which allows the designs to become reality with the 3D Maker.
Alex Brands Signs Deal with Nickelodeon
Alex Brands announced that it has signed a licensing agreement with Nickelodeon for a broad array of products based on popular characters, including SpongeBob SquarePants, Dora and Friends, and Teenage Mutant Ninja Turtles.
The multi-year agreement covers multiple brands from Alex Brands including Alex Toys and Shrinky Dinks and product categories such as craft kits and bath toys. Alex Brands is a family of brands including Alex Toys, Poof, Slinky, Scientific Explorer, Ideal, Zoob, Backyard Safari, Zillionz, Citiblocs, and Shrinky Dinks. The line is expected to be on shelf in late summer.
Celebrate 100 Years of Raggedy Ann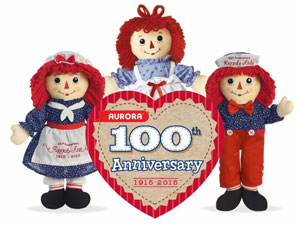 Aurora World announced that it will celebrate Raggedy Ann's 100th birthday with the release of special edition Raggedy Ann and Raggedy Andy rag dolls. Aurora's new Stars and Stripes special-edition dolls, which are hitting shelves now, feature an all-American, red, white, and blue theme, exclusive 100th year embroidery, and commemorative hangtags on every doll.
Aurora will celebrate the 100th birthday of Raggedy Ann with a marketing campaign in 2015. In addition, Aurora will give away a three-foot tall Raggedy Ann doll during Toy Fair at booth No. 1361.