LEGO Dimensions Launches this Fall
Warner Bros. Interactive Entertainment, TT Games, and The LEGO Group announced last week the introduction of LEGO Dimensions. This all-new entertainment experience merges physical LEGO brick building with interactive console gameplay. Launching September 27, 2015, the game will fuse many fan-favorite universes together, including DC Comics, The Lord of the Rings, The LEGO Movie, The Wizard of Oz, LEGO Ninjago, Back to the Future, and others yet to be announced.
LEGO Dimensions, developed by TT Games and published by Warner Bros. Interactive Entertainment, will be available for Xbox One, Xbox 360, PlayStation4, PlayStation3, and WiiU.
In addition to the game, the LEGO Dimensions Starter Pack will include the LEGO Toy Pad, which allows players to transport special LEGO minifigures and other LEGO objects into the game, bricks to build the LEGO Gateway, three LEGO Minifigures, including LEGO Batman from DC Comics, LEGO Gandalf from The Lord of the Rings, and Wyldstyle from The LEGO Movie, plus the LEGO Batmobile. Watch the launch video here.
Gwen Stefani Launches Kids TV Series, Mattel Named Master Toy Licensee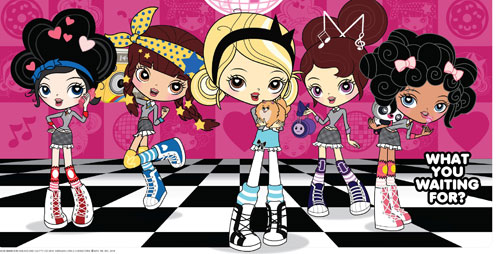 Producers, Moody Street Kids, Vision Animation, and executive producer Gwen Stefani are introducing Kuu-Kuu Harajuku (working title), a new television series commissioned by Network Ten with investment funding from Film Victoria and Malaysia. DHX Media will handle the worldwide distribution of the animated series, which is inspired by pop star Gwen Stefani and the Harajuku Girls.
In a separate deal, Moody Street and Vision Animation have named Mattel as global master toy licensee for the series.
In Kuu-Kuu Harajuku, the protagonists mirror the unique style and magic of the original Harajuku Girls with animated Love, Angel, Music, and Baby forming HJ5, a band driven by their inspirational leader, G. Every gig that the girls attempt to perform is interrupted before the first note is ever played. But G and her friends never give up.
Mattel Content Airing in Latin America on Cartoon Network
Mattel and Turner Broadcasting System announced that Turner's Cartoon Network and Boomerang last month began airing new Mattel content featuring Mattel's brands Barbie, Hot Wheels, Monster High, and Max Steel in Latin America. The Mattel programming will be available in a variety of formats including movies, features, and webisodes.
What's New in Action Figures on TTPM
TTPM is showcasing the newest toys in each specific product category. Today, see what's new in Action Figures. For the latest in toy reviews as well as what's trending, visit TTPM.com.