Sesame Workshop Reorganizes Management Team
Sesame Workshop announced at the end of last week four new appointments to its executive team as part of a broad reorganization. Steve Youngwood joins the Workshop as COO; Sherrie Westin takes on the new role of executive vice-president of global impact and philanthropy; Brown Johnson joins the Workshop as executive vice-president and creative director; and Joseph Salvo joins as executive vice-president and general counsel.
"I came to Sesame Workshop with a single goal in mind: to help reimagine and reinvigorate a great institution for the challenges ahead," said Jeffrey Dunn, CEO of Sesame Workshop. "The need for our global mission has never been greater—but so, too, are the challenges that our mission faces. To adapt to the changed industry financial models and expanded delivery systems, we need to change as an organization. And that is the focus of this reorganization."
To further increase the Workshop's contribution and impact, Dunn identified the three core elements of the Workshop's strategy going forward:
• Make great content for both the informal and formal education markets
• Research the behavior of kids and parents for wide dissemination and use by the general public
• Instigate the work of others who share the Workshop's goals and values
The Workshop says that Dunn's new organization removes the current functional silos and creates a leadership structure organized around business units and geography. Youngwood will run the Media and Education unit, which includes all of the Workshop's global commercial endeavors. Westin will oversee Social Impact and Philanthropy, which includes domestic and international community engagement, as well as global philanthropic development. Reporting to them will be country managers responsible for managing the business across defined geographic regions.
Most recently, Youngwood was executive vice-president and general manager of digital media and entertainment products at Nickelodeon. He is also currently on the board of directors of LeapFrog Enterprises. Until this appointment, Westin served as executive vice-president and CMO of Sesame Workshop. Westin came to the Workshop from ABC. She previously served in the first Bush White House. Johnson served as president of animation and preschool entertainment at Nickelodeon. Johnson pioneered the interactive format of the preschool programs Dora the Explorer and Blue's Clues. Salvo is the current general counsel of HIT Entertainment, now a division of Mattel. In addition to his HIT GC responsibilities, he is responsible for legal work supporting Mattel's content creation, content distribution, consumer products licensing, publishing, and live events and attractions businesses. He is also an adjunct professor of law at St. John's University School of Law.
Disney Junior Options Fancy Nancy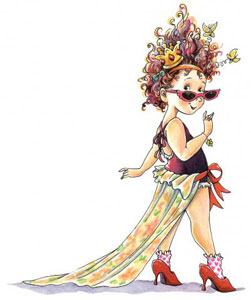 Disney Junior announced last week that it has optioned Fancy Nancy, the New York Times bestselling book series by Jane O'Connor and Robin Preiss Glasser, for development of an original animated TV movie and series, slated to premiere in 2017.
"Children have been captivated by Fancy Nancy's wit and irrepressible spirit for a decade, and we are very eager to give her an even bigger stage on which to perform," said Nancy Kanter, executive vice- president, original programming and general manager, Disney Junior Worldwide.
In addition, HarperCollins and Disney Publishing will collaborate on book editions based on the television series. Now in its 10th year, Fancy Nancy includes more than 60 titles, has sold more than 28 million books, and has been translated into 20 languages, according to Disney.
Nelvana to Represent Power Rangers in France
Corus Entertainment's Nelvana announced that it will be representing Saban Brands' Power Rangers consumer products in France. Additionally, Nelvana has signed two new licensees in France: Sun City (kids' T-shirts and sleepwear) and Viquel (back-to-school, stationery).
"Nelvana has a proven track record in establishing kids properties in the French market," said Gustavo Antonioni, managing director, consumer products EMEA, Saban Brands. "We look forward to working with their team of experts to bring the iconic Power Rangers franchise to the next level and expand the consumer products program to reach a wider audience of fans."
In fall 2015, the newest iteration of the Power Rangers series called Power Rangers Dino Charge will debut in France on Gulli.
Additionally, Saban Brands and Lionsgate have partnered to produce an original live-action theatrical film based on the original Mighty Morphin Power Rangers, which is slated for release in summer 2016.
What's New for Fast & Furious 7 on TTPM
TTPM is showcasing the newest toys for Fast & Furious 7. The film opened on April 3 and has grossed nearly $150 million domestically and another $245 million internationally. For the latest in toy reviews as well as what's trending, visit TTPM.com.