Albany County Agrees to Halt Enforcement of Toy Ban
The Safe to Play Coalition announced that a joint motion has been filed with the County Attorney in the United States District Court for the Northern District of New York for a Court Order granting a stay regarding Albany County Local Law No. J. The stay is a result of litigation against the County because the measure violates federal preemptive safety laws. Due to this action, the law will not be enforced while the County seeks to address the serious legal concerns raised by the lawsuit.
Local Law J is an unnecessary and unenforceable law that essentially bans the sale of safe, federally-approved children's products found on store shelves.
The law is the subject of a federal lawsuit alleging the county acted with "gross disregard of extensive federal laws regulating the safety of toys and children's products" and failed to adhere to the U.S. Constitution.
"This law claimed to make children's products safer when, in reality, all it did was criminalize and ban the sale of safe children's products that parents need and want for their children," said Rick Locker, counsel to the coalition, in a statement. "The safety of children is our top priority, and we thank the County Attorney for allowing that mission to remain our focus."
As passed, Local Law J bans and criminalizes the sale of safe toys and products that otherwise meet federal safety laws under the Federal Hazardous Substances Act (FHSA) and the Consumer Product Safety Act (CPSA). Congress enacted those provisions to ensure that strict, uniform standards would govern the safety of children's products nationwide, and to avoid the uncertainty and inefficiency of patchwork safety regulations through hundreds of different, often-conflicting state and local standards. The law that Albany County recently passed is precisely the kind of law Congress has governed to avoid, according to the statement that was issued.
My American Girl Rebrands as Truly Me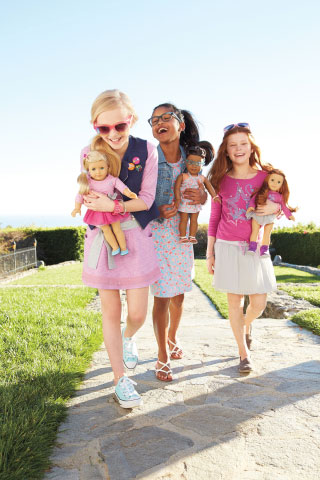 American Girl, a division of Mattel, announced last week that its My American Girl doll has been rebranded as Truly Me. This line of 18-inch dolls allows a girl to create a one-of-a-kind doll through a variety of personalized doll options, including 40 different combinations of eye color, hair color and style, and skin color, as well as an array of outfits and accessories. Each Truly Me doll now comes with a Me-and-My Doll Activity Set, featuring over four dozen creative ideas for girls to do with their dolls. An all-new Truly Me digital play experience is also launching.
Also launching as of last week is the new Truly Me Signature Studio retail experience, which is kicking off at American Girl's Chicago, New York, and Los Angeles stores. The Truly Me Signature Studio lets girls create one-of-a-kind doll outfits. Choosing from a variety of colors, patterns, silhouettes, prints, and embellishments, girls can design a custom doll outfit or doll carrier on a tablet, which is then transferred to the studio's high-tech printer and produced for the girl in just minutes.
What's New in Outdoor Toys on TTPM
TTPM is showcasing the newest Outdoor Toys. For the latest in toy reviews as well as what's trending, visit TTPM.com.