Licensing Show/ASTRA 2015
Jem and the Holograms Heads to Theaters
Hasbro announced that Jem and the Holograms will be in theaters this October and a licensing program spanning toys, publishing, fashion, and beauty products will complement the movie. Opening nationwide on October 23, 2015, Universal Pictures' live-action, motion-picture adaptation of Jem and the Holograms has been reimagined for a new generation. The film is produced by Hasbro's Allspark Pictures Banner, Blumhouse Productions, Scooter Braun Productions, directed by Jon M. Chu, and stars Aubrey Peeples.
The licensing program will appeal to today' kids as well as fans of the orginal 1980s series. Sephora has been signed to create a cosmetic collection with a four-piece set—eye shadow palette, liquid lip set, florescent lipstick, and compact mirror—that's reminiscent of the 1980s animated series. Shopbop will create an exclusive collection of apparel, accessories, and jewelry featuring a modern take the 1980s series. A special-edition legacy doll rounds out the assortment. Manic Panic will create four bold, semi-permanent hair dyes inspired by each member of the Jem and the Holograms band, which will pay homage to the distinctive hair colors that each character donned. Integrity Toys will introduce a new cast of premium, collectible dolls, featuring fresh new fashion dolls and fan favorite characters. IDW Publishing's ongoing comic series introduces the characters as 21st century stars.
Paul Frank to Expand in China
Saban Brands announced the expansion of Paul Frank in China through a strategic, long-term licensing agreement with Grand Union International Trading Co. Ltd. With this comprehensive partnership, Grand Union International Trading Co. will serve as Paul Frank's master licensee and retailer in China, Hong Kong, and Macau and will manufacture and distribute a wide range of Paul Frank product.
Saban Brands has been working with the team at Grand Union International Trading Co. ever since the company acquired the Paul Frank brand in 2010, and the continuously successful partnership has led to this new agreement.
There are currently more than 100 stand-alone Paul Frank stores throughout China, with plans to expand to more than 500 retail stores during the terms of the agreement. The partnership also coincides with the near-future development of new store concepts, Paul Frank Kids and Paul Frank Home. Additionally, Grand Union International Trading Co. will have the licensed rights to all future Paul Frank-branded cafés in the market.
Jazwares Launches Tube Heroes Featuring Digital Media Personalities
Jazwares announced the launch of its newest brand, Tube Heroes, featuring today's hottest digital media personalities as a single, unified portfolio. Tube Heroes represents the best of today's online entertainment and will unify a portfolio of cyber celebrities including CaptainSparklez, Sky, TDM, and KSI, among 37 others. With a combined visibility of more than 18 billion views and 83 million subscribers for its stars, Tube Heroes will focus its digital entertainment and social media personality prowess into one of this year's most highly anticipated brands. The global toy rollout for Tube Heroes includes action figures, plush, and roleplay items, launching this month, and will be complemented by a full, licensed portfolio, debuting this fall. The new licensing program will begin its build with apparel partner, Bioworld, and accessory partner, Accessory Innovations.
Synchronicity to License New Jersey Turnpike, Garden State Parkway
Synchronicity announced that it has been granted the licensing rights for The New Jersey Turnpike and Garden State Parkway. The licensing program will target products in a wide variety of categories including apparel and accessories, home furnishings, and social expression. T-shirts, hoodies, bags, magnets, mugs, phone cases, beach towels, and even Garden State Parkway Wildflower seed mixes will be available at TransitGifts.com, the Turnpike and Parkway rest area stores, New Jersey gift shops, and national retailers in the coming months.
Deer Little Forest Signs Asian Agent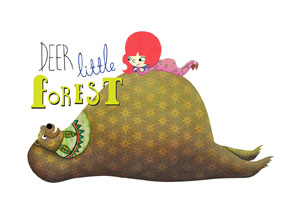 Koko Media announced the appointment of Empire Multimedia, Inc., as licensing agent for Deer Little Forest in South East Asia and Greater China. The new appointment sees the growing brand extend its reach to over 15 countries and three continents.
With headquarters in Manila, Empire Multimedia will represent licensing rights in the Philippines, Singapore, Malaysia, Indonesia, Thailand, Vietnam, South Korea, Hong Kong, Taiwan, and China. The two-year deal will include a comprehensive range of categories from apparel and accessories, health and beauty, giftware and novelty, to food and beverage, mobile content, and home furnishings.
All rights are managed by Lisa Hryniewicz at Koko Media on behalf of creator Jo Rose.
Zag Introduces Miraculous, Tales of Ladybug & Cat Noir; Signs Licensees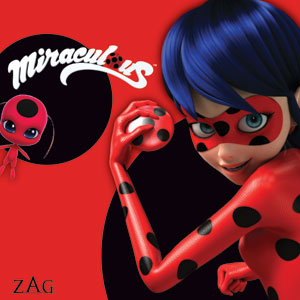 Zag announced that its new 3-D CGI-animated action series Miraculous, Tales of Ladybug & Cat Noir, which begins premiering this fall around the globe, has signed a series of mass market licensing deals. The broadcast reach will cover more than 120 markets via deals with Disney EMEA, TF1-France, ABC-Australia, and EBS-Korea among others. The following licensees have been signed for the series: Bandai (global master toy licensee), Rubie's Costume Company (Halloween costumes and accessories), Accessory Innovations (bags, backpacks, luggage, and accessories), H.E.R. Accessories (jewelry and hair accessories), Franco Manufacturing (bedding and bath), Komar Kids (children's pajamas, sleepwear, and robes), and Handcraft Manufacturing (kids' undergarments), among others.
Miraculous, Tales of Ladybug & Cat Noir (a co-production between ZAG, Method Animation, Disney Channel EMEA, Toei Animation, SamG Animation, SK Broadband, PGS Entertainment, AB International Distribution) follows the adventures of a charismatic 13-year-old named Marinette who magically transforms into a vivacious superhero (Ladybug) to save the day using her newly acquired superhero powers.
Saban's Piping Hot Signs Surf Champ as Brand Ambassador
Piping Hot, part of Saban Brands Lifestyle Group, named surf champion Sally Fitzgibbons as the brand's official new ambassador. Through this partnership, the newly crowned Fiji Pro champion will become the global spokesperson for Piping Hot and appear as the face of the brand's upcoming marketing and publicity campaigns.
Born and raised on the south east coast of Australia, Fitzgibbons is renowned for becoming the youngest World Surfing Tour qualifier in history in 2008. She has won numerous surfing competitions around the globe.
Saban Brands Lifestyle Group is investing in Australian design and marketing talent to elevate Piping Hot's already prime positioning within Target Australia stores to new levels. Beyond the enhanced and refreshed footprint within Target Australia, there are plans in place, utilizing Saban Brands Lifestyle Group's global infrastructure to expand internationally.
ASTRA's New Board of Directors
Members of the American Specialty Toy Retailing Association (ASTRA) elected four specialty toy industry leaders to its board of directors at ASTRA's Marketplace & Academy in Charlotte, North Carolina. The new representatives are:
Chair-elect
Ann Kienzle, PLAY (The Toy Business, LLC), Chicago
Retailers
Christine Osborne, Wonder Works, Mt. Pleasant, S.C.
Gwen Ottenberg, Imagine That Toys, Inc., Wichita, Kansas
Michelle Sahr, Off the Wagon, Kent, Ohio
Sales Representatives
Christine Blumberg, Roberts Blumberg Corporation, Guilford, CT
Dean May, owner of Toys Unique of Dallas, Texas, assumed the role of chair of the ASTRA board of directors. He has served as chair-elect for the past year.