Licensing Show/ASTRA 2015
LIMA Award Winners
The International Licensing Industry Merchandisers' Association (LIMA) announced the winners of its annual International Licensing Awards held last night at the Mandalay Bay Convention Center in Las Vegas. Here are the winners:
• Celebrity or Music Program: One Direction, Modest Management/Global Merchandising Services Ltd.
• Character or Toy Brand Program: My Little Pony, Hasbro
• Character or Toy Brand Licensee: Hard Goods: LAFOOD, Sesame Street healthy food
• Character or Toy Brand Licensee: Soft Goods: Under Armour, Captain America collection
• Corporate Brand Program: HGTV HOME, Scripps Networks/Beanstalk
• Corporate Brand Licensee: Reynolds Consumer Products/Hefty Brand, Arm & Hammer/Hefty Ultimate waste bags
• Digital Program: Minecraft, Mojang
• Digital Licensee: Jazwares, LLC, Minecraft Overworld Series No. 2 Toys
• Film, Television, or Entertainment (Animated) Program: Disney's Frozen, The Walt Disney Company/Disney Consumer Products
• Film, Television, or Entertainment (Animated) Licensee: Hard Goods: (tie) Jakks Pacific, Disney's Frozen/Snow Glow Elsa doll; Playmates Toys, Teenage Mutant Ninja Turtles product line
• Film, Television, or Entertainment (Animated) Licensee: Soft Goods: Havaianas, Despicable Me flip flops
• Film, Television, or Entertainment (Live Action) Program: Downton Abbey, NBCUniversal International Television Production/Knockout Licensing
• Film, Television, or Entertainment (Live Action) Licensee: Hard Goods: Lovehoney, Fifty Shades of Grey: Official Pleasure Collection
• Film, Television, or Entertainment (Live Action) Licensee: Soft Goods: Accessory Innovations, Star Wars R2D2 light-up and voice-activated backpack
• Licensed Promotion: AMC The Walking Dead "Carnage Asada" Slim Jim Beef Sticks, AMC/Striker Entertainment
• Lifestyle: Art, Design, or Fashion Program: The Very Hungry Caterpillar/The World of Eric Carle, Eric Carle Studio/The Joester Loria Group
• Lifestyle: Art, Design, or Fashion Licensee: Samick Musical Instrument Co. Ltd., Paul Frank musical instruments line
• Location-Based or Experiential Initiative: The Wizarding World of Harry Potter, Warner Bros. Consumer Products
• Retailer: Kohl's Department Stores, Disney's Frozen
• Sports or Sports-Themed Entertainment Program: World Cup, FIFA
• Sports or Sports-Themed Entertainment Licensee: ISC Sports Pty Ltd., National Rugby League and Marvel Heroes jerseys
• Overall Best Licensed Program: Disney's Frozen, The Walt Disney Company/Disney Consumer Products
DreamWorks Animation, Walmart in DTR Deal
DreamWorks Animation announced a multi-category direct-to-retail licensing program featuring the characters of Dreamworks Animation's Shrek, Madagascar, and How to Train Your Dragon franchises, rolling out exclusively at Walmart nationwide. The program includes a wide range of products across infant/toddler, personal care, and grocery categories.
Madagascar-themed toddler training pants and baby wipes are the first products to hit Walmart shelves, followed by personal care items including 3-in-1 bath soaps and scrubbing bath mitts shaped like the characters. A range of MOM Brands breakfast cereals will be available this month.
Additional products rolling out in 2015 include a range of fruit snacks and hot cereals also featuring the characters of How to Train Your Dragon, Shrek, Madagascar, and DreamWorks Animation's most recent film Home.
To support the program DreamWorks Animation and digital agency Fuel created the My DreamWorks Reward mobile app to invite shoppers to scan the specially marked packaging and unlock a series of original activities and interactive experiences bringing DreamWorks characters to life in the aisle.
Nickelodeon, Carmelo Anthony Partner for TMNT
Nickelodeon and NBA star Carmelo Anthony announced plans for a partnership to create Turtles by Melo, a new consumer products line inspired by the Teenage Mutant Ninja Turtles franchise. A self-professed Turtles super-fan, he will serve as creative director of this cross-category, global program spanning lifestyle, home furnishings, publishing, video games, and more. Turtles by Melo is expected to debut in spring 2016, in advance of the summer theatrical release of Paramount Pictures' sequel to Teenage Mutant Ninja Turtles, in which he also appears.
Mysticons to Launch with Host of Partners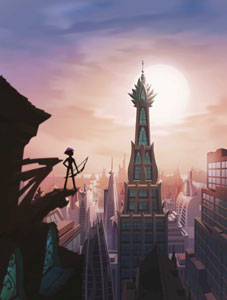 Corus Entertainment's Nelvana announced that an array of partners are coming together to launch the girls' action series, Mysticons, which will make its global debut in 2017.
Playmates Toys will act as the global master toy partner and Nickelodeon will serve as the global broadcast partner, including in the U.S. Nelvana Studio is actively developing the franchise and will begin production of the series later this year, working closely with the core group of partners including The Topps Company, which was acquired by Michael Eisner's Tornante Company and Madison Dearborn Partners in 2007. Mysticons is written by veteran kids' series writer Sean Jara (RedaKai, Hot Wheels: Battle Force 5, The League of Super Evil, Naturally Sadie).
Mysticons is being developed as a half-hour, animated girls' action series targeting girls, ages 6 and up. The series tells the tale of four girls who transform into legendary warriors and undertake a mythic quest to find a magic tome known as the Codex. They must reach the Codex before Necrafa, the Queen of the Undead, gets to it first and uses it to spread darkness and destruction.
The series is executive produced by Michael Eisner and Noel Bright for The Topps Company and Corus Entertainment's Doug Murphy, Colin Bohm, and Irene Weibel.
Evolution Appointed L&M Agent for Yo-Kai Watch and LBX
Dentsu Entertainment USA, Inc., and Level-5, Inc., have appointed Evolution USA, LLC to bring the multimedia franchises Yo-Kai Watch and LBX (a.k.a Little Battlers eXperience) to U.S. and Canadian markets.
Hasbro has previously been announced as the Yo-Kai Watch master toy licensee for the U.S., Canada, Europe, New Zealand, Australia, Mexico, and Central and South America and will introduce a line of toys for the franchise beginning in spring 2016. VIZ Media has been granted the publishing rights for Manga (graphic novels) under the Perfect Square imprint. Nintendo of America is launching a North American version of the best-selling Nintendo 3DS handheld game in 2015.
LBX—also an original concept created by Level-5, Inc.—is based on a popular Japanese animated television series and franchise. LBX has been renewed by Nicktoons for a second season and will add an additional 26 episodes, slated to begin running this fall. Bandai America will continue as the master toy licensee, and additional merchandising and licensing opportunities are now being sought.
Edge Americas Sports Signs Real Madrid, Juventus
Edge Americas Sports has been appointed by Real Madrid C.F and Juventus F.C. to expand their brand presence in Canada, the United States, and Latin America in select cases. The company will create a wide array of officially licensed consumer products. Edge Americas Sports will continue to pursue representation agreements with several other championship caliber soccer clubs. Co-founded by World Cup champion Alessandro Del Piero and industry veteran Jeffrey Whalen, Edge Americas Sports is a Los Angeles-based sports agency focused on consumer products licensing, soccer clinics, promotions, and marketing.
Nelvana, Remarkable Brands in Consulting Deal
Nelvana signed Remarkable Brands as a U.S. licensing and retail consultant for its extensive portfolio of children's entertainment brands. Under the new agreement, Remarkable Brands will work closely with Nelvana's internal team on consumer product and retail program activity and initiatives across all categories for select brands, including Little Charmers, TruckTown, and ZhuZhu Pets, among others.
Luna Petunia to Air on Netflix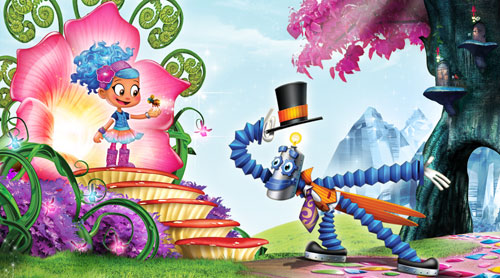 Netflix, Saban Brands, and Cirque du Soleil Média announced Cirque du Soleil—Luna Petunia as a new Netflix original series for kids. Eleven 22-minute episodes will premiere worldwide exclusively on Netflix, kicking off a full franchise roll-out that will include a full consumer products line, interactive digital content, and a potential live tour.
Slated to premiere fall 2016, the Netflix original series for preschool kids is inspired by Cirque du Soleil's unique brand of innovation and creativity. The new series will chronicle the adventures of a little girl named Luna Petunia, who lives in our world and plays in a dreamland where she learns how to make the impossible possible.
CPLG Further Expands into Middle East, Turkey, and Greece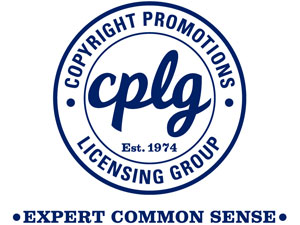 Copyright Promotions Licensing Group (CPLG), part of DHX Media, is extending its footprint to include the Middle East, Turkey, and Greece, adding to the previously announced expansion in Nordic and Central & Eastern Europe. CPLG is combining with two existing businesses, FWD Licensing and License2Brand, to form CPLG MENA and CPLG Turkey & Greece, respectively.
Abdel Boazzati, managing director of FWD Branding Ltd., will join forces with CPLG to establish CPLG MENA in Dubai, a cooperation between FWD Middle East and CPLG. Boazzati is a Warner Bros. and emerging markets veteran who has worked extensively in the Middle East. He joins as managing director CPLG MENA.
Anthe Louizos, previously managing director of License2Brand and a former Disney veteran, has considerable experience building brands in both Greece and Turkey and joins as managing director CPLG Turkey & Greece. Louizos will continue to be based in Athens.