Propel Equity Partners Acquires Juratoys
Propel Equity Partners, a private equity firm, announced that it has acquired Juratoys. Based in France, Juratoys is the parent company for two known European toy brands, Janod and Kaloo. Both brands will join the Alex Brands family of brands, which includes Alex Toys, Poof, Slinky, Scientific Explorer, Ideal, Zoob, Backyard Safari, Zillionz, Citiblocs, Shrinky Dinks, and Buzz Bee Toys.
This is Propel's first acquisition on behalf of Alex Brands in Europe. With offices in France, the UK, the U.S., Hong Kong, and China, Juratoys adds to Alex Brands' global footprint and offers significant European distribution capabilities for the entire Alex Brands platform.
Founded in 1970, Janod is France's leading wooden toy brand. Since 1998, Kaloo has grown into a leader in plush products globally.
CBS Announces Stage Shows for The Brady Bunch, Cheers, Corduroy
CBS Consumer Products is expanding its presence in the live events category with new stage shows based on its entertainment brands The Brady Bunch, Cheers, and the kids' property Corduroy. The new shows join a growing roster of live events that includes ongoing concert tours Star Trek: Live in Concert and Star Trek: The Ultimate Voyage.
The Brady Bunch will take to the stage in an agreement between CBS Consumer Products and the Schwartz family. The comedic musical stage show will feature the show's classic characters in an original story. The music and lyrics for the stage adaptation are written by Wings guitarist Laurence Juber and Hope Juber.
Cheers will be brought to life on stage by Stageworks Media. Stageworks is developing Cheers Live On Stage, a stage show showcasing classic moments from numerous scripted episodes. Its live show adaptation, produced and distributed by Troika Entertainment, will be touring in 2016.
Additionally, The Children's Theatre Company in Minneapolis is bringing children's book Corduroy to the stage for the first time. The new stage show is slated to debut in CTC's 2016/2017 season and follows the story of a teddy bear in a department store searching for his lost button. This marks one of CBS Consumer Products' first deals for Corduroy.
New Look for Bazooka Joe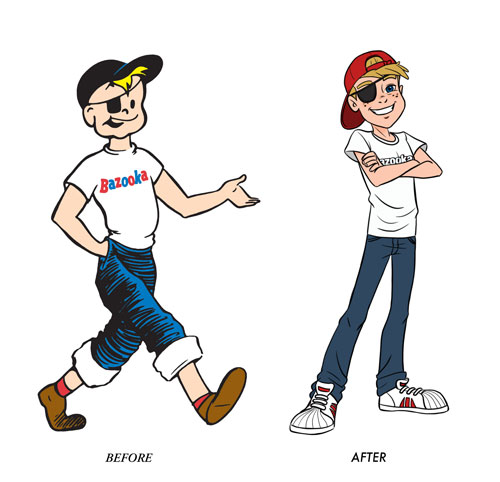 Bazooka Candy Brands, a division of Topps, tapped four top artists to help develop more than 100 potential new looks for Bazooka Joe and for 16 weeks fans were invited to vote for their favorites at BazookaJoe.com. The winning Bazooka Joe, designed by illustrator Victor Intrasombat of Clockwork Animation, was revealed at BazookaJoe.com and in a broadcast spot, featuring him in a stylish, modern version of his well-known ensemble of jeans, T-shirt, and baseball cap. Now Joe, along with his pal Mort will be spotlighted in comics, games, and activities in Bazooka Bubble Gum packs starting later this year.
"The reveal of a reimagined look for Bazooka Joe is the final step in a successful multi-phased brand refresh that has seen sales double since it began in 2013," said Nicole Rivera, senior brand manager, Bazooka Candy Brands.
The Topps Company will also issue a special-edition digital trading card that showcases the updated spokescharacter. The digital trading card will be available in the Topps BUNT 2015 app, which is now available in the App Store and Google Play Store.
Super Sprowtz Signs Brand Central as Licensing AOR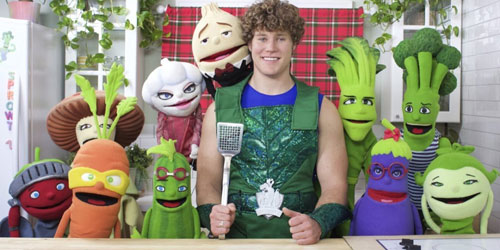 Super Sprowtz, an edutainment media company, has signed Brand Central as its licensing agency of record. In partnership with William Morris Endeavor, the agency will expand and develop new consumer products categories for the growing media brand.
Super Sprowtz is an edutainment company using numerous media platforms, including television, books, the web, live programming, and branded products to convey a message of wellness and sustainability to its target audience of kids ages 3–9. The YouTube series features host Roger, and a cast of superhero vegetables to engage children on healthy choices and teach them about food origins. Super Sprowtz has numerous celebrity ambassadors including First Lady Michelle Obama, former White House chef Sam Cass, actor Jeff Bridges, basketball star Shaquille O'Neal, and Russell Simmons to name a few. The Super Sprowtz brand has been integrated into the public school system nationwide in cafeterias and classrooms in New York City, Los Angeles, Puerto Rico, Boulder, San Francisco, Chicago, and Miami. The brand's goal is to help combat childhood obesity globally.
Brand Central plans to help Super Sprowtz develop a full consumer products program including healthy foods and snacks for kids, gardening products, cooking utensils, publishing, plush, and games and activities.
What's New in Baby Products on TTPM
TTPM is showcasing the newest Baby Products. For the latest in toy reviews as well as what's trending, visit TTPM.com.