TIA Launches Genius of Play Initiative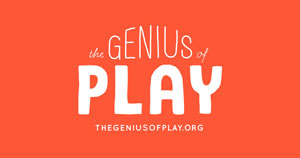 The Toy Industry Association (TIA) launched a new research-backed initiative encouraging parents and caregivers to allow children to build critical skills through the simple act of play. The Genius of Play initiative is designed to remind families that playtime is more than just fun and games—it strengthens minds and bodies, reduces stress, builds family bonds, and offers a host of benefits that help to produce well-rounded, healthy children.
"Today's parents and caring adults can be too singularly focused on their children getting good grades, staying disciplined, and mastering a number of structured extracurricular activities, but that can come at a cost. What many parents don't realize is that pediatricians recommend that children spend at least 60 minutes a day engaged in open-ended play—including arts & crafts, playing dress-up, building imaginary worlds, and so much more," said Steve Pasierb, president and CEO of TIA. "Through play, children learn about the world around them, explore their creativity, build important skills, and work through their emotions. The positive impact of play on the healthy development of kids, from tots to teens, is undeniable. Our goal is to inspire parents to make play an important part of their children's day—every day."
Here is a series of short videos that tell the story of human development through play. The animated vignettes connect play moments to specific developmental milestones and life skills that kids learn while they are having fun.
Parents and children across the nation are also being asked to take the Play Pledge and help guarantee one million hours of beneficial play this year. Once the goal has been reached, a charitable donation will be made to The Toy Bank.
The First Years Debuts YouTube Reality Series
The First Years brand is debuting a 12-episode weekly YouTube series following the parenting journey of four real families. The entire Welcome to the Family reality series is edited using footage the parents film themselves on an iPad 2, which was provided to the families by The First Years. The company says there is no director, no special effects lighting, and no script for the series. The families were chosen through a contest run by The First Years. New episodes air every Friday through August 28 on The First Years YouTube channel.
Modern Family's Lily Celebrates Birthday in Shopkins Style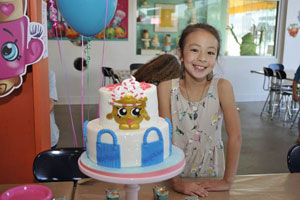 Actress Aubrey Anderson-Emmons, Modern Family's Lily, invited friends and Moose Toys to celebrate her Shopkins-inspired eighth birthday at Duff's Cakemix in Los Angeles. In lieu of gifts, she requested that guests as well as Moose Toys donate toys to the non-profit organization, My Stuff Bags.
Moose Toys says that Anderson-Emmons is a Shopkins fan and she invited them to celebrate her birthday. She has created her own unboxing Shopkins videos and has drawn pictures of one of her favorite Shopkins characters for charity.
The party was decked out in Shopkins decorations. The one-of-a-kind Shopkins character, Gemma Stone, also made an appearance at the party, one of her last stops before her eBay auction for charity, says Moose Toys.
Fleischer's Product Wins NAPPA Gold
Toy and game industry veteran Howard Fleischer's RiddleCube by Educational Insights recently won a Gold NAPPA Award from The National Parenting Publications Awards. RiddleCube is a relaunch of Fleischer's original invention called Polygonzo Stretch Cube.
In addition to his own inventions, his company RoyaltyPros Licensing represents inventors and nostalgic brands such as Barrel of Monkeys, Floam, and The Big Piano from the movie Big.
What's New in Blaze and the Monster Machines on TTPM
TTPM is showcasing the newest Blaze and the Monster Machine Toys. For the latest in toy reviews as well as what's trending, visit TTPM.com.