Elie Dekel Leaves Saban Brands
Elie Dekel has stepped down from his position as president of Saban Brands to pursue other opportunities. According to a statement issued by Saban Brands: "Dekel will remain involved as a senior advisor for the company. Joel Andryc, managing director of Saban Capital Group, has been appointed interim president overseeing Saban Brands. Andryc will work closely with CFO Bill Kehoe and the executive team to lead strategy and continue to build on the company's world-class portfolio of entertainment and lifestyle properties. We wish Elie much success in the future."
University Games Acquires Puremco
University Games acquired Puremco, a source of dominoes and domino accessories. Puremco joins the Front Porch Classics division. Terms of the deal were not disclosed.
The portfolio of over 40 Puremco products includes dominoes from Double 6 to Double 18, Number Dominoes, and the original authorized games of Chickenfoot, Mexican Train, Spinner, SuperTrain, and the unique Texas Hold'Em CARDominoes.
TRU to Bring E-Commerce In-House
Toys "R" Us, Inc., announced plans to bring its U.S. e-commerce operations in-house, including building and managing a new platform for Toysrus.com, Babiesrus.com, and FAO.com. The company said in this morning's statement that it expects to launch its own online platform by the end of summer 2016.
"As part of our 'TRU Transformation' strategy, one of our most important priorities is to optimize our e-commerce business and significantly improve the customer experience online. To accomplish this, we believe it is in our best interest to manage and control all aspects of our e-commerce platform as we move forward," said Fred Argir, senior vice-president, chief digital officer, TRU. "We expect this will provide us with the flexibility needed to grow and expand in an omnichannel world, while allowing us to rapidly respond to changing customer dynamics and an ever competitive marketplace."
Etch A Sketch Celebrates 55 Years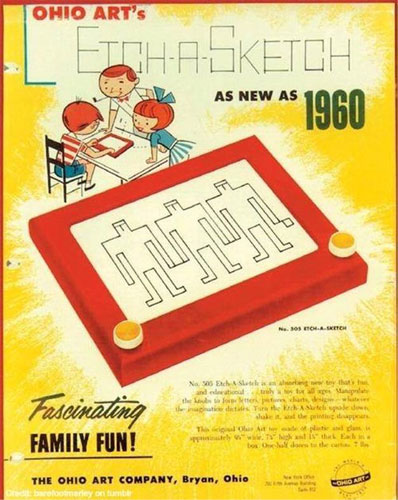 Etch A Sketch turns 55 this Sunday, July 12. The iconic toy was first introduced in the U.S. in 1960 by The Ohio Art Company as a mechanical drawing toy. Here are a few facts:
• More than 175 million units have been sold worldwide since it made its debut.
• Ohio Art says it was the No. 1-selling toy for Christmas 1960.
• It has co-starred in the Toy Story movie franchise and Elf.
• Etch A Sketch was inducted into Rochester's National Toy Hall of Fame in 1998 and added to the Toy Industry Association's Century of Toys List five years later.
• In 2012, Etch A Sketch was thrown into the U.S. Presidential political race thanks in part to Eric Fehrnstrom, advisor for then-Presidential candidate Mitt Romney who stated, "I think you hit a reset button for the fall campaign. Everything changes. It's almost like an Etch A Sketch. You can kind of shake it up, and we start all over again."
Join in the celebration: #EtchASketch55Bday
What's New in Collectible Toys on TTPM
TTPM is showcasing the newest Collectible Toys. For the latest in toy reviews as well as what's trending, visit TTPM.com.